Why does one attend Muslim weddings in Sri Lanka in the first place? For the biryani, of course. But how many of us have devoured the most credible spoonfuls is a question looming large in my mind. Thereon, I refused to stay put in trying to determine who in town is liable enough to clinch the title of having cooked the "best biryani" in our final verdict declared clear under each rating.
Kandoori Retaurant
Upon sight of the glowy reviews on Kandoori, to complain would be sour but spew the truth we must. It's angry hot outside so I have my sleeves up, elbows sewn to the table, ready to raid the camp– fork and spoon style. But when our prawn biryani unzips itself with a watery blob of malay pickle for neighbour, I gawk hopeless at a sleepy pickle-scarred plate until my eyes slip into coma. It cost us Rs. 1520 for 2 but smells of depleted wisdom far from the waiter's smile. Chomping through the sauteed prawns was a battle so brittle they were mediocre, may I add– quite meager in quantity than my comrade's plate? Until I introduce the pickle's sweet, I'm sorry tasteless morsels to the rice; it wasn't remedial but just depressing.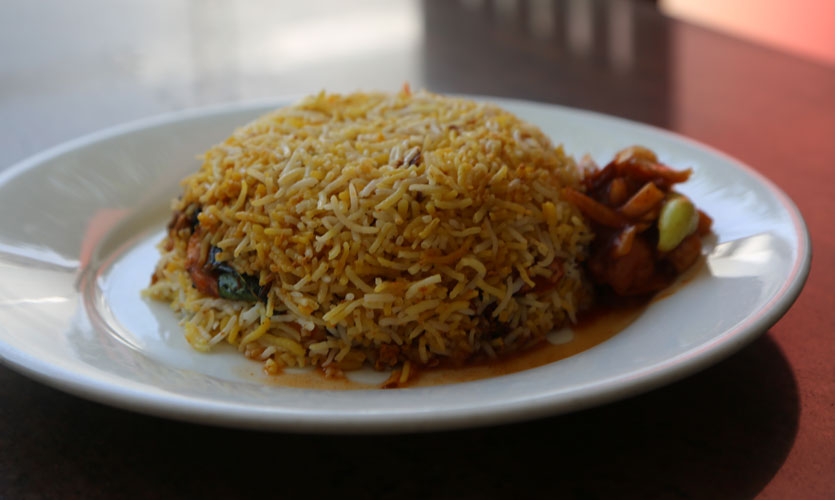 More 'wonders' knock loose as I fortuitously bite into a prawn uncleaned, what? Yes, dear reader, a greyish noose of intestinal tract socks our vision to escort us to the gallows tightly guarded by vicious karapincha (curry leaves) and mustard seeds. No wait. Did the biryani drown itself into an over done sautéing or do I swear that our tongues succumbed to the injuries of what was more like a rusty vessel's hull?
RATING: 1 star out of 5
Shanmugas Vegetarian Restaurant
We are spent. Or so we thought up until, much to our delight, Shanmugas bursts into song as artful as bharatanatyam. Strictly vegetarian, the serving is fulfilled on a banana leaf with elements healthily absorbed by the biryani as we spoon in. It's a sober party in my mouth although I'm no veggie enthusiast but a finicky one. The carrots, beans, bell pepper, mushrooms, paneer blocks and cashew nuts reek of careful execution with the spices not too pushy but ingenious. I could gush over how when the raita, white as a maid, starts to spill flashing its tarty flesh at our palate.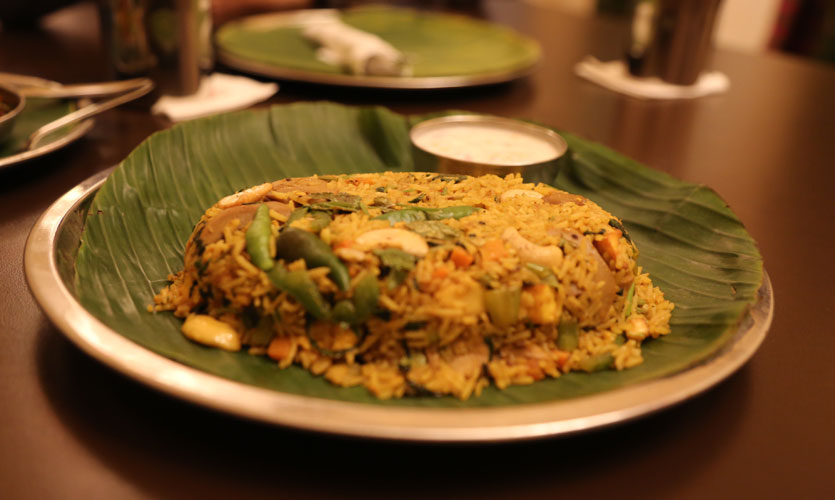 According to the owner the veggies are freshly hand picked at the market in Pettah. As the saying goes, the grass is always greener where the fingers are deft enough to nuzzle a foodie take her oath something like: "I'm so coming back for this!" Come back, we will.
RATING: 4 stars out of 5
Anaaj
Anaaj is/was a home-based and an exclusive food service run by Fatima Sohail on the insistence of her family members. As I wanted to diversify my quest for the best biryani in town, other than Indian, felt doable. Thanks to Anaaj. Traditionally, in a Pakistani biryani, a heavy use of potatoes is mandatory.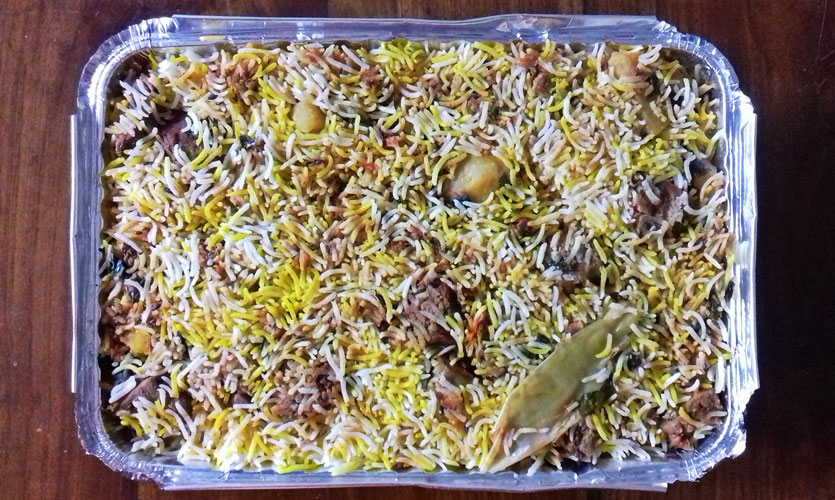 Anaaj's tomato and beef biryani at Rs. 2250 serving 4 had them plenty; it was a failed attempt to tear away from its lushness. A knife could slit through the potatoes like silk. More so, Fatima pointed out, meat size and cut matter is why I now say confidently, it was succulent. Very certain that she is liberal with her throw of spices into this Pakistani cauldron because looking back, I did pant at some point. That said, allowing the tomato paste to sit and straddle my tongue, a trick thus implemented to build up flavours led me to enjoy the subtlety along with those sweetly pungent. Only then did we sort of gather, perhaps the 1947 Partition was necessary (?) for evidence of variation in a Pakistani biryani from an Indian.
RATING: 4 stars out of 5
Note: Anaaj will no longer operate beyond the 30th of October.
Maharaja Palace
Following a move to Pakistan, flavour wise in our biryani experiment, we were roused by how the aroma at Maharaja Palace remained strong from the start. A dum, petite in size, serving for 2 at Rs. 1,200 rose into view with tendrils of crispy fried onions in just five minutes after the order. Impressed? Utterly, in the likes of Birbal's wits at a Mughal court.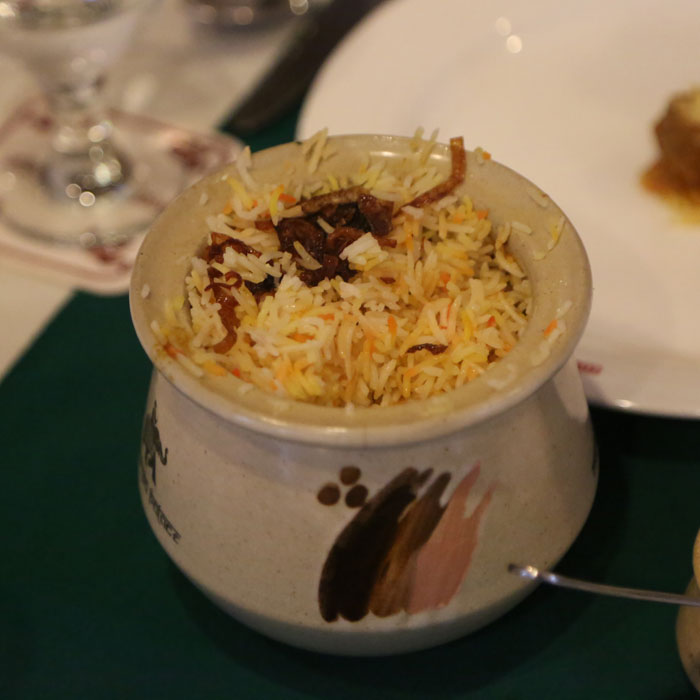 Tucking in, the rice is fluffy with the saffron infusions coming from a lesser oily body. The mutton, we understand, is tender and well-done because I'm far from thinking how long is too long when my fork is stabbed into its chest. I sulk a little stung by cinnamon scraps here and there, but as the raita is poured for astringency to lull me into the sangeets of an assured biryani, it feels much like having all the boxes ticked off. Indeed, our minds demand for a second helping.
RATING: 4.5 stars out of 5
Indian Summer
I start my sojourn walking into Indian Summer knowing it holds a reputation for excellent service under the eyes of Manager Muntaj Ali- a Kashmiri.
When we make our order, he tells us to watch out for the complimentary chicken 65. Arriving 15 minutes later, the chicken biryani sits on a dum finely drizzled with herbs such as dhania (coriander) and onions, caramelised.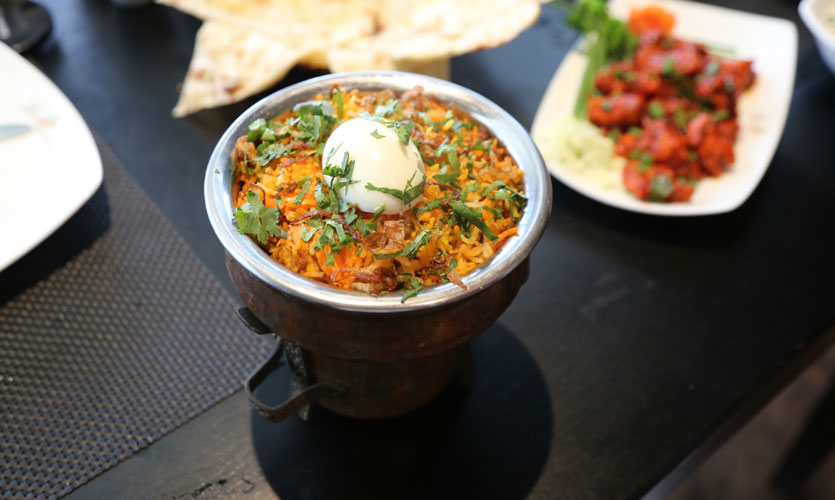 I can tell that this is the most vibrant biryani because my lips smack when I take a sniff, looking down. A pleasant wave of dusky ochre, white, and nut brown gently move across the chicken-breathed rice held by oil with the exact moisture.
Taste gets richer as I toss in the chicken 65 which is of regal red. The high quality of the seasoning accentuates consistency throughout.
RATING: 3.5 stars out of 5
Photos: Madushi Rajapaksha, Zeeshan Akram Jabeer, and Rushda Rafeek