Oporto is a Portuguese themed restaurant chain that made its entry into the Island via a sizable franchise outlet located at the Colombo City Centre near the Gangaramaya Temple. Although it is a part of the food court (Food Studio) at the CCC, it has a private dining area by the counter. Oporto's official address is 137 Sir James Pieris Mawatha Colombo, but we are just putting that in here to be formal.
Ambience
Since it is located in a common dining area, but also has a private dining area, Oporto falls under the category of casual dining, why? Because you just can't refer to it as a fast food outlet! Somehow it its way more than that. Their staff are efficient and their manager is friendly and would be ever so happy to answer your every question should you wish to ask him. The dining area is simple and clean, and has a touch of décor in terms of wall art and some greenery hanging from the ceiling. It could easily be classified as the fanciest place in that food court.
Food
Flame Grilled Chicken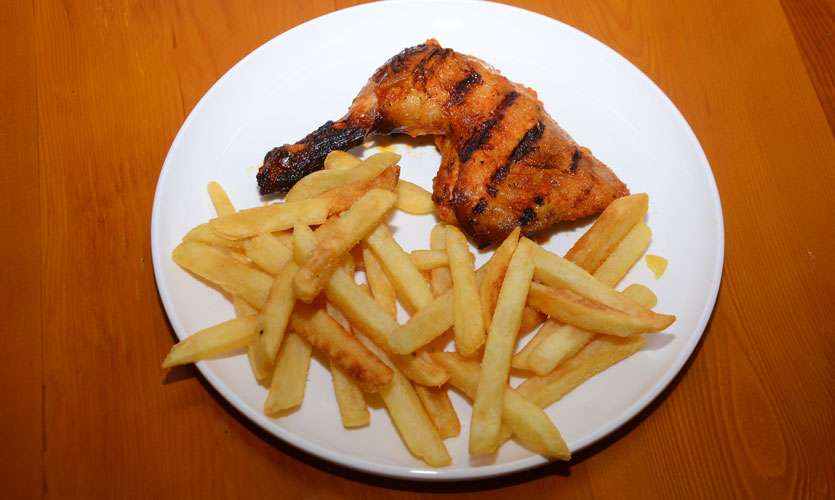 Funnily enough, when speaking to the manager we learnt that although this dish is their signature dish it doesn't move much, which is a shame considering that it was our most favourite dish from the selection put out for us. The grilled chicken is fresh, which you can clearly tell from the manner in which the chicken so easily separates from the bone, and how the bone isn't dark in colour (which is something that occurs when you deep freeze chicken for months on end). Furthermore, it's the perfect dish to have if you're interested in a lean diet. Because they use no oil on their meat, whatever oil you may see on their flame-grilled chicken is from the sauces that they use to glaze it with (You can opt out of it if you don't want it). This dish comes with a side of fries and the portion is very generous! And their fries a very thick and crunchy! You just can't not love it!
TACABOWL
So this is one of the more interesting dishes we came across at Oporto! Mainly because it is a rice-based dish served with a side of Dryslaw (Which is what they call their coleslaw which is dry) and chunks of flame-grilled chicken! Now the rice in this dish has some Portuguese flavour to it and along with this comes a lime and chilli sauce that they have incorporated into the dish, so the rice isn't spicy it has a tangier feel to it. We love our citrus so this was a very interesting and different dish, so 10/10 to Oporto for impressing us with some new takes on rice, which after all is something all Sri Lankan's love.
Things you need to know
Oporto's chicken is delivered on a daily basis, it is not frozen and it is fresh and tender. They are a franchise that originated in Australia and have expanded to New Zealand, Singapore and they are finally here in the paradise Island. Oporto will expand in terms of outlets within the country, as we were informed they plan to open 4 new outlets within the ensuing year. Since inception, they have stuck to their original chilli sauce recipe, which was originally made in 1986. Speaking of sauces, they have a three very famous ones, namely Original Chilli, EXTREMO Picante and Lemon and Herb. The EXTREMO Picante is not for the faint of heart! You have been warned.

Photographer : Waruna Wanniarachchi