Botanik consists of a bistro and a bar, situated in the uppermost stratosphere of Hospital Street in Fort, opening into one of the most scenic skylines in Sri Lanka.
The bistro is located inside whereas the bar is an open-air bar. The bistro has a lovely atmosphere filled with wonderful flower arrangements and flowery walls. They have tried to given a Sri Lankan twist almost everything they do, but keeping the core Western, thus making it relatable to international and local folk.
Their menu has been created in partnership with Chef Rishi Naleendra, the first ever Sri Lankan chef to receive a Michelin Star. He has received worldwide praise for his restaurant Cheek by Jowl in Singapore. The food served at Botanik is contemporary bistro style food which features a lot of meat cooked on the rare side, fresh seafood and little carbohydrates and their theme is sharing among everyone hence the small portion sizes.
Their aim is to retain the original flavours and nutrients of the ingredients whilst giving a one-of-a-kind experience to the guests. The new menu was executed by Executive Sous Chef Viraj Sameera and Sous Chef Nizran Yazid.
Food
Drinks- We were served two rounds of their signature cocktails, which are Cucumber Spritz and Tamarind. Both were exceptionally good, but that is not what we are going to talk about today. We are going to talk about their newly introduced dishes straight away, but when you go to Botanik, be sure to order both of this!
Food – 5/5
Botanik renews their dishes or introduces new dishes seasonally. This time around, closing in on their one-year anniversary, they have introduced a few starters, snacks, sides and mains. Following are some of them that we tried.
Starters
The White Fish Carpaccio (Rs. 800) comes with white fish carpaccio topped with shallots and dressed with olive oil and wasabi cream. This is a great starter with the fish being extremely fresh and olive oil being a good palette cleanser.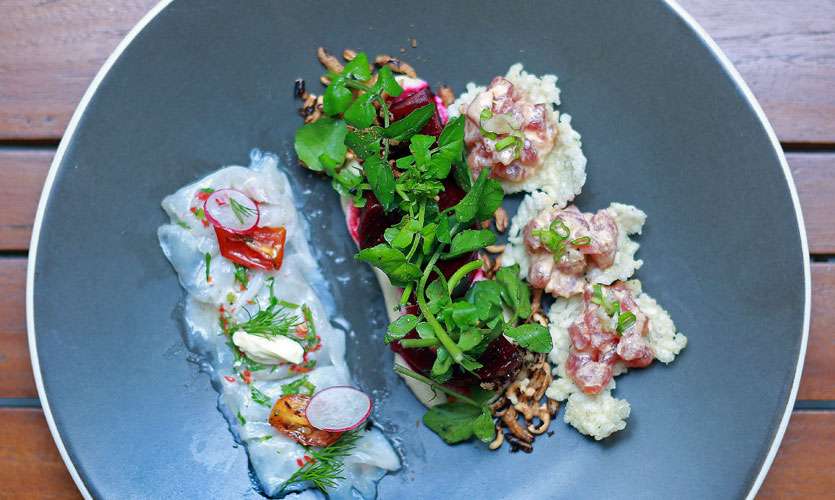 The Roasted Beetroot (Rs. 750) consists of roasted beetroot on a bed of hummus, sprinkled with wild rice and a date dressing. They have a range of vegetarian dishes in each section and this was a great example. The beetroot was roasted in a way that the exterior would have charred notes, but sustaining the sweet notes and the moisture inside. The hummus was one of the best we've had. It was creamy and a bit bitter at the same time. The wild rice added a wild component to the dish with it being crispy and crunchy. The dish as a whole was exemplary. That is what I pretty much have to say about all the dishes I tried out.
Snacks
The Tuna Tartare (Rs. 800) came with sriracha mayo and cracker. If you are not a spicy lover, do not get scared by the word sriracha as it is a spicy sauce. The mayonnaise balances the spiciness of the sriracha well. Its creaminess with the extremely fresh tuna created a symphony in my mouth. The cracker was a nice addition to this wonder.
Sides
The Roasted Baby Carrots (Rs. 500) comes with roasted baby carrots on a bed of Greek yogurt with green chili chutney and topped with coffee spice. The green chili chutney was Oh! My! God! It was so good, that I would have just eaten it. You have to take a bite with all of them together, each component complements each other so well, it was pure perfection. The slight sweetness and the charred notes of the carrot with the spicy notes of green chili chutney, the creamy and tangy notes of the yogurt and the spicy yet bitter notes of the coffee, tasted oh so good!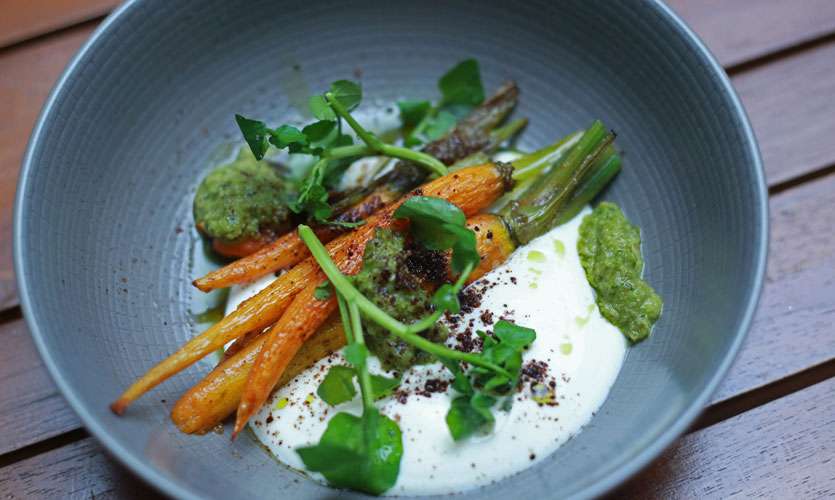 Mains
The Day Roasted Duck Breast (Rs. 2600) came with the day roasted duck and smoked pumpkin puree, five spiced caramel and mushroom crumble. The duck tasted so good, I lost my senses. This was cooked to a perfect medium and it was moist and tender with a bit of pink glistening in the middle, the flavours melted in my mouth. It was a little gamey, but that is a given I think with duck meat. Although the duck is said to pair well with sweet components, the puree and the caramel, didn't sit well with my palette, which I think is a personal choice. It was a little too sweet for me, but it would be fantastic for another.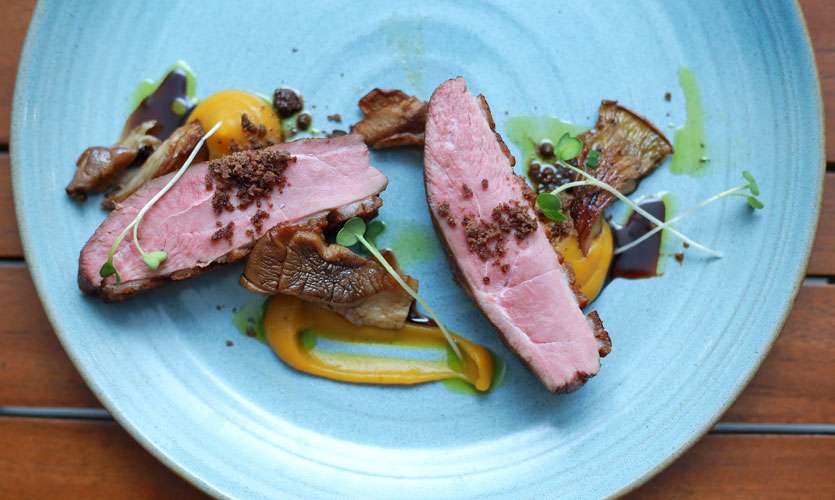 Seafood Spaghetti (Rs. 1200) comes with homemade spaghetti dowsed in a crab bisque and with shrimp, squid, cherry tomato. The seafood was cooked to perfection. The bisque was so creamy and spicy, it coated the spaghetti so well, that it came with every bite. The squid which was both calamari and octopus, was not chewy at all, it was seasoned well and cooked well.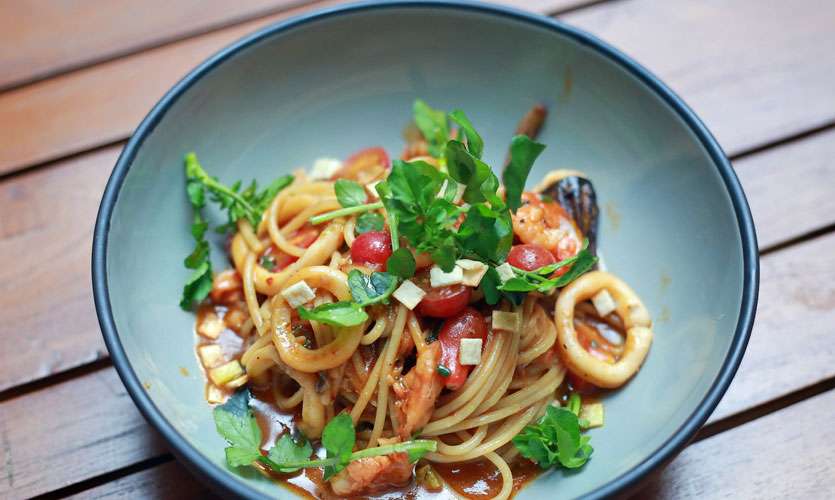 Desserts
Buffalo Curd Parfait (Rs. 650) is complemented with salted kithul caramel and toasted cashews. This is not a newly added dish, but a must try. I am not a big fan of curd, but this was out of this world. The texture was a bit thick yet creamy and this is a frozen dessert, so it tastes a lot like ice cream. The kithul caramel was out of this world!!! It is kithul treacle caramelized. I do not have words to explain how good this was!!! You should definitely try this out, the next time you visit Botanik.
The Lemon Cheesecake (Rs. 650) was the only dish I was not fully satisfied with. It was unbaked cheesecake, so with lemon, it tasted a bit too sour. The fruit was poached with cinnamon and the cheesecake was dressed with the compote of it as well. The chocolate crumb was also bitter not sweet. So there was nothing to hold all these together. Had the cheesecake been a baked cheesecake, it would have harmonized well with the spiciness of the cinnamon, sourness of the lemon and the bitterness of the chocolate.
What we recommend

: Everything!! You should try out all of the dishes try out and should ask for other dishes as well because everything there was sublime
Service:

5/5 They are so friendly, from the waiters to chefs, everyone is super helpful and greets with a smile every time they pass us by.
Parking facilities: 4/5 You should park outside in front of the Dutch Hospital Precinct because as you know Hospital Street is an enclosed area.
Toilets: 5/5
Would we go again? YES! Definitely.
Tips/notes by

author

– Everything is subjected to a tax and service charge, which is pretty reasonable.
Photographer:
Damith Wickramasinghe