Grand Oriental Hotel has organised a delectable buffet of Jaffna cuisine for all the Jaffna food lovers from the 22nd of June to 1st of July 2017 at Harbour Room. Bringing Jaffna to Colombo, the Hotel's international restaurant which has a lovely ambience and a scenic view of Colombo Harbour, will host guests to experience a little bit of Jaffna with the endeavour of adding cultural diversity to cuisine.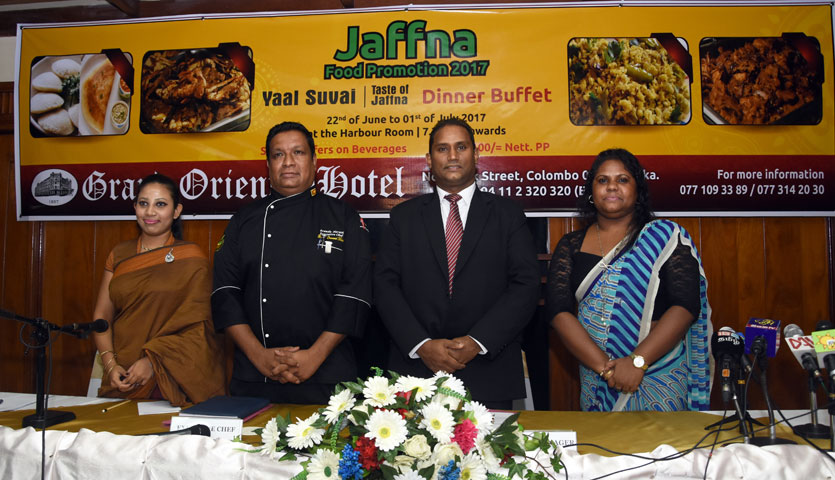 "Our aim is to offer an insight into Yaripana Samayal (Jaffna cooked food) especially for the guests who have not had the opportunity to get the feel of the food of this culture." stated Lalin Adhikari General Manager of GOH, at a recently held press conference.
Executive Chef Eranda Herath explained, "The people of Jaffna believed quite rightly that Yal Suvai (six tastes) provided them with good balanced food and it kept them healthy and fit physically. At the same time they also added indigenous spices and herbs which provided them with remedies to their health problems. According to Ayurveda, 'sense of taste is the guide map towards proper nutrition' and using the Yal suvai method is the way to a balanced diet.'
There is a huge variety of ingredients used to spice up the dishes in Yalpanam. Some have also been used in indigenous medicines. To name just a few of these ingredients used, asafetida, cardamom, cinnamon, clove, coriander, cumin, curry leaves, fenugreek, ginger, garlic, mustard, nutmeg, onion, pepper, saffron, tamarind, turmeric, honey and lemon / lime rasam.
The carefully crafted menu will include varieties of dosa which will vary in the form of onion dosa, paper dosa, masala dosa, plain dosa and ghee dosa. The pittu range will include sura pittu, prawn pittu, vegetable pittu, egg pittu, milk pittu and mutton pittu. There will also be chicken curry, mutton curry, crab curry, prawn curry and many dishes of fish (thurukke varuval, sura varuval). There will also be a variety of kottu, odiyal kool, rasam, murukku, kesari, vadei items. The dessert counter will include the popular Jaffna ice cream.
Each of these dishes has its own uniqueness and flavour. Chef Chandru who has an excellent knowledge and experience in this department will prepare the Jaffna Cuisine in a traditional manner to make sure the guest will come another time.
All non-alcoholic beverages will be on a one to one promotion.
*Price is Rs. 2100 nett per person
---
PHOTOGRAPH by Kushan Pathiraja