Bakes By Bella is a Cakery / Cafe located in the heart of Colombo. You can find it at No. 8 Alfred House Avenue, Colombo 03. The owner, Melissa Dharmadasa started off as a home baker, and two expansions and a couple of years later branched her endeavour out into the popular chill-out spot that is the Bakes By Bella Cafe you see today.
Ambience
The cafe gives off a cozy welcoming aura as soon as you open its doors and step in, and if you've ever read Alice Wonderland, you'd understand when I say it's a trip down the rabbit's hole.
The cafe consists of two sections. The section in front gives more of a chilled out vibe, where Bella has put out an assortment of puzzles, games and books out for entertainment, while the newly opened section, more commonly known as " The Blue Velvet ", is more for intimate meals and fine dining.
The staff are beyond helpful and friendly and the owner Melissa adds to its welcoming homely aura.
Food
We tried the Smoked Salmon Tartine and it's rather impossible to not give the dish 5 stars because it was packed with flavours that compliment each other so well, and it also had a serving of avocado, which when coupled with the generous cheese spread, added to the all-round creaminess of the tartine.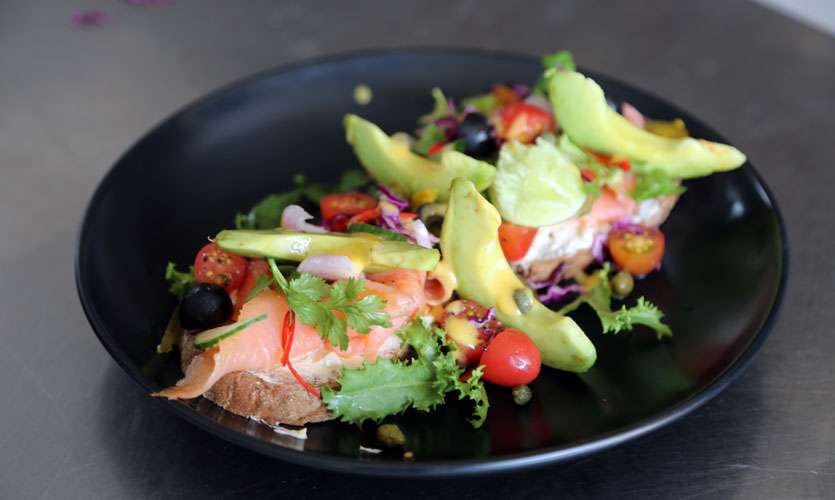 A tartine is an open-faced sandwich topped with spreadable ingredients, and it was a treat watching Bella's Chef Salitha construct it, right from its bread base, to its thick cheese spread, covered in turn by layers of smoked salmon and decorated with Avocado, olives and so much more.
Drinks
Bella's has a wide range of drinks on the menu ranging from cold/hot coffees, to fresh fruit juices, but we had our hearts set on trying out her own invention, the Cake Shakes.
Now the cake shake is something Bella invented herself, and trust us when we say this, she does not hold back when making them.
We had her signature FRI-YAY Shake.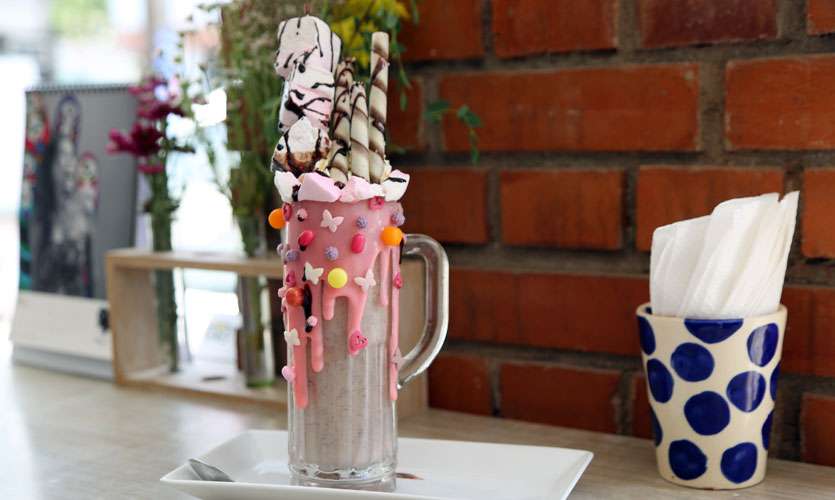 Now the FRI-YAY shake is not only pleasing to your taste buds but also to your eyes, It's packed with Oreos, Ice Cream, Milk topped with Whipped Cream, Chocolate sauce, Marshmallows, Wafer sticks and the tall glass it's served in is decorated with sugar butterflies and hearts all suck on a pink dyed white chocolate drip.
We know, it's as mouthwatering as it sounds.
What we recommend:
I would personally recommend the Passion and Mango fusion juice on the menu, while the FRI-YAY shake is beyond amazing, most of the time I tend to be badly in need of something that will give me a boost of energy and something also refreshing, at which point I always resort to a fruit juice and Bella's Passion and Mango Fusion Juice is perfect if you're burnt out on a sunny day in Sri Lanka.
Service: Excellent
Parking facilities: Available
Toilets: Available and Very Clean
Bakes By Bella sets a standard in terms of Cafes and Service.
It's exemplary in every way and it's also noticeable that the management takes great care in everything that's being done in the cafe, down to the formation of its menu items and how the food is made.
It's brilliant and is a must visit if you haven't already.
Would We Go Again?
Definitely, it's a comfortable and cozy environment, has great food and beverages and the service is excellent, it's owner is courteous and cares about her customers.
It's a holistic Cafe experience, you couldn't possibly be satisfied going just once.
Tips/notes by the author– When you're dining in, there is a bit of service charge but it's not outrageous, there is no dress code, Bella is of the strict view that one must be comfortable at all times. ( I agree )