Nara Thai is a restaurant located in Colombo 03, just past the Stone and String in Colpetty which serves authentic Thai Cuisine. It's a little pricey, but if what you're looking for is good quality food, good portion sizes and perfect ambience, it's worth every single rupee you spend. The restaurant is at No. 3, Deal Place A, Kollupitiya Colombo.
Ambience
Everything at Nara Thai screams authenticity - from it's slow moving wide winged Thai styled fans, to its purple royal looking interior design and cushioned chairs. It's the perfect location for a family meal or an intimate dining experience. It gives off a comfortable vibe, and the service is quick and exemplary. The stewards have a habit of checking up on you which is something we like to see when we go out to a restaurant, as comfort is a contributing factor to the whole experience.
Food
We were in fact blown away by the selection of starters which was easily my favourite on the menu. The Nara Thai spring rolls were nice and crisp, and my personal favourite was the Fish Cakes, which struck me as strange because I am not usually a fan of fish; however, these fishcakes along with the Dory in Tamarind sauce was done perfectly. I believe I went back too many times for more helpings.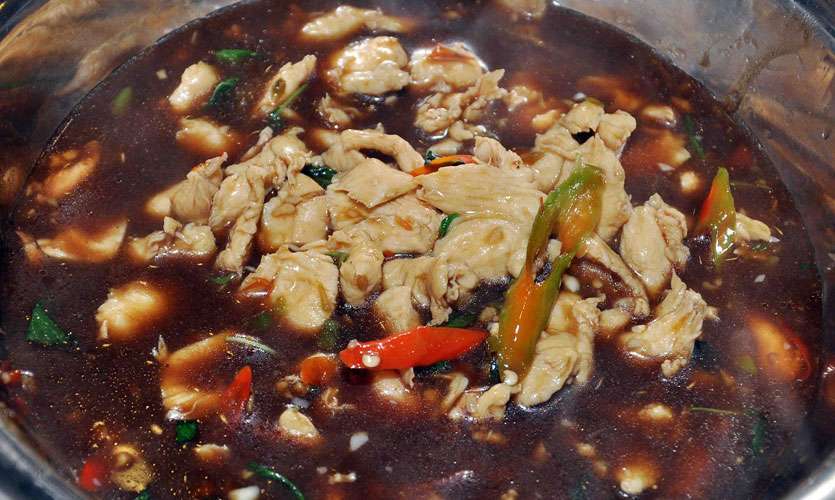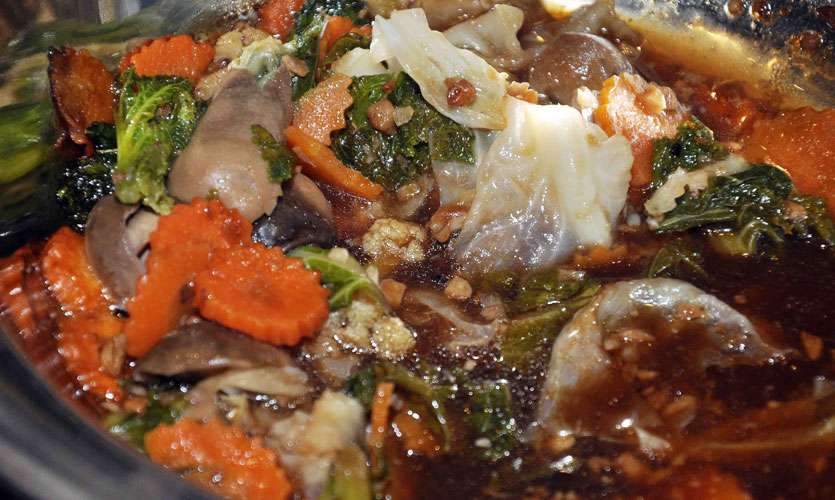 Their main dishes were predominantly rice dishes and one Pad Thai Vegetable noodles, which I suppose after being used to rice for so long, became my favourite main dish.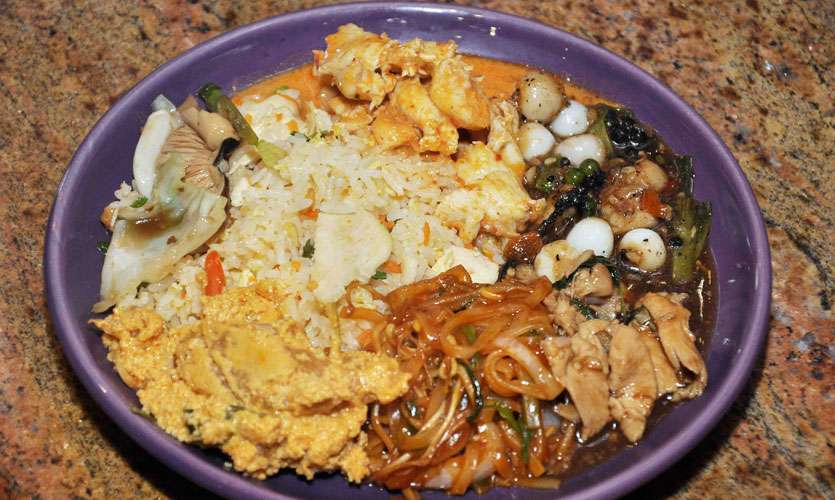 There were two types of rice, namely Gai Khao Pad (Chicken Fried Rice) which was yellow in colour and was rather different to the traditional Sri Lankan chicken fried rice that you're normally used to. The other selection of rice was Jasmine rice which I must say smelt so amazing. To complement the rice, they had a wide selection of dishes available, namely Red Curry Chicken, Fish Yellow Curry (again surprisingly my favourite dish in terms of curries, because of its creamy nature and also that slight hint of sweetness in the curry), Cuao Sua (Cuttlefish) Phad Keaprao (Stir Fried Chicken in Chilli and Hot Basil) and Pad Pak Ruam (Stir Fry Vegetables). It was a plateful I must say and for an Ifthaar buffet spread, it was most satisfying after even just one round.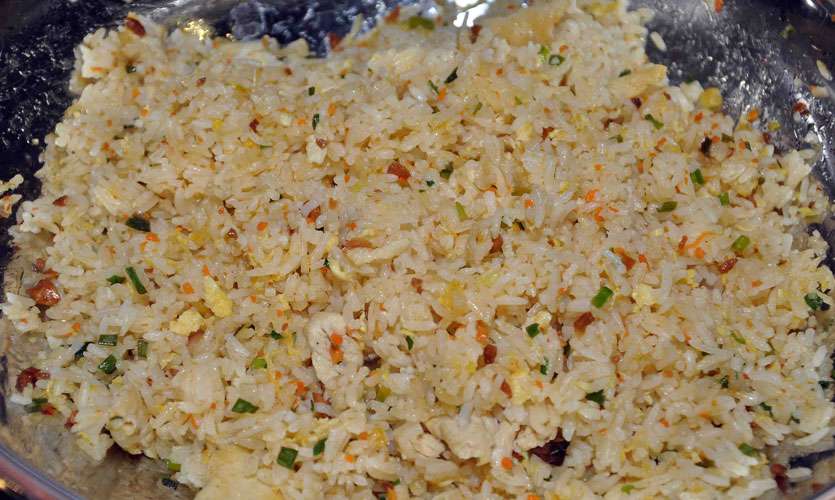 Drinks
For the buffet, they had only a selection of two drinks, namely Anchan Tea which was purple in colour and Rose lemon syrup which was pink in colour. If you'd ask me what I would recommend, I would go with the Anchan Tea because the Rose Syrup was too sweet for me. I'm not someone who is averse to sweets but I could not handle the amount of sugar in that drink.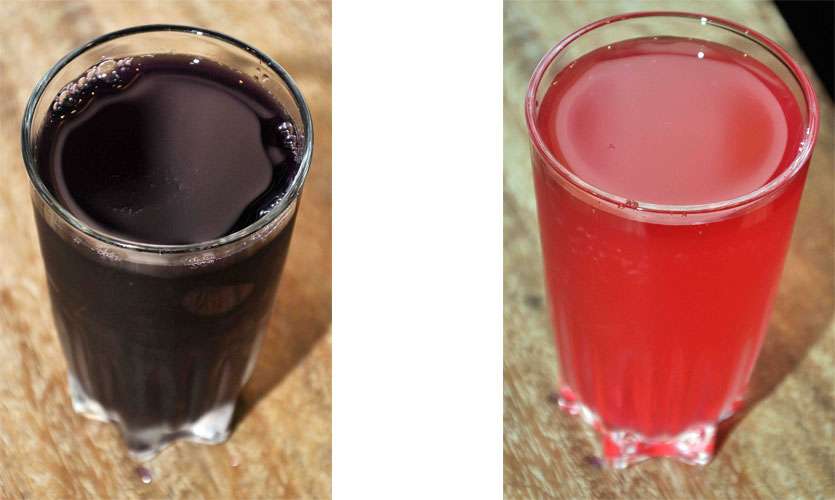 Desserts
Their selection for desserts was rather unusual, to say the least, but If you're like us and like trying new things out, this would be perfect for you! They had a dish of bananas soaked in coconut milk; it was something I had never heard of or seen in my life but it was pleasant and light, which was satisfying especifically after having such a heavy meal. They also had a dish called Steam Man Tam Plang (Steamed Tapioca in Scraped Coconut) which was again something I had never tried before! My favourite dessert dish was the Sago Piek Mamuang which was chunks of sweet succulent mangoes in a bath of Sago.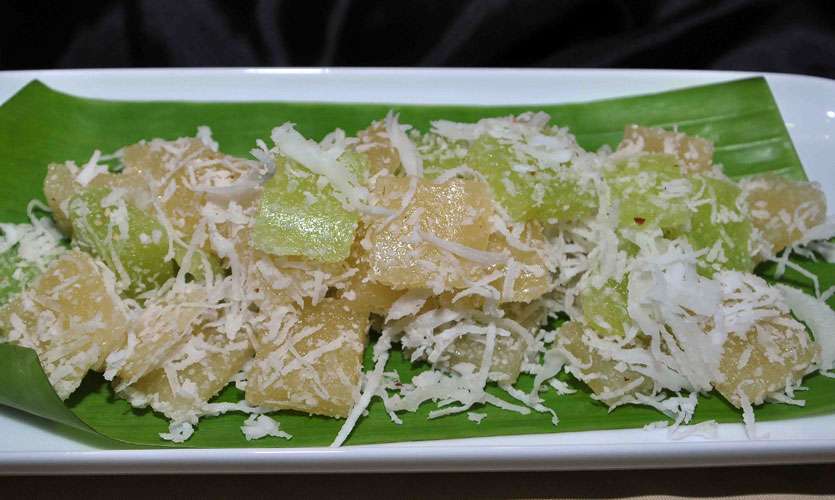 Priced at 1980 nett, the Nara Thai Ifthaar Buffet is definitely worth it - based on the fact that you'd be very hungry and will be able to eat to your heart's content, the fact that its selection has variety and sticks to its claim of authentic Thai Food. You've paid for perfect ambience, perfect service, good food and an authentic Thai experience at an award-winning chain.
Would we go again?
Most definitely
Website: https://www.naracuisine.com
Contact: 011 2 577655
Instagram: https://www.instagram.com/narathaisrilanka/
Facebook: https://www.facebook.com/narathaisl/
Parking: Available
Toilets: Available
Pics by Nisal Baduge