Ambience:
Holybelly is a cute and cozy café hidden in the roads of Collpetty and it is totally worth the effort made to find the place. The café is painted with vibrant colours and some with floral wall patterns and everything about it makes you feel happy inside. There are three floors to the café and the uppermost floor is a terrace that you can dine in basking in the beauty of Colombo. There is a separate smoking area as well downstairs. They have dine in, takeaway and delivery options available.
Food
Drinks- 4/5
Hot Chocolate with Marshmallows
The Hot Chocolate with Marshmallows (Rs. 550), is one of the best we have had and they use a special hot chocolate powder brought down to make it, which in fact reflects in the drink. It's creamy and rich and is perfect to drink in this November rain. It was served in a cute pastel mug and a saucer, which was the thing I loved the most. The marshmallows are small, so it won't get stuck in your mouth mid-slurp, rather melts in with every sip you take.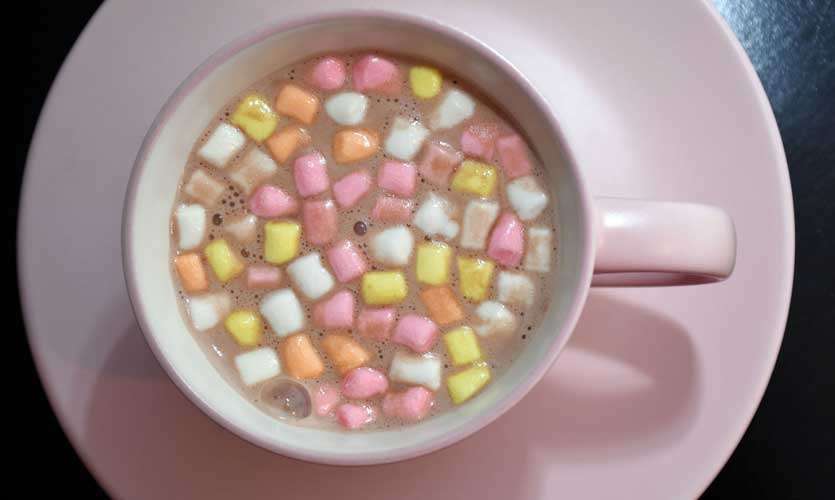 Candy Shake
Holybelly always try to keep you on your toes, but in a good way. They introduce a special shake every week and you'll be surprised with the shakes they come up with to give you the best. So, the Candy Shake (Rs. 850) as the name suggests is loaded with candies like chocolate balls, jelly beans and so much more. And it's decorated with a lot of candy too. I had a gala time, eating them one by one and each one was a surprise to my mouth. The only concern I had was, they could have increased the sugar a bit to enhance the amazing flavuors in it.
Kitkat Shake
The Kitkat Shake (Rs. 850) is also one of their weekly specials and it was made from Kitkat and milk only, without adding anything else. Not love is even that pure! Again, with this also, a little more sugar could have gone a long way, nevertheless it was so good!

Food – 5/5
Starters
Hot Butter Cuttlefish
Hot Butter Cuttlefish (Rs. 1190) is a Sri Lankan favourite, which many restaurants have failed to execute but they had done a pretty good job with it. They make it quite spicy, because Sri Lankans like it spicy, so if you can't tolerate a lot of spice, better to ask to reduce the spice beforehand. I am a person who can eat a lot of spice and it was spicy for me too. I would have liked it if the cuttlefish was a bit crunchy but it was well-seasoned and not chewy at all.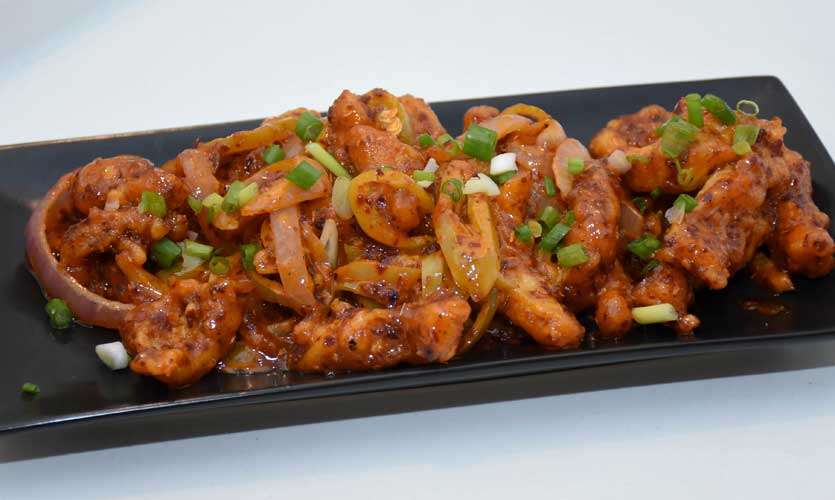 Main Course
Eggs Benedict
The Eggs Benedict comes with poached eggs and avocado with either chicken bacon (Rs. 1050) or with smoked salmon (Rs. 1200). Holybelly serves a range of all day breakfast dishes and this was a killer dish. The egg was poached to perfection and the yolk oozed out when I cut into the egg. The bread was toasted nicely with butter and you have to take a bite with everything together to get the right taste. The egg was rich but light, the avocado was dense and slightly sweet, the bacon hitting all sorts of umami flavours brought it all together.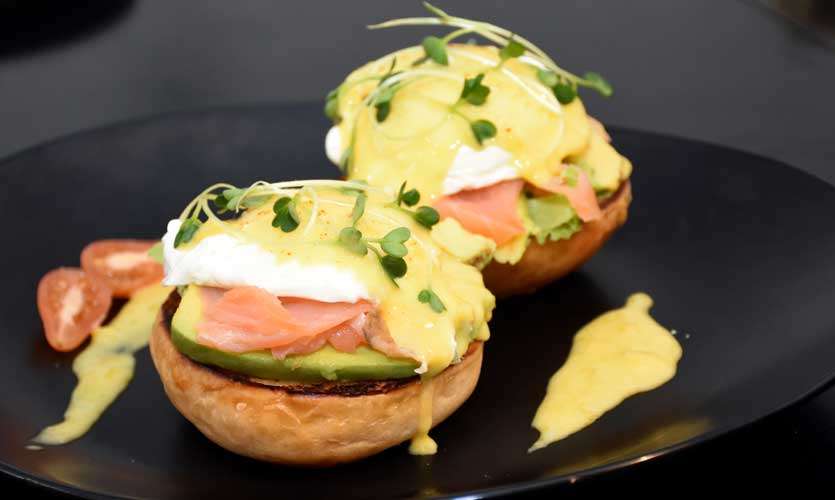 Herb Chicken with Mash
Holybelly tries to bring a lot of international dishes under one roof and chicken and mash is a classic American dish. Their Herb Chicken with Mash (Rs. 990) was nothing short of amazing. Even the veggies in the dish was seasoned to perfection. The chicken was nicely marinated in herbs that it was so refreshing to dig into it. I am not a big fan of mashed potatoes, but this was out of this world. There was a herb in the mash as well that made it taste amazing. You should definitely try this out when you go there!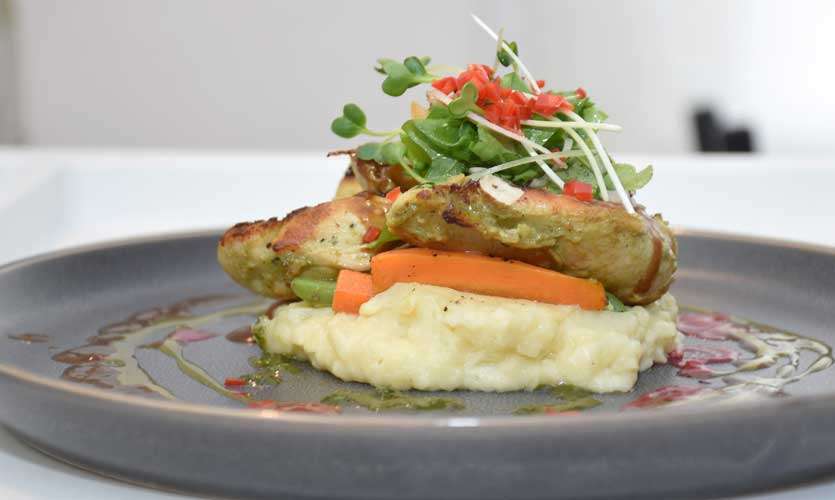 Dessert
Chocolate Mess
The Chocolate Mess (Rs. 850) was a mess indeed, that came as a stack of pancakes covered in chocolate with the classic Marie biscuit in the middle. The pancakes were nice and fluffy and the chocolate made it thousand times better. The Marie biscuit added a nice crunch to it that gave the pancakes a nice twist.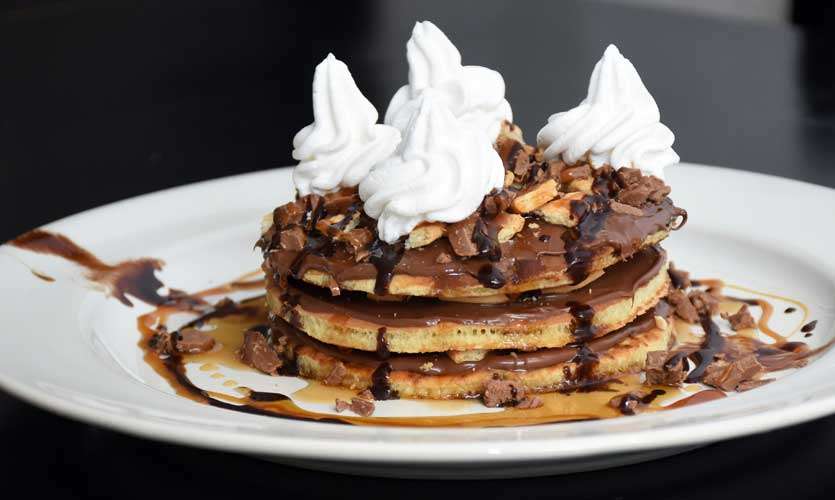 What we recommend: We definitely recommend the Hot Chocolate, Herb Chicken with Mash and Chocolate Mess
Service: 5/5
Parking facilities: 3/5
Toilets: 5/5
Would we go again?
Yes definitely. They are constantly trying to give the customers a one of a kind experience, so we can't wait to see what tricks they have up their sleeve.
Tips/notes by author – There is a service charge but no taxes imposed on the prices and if you find it hard to find the location, just give them a buzz and they'll direct you!
Photographer: Kushan Pathiraja