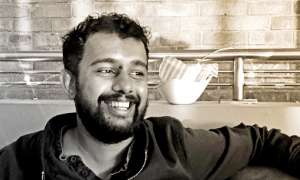 The stage is being set for the 2019 edition of the Gratiaen Prize which will kick off on July 4 from 6.30pm onwards. The Gratiaen Trust is in the process of making arrangements to go digital this year, post-COVID. The event will be live-streamed on the official Facebook pages of the Gratiaen Trust, John Keells Foundation, and the Daily Mirror. The short-listed writers are Andrew Fidel Fernando for his travelogue 'Upon a Sleepless Isle', Praveen Jayamanne for his novel 'The Double Doorway', Upali Mahaliyana for the novel 'Tom-tom Boy' and Vihanga Perera for his book of poems titled 'Sentimental Pieces / The Private Funeral / The Classical War'.


Andrew Fidel Fernando
Andrew Fidel Fernando is a well-known sports journalist and is one of the lead writers for ESPNcricinfo – one of the world's leading sports websites. Andrew's sports writing creatively blends a literary narrative style with the conventions of sports journalism. He is known for writing pieces that interweave humour and anecdotal storytelling with the technicalities of sports reportage. Andrew is an avid traveller and a keen social observer – facets demonstrated in his travelogue "Upon a Sleepless Isle" which has been shortlisted for the 2019 Gratiaen Prize. Andrew has lived and studied in New Zealand – where his initial contact with ESPN occurred. He recalls a childhood dreaming of becoming a cricketer, following Sri Lanka's inspirational 1996 World Cup victory, and how he settled for the second-best option of becoming a cricket journalist.
Judges' citation: Andrew Fidel Fernando's (published travelogue) - Upon a sleepless isle was shortlisted for its clarity of vision and purpose. For the skilled use of language and the device of humour. It is a work that disguises itself as a travel companion all the while distilling countless experiences and anecdotes to elevate it as a work of creative and literary distinction.