The hotel and this restaurant, in particular, had quite a close call when a suicide bomber who had made not one but several attempts to blast himself inside this particular restaurant failed to do so on that fateful Easter Sunday. The staff was very much shaken up by it and said they were lucky to be alive. The massive blow to the tourist and hotel industry which is being felt severely by all the hotels islandwide has not excluded Taj. However, determined not to let this keep them down and making a comeback with their head held high, Taj Samudra is up and about, and open for business.
Food
Our main focus, which was of course the food, certainly did not fail to satisfy. You have the option of enjoying the extensive buffet or the unique selections from the A' La Carte menu. At the moment, however, they only host buffet for breakfast brunch and dinner and not lunch. Despite this, the A' la carte menu is certainly enough satisfy all your gastronomic cravings.The choice is endless, from impressive salads, cured meats and seafood preparations, pizza, pasta and of course an abundant array of desserts.
We opted to try out the "Cobb Salad" first. It contained a generous quantity of chicken, bacon, avocado, lettuce, tomato, boiled egg, cilantro with spring onion and buttermilk froth. The portion size was humongous and priced at just Rs. 1250/-. It's a great starter, enough for about 3 people, or maybe even 4 depending on the appetite.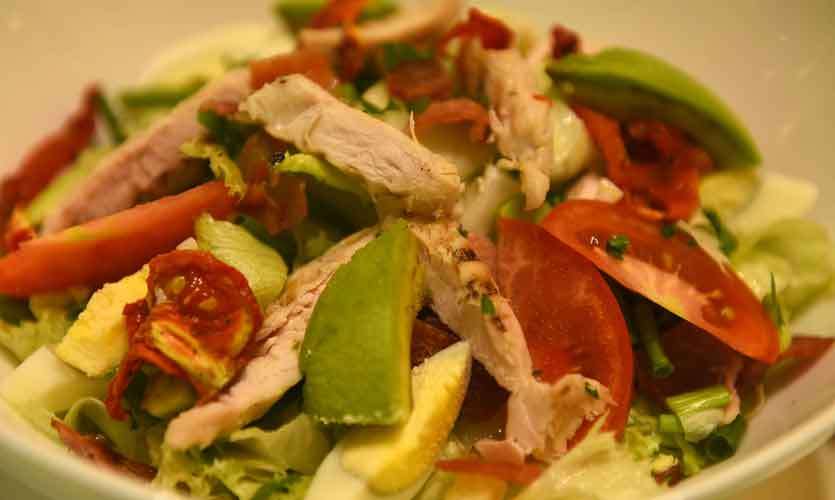 Next, we tried out the "Lobster Bisque" which was also really nice. It was extremely smooth and creamy and had sizable chunks of lobster, and to make things better, there was a light undertone of brandy as well. The garlic bread they kept as a side dish for the bisque was truly the cherry on the cake.
The next dish and the highlight of the menu was the fish 'n chips. It was a dish that simply made you go "WOW". There was a huge piece of Whitefish fillet which was fried in beer batter and served with massive potato wedges complemented by a mouthwatering tartare sauce and a piece of lemon to give it that extra tang. I absolutely loved it!
We also tried the New England Lobster roll, which was lobster meat tossed with mayo in a toasted brioche, served again with potato wedges and salad. The brioche was hot, rich and toasted just enough to give it a slight crunch, which I thought was perfect. The presentation of this dish was top notch and just looking at it made my mouth water. And believe me, it tasted just as good as it looked.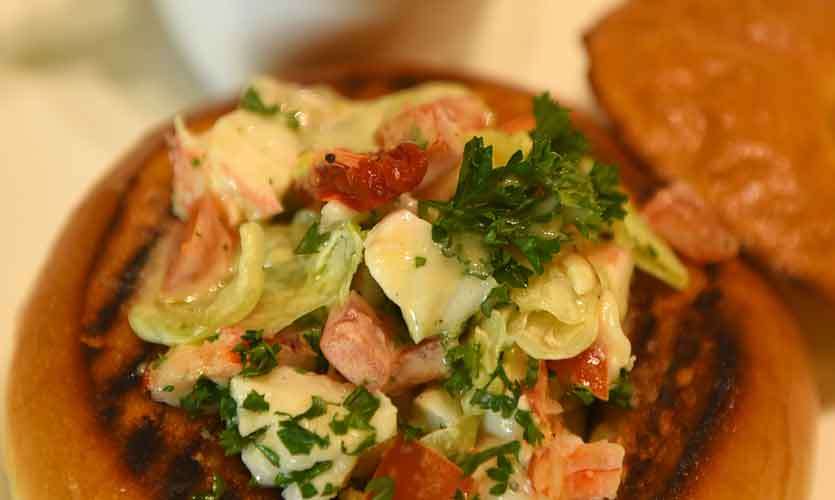 The final main dish we had was the spring roast chicken. The chicken itself was roasted just right and had a lot of seasoning so it tasted amazing even without the roast gravy. That being said, the roast gravy was the perfect combination and complemented the chicken extremely well. There was also garden vegetables and potato wedges but priced at just Rs. 1250/- I must say that this dish would have been perfect without any of the complements. It was that good!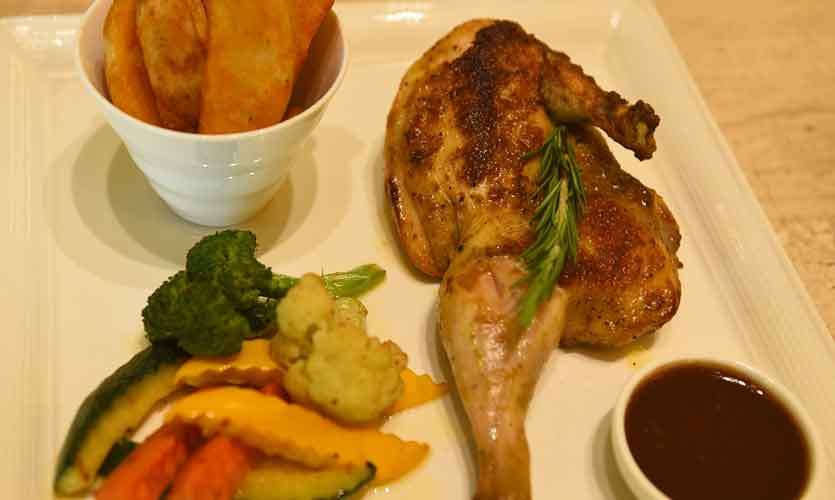 Desserts
Desserts include the "Apple pie" "Vanilla Brulee`" Chocolate brownie with vanilla ice cream and Tiramisu among many other scrumptious options. The Apple pie was simply out of this world! The pie itself was a bit crunchy and warm and the apple filling was a bit gooey, refreshing and absolutely yum! I would certainly recommend it if you go to the Ports of Call.

This is a wonderful place to have a once in a lifetime dining experience with amazing food, friendly and helpful staff, and of course, a relaxing ambience that is perfect for a date, dinner with your family or even if you need to treat your corporate clients to a fancy fine dining meal. Whatever your craving may be fear not because the "Ports of Call" will surely cater to your every need.
Don't let the prices fool you because the portion sizes are simply mind-blowing and totally worth the price!
Pics by: Nisal Baduge