Cafe Spinner is a severely underrated spot located at 479, Thalawatugoda Road, Kimbulawela, Madiwela. When we say bikers paradise, we mean it! The whole compound comes complete with a bicycle lab where they can actually tell you how your bicycle must be made to better fit your body so as to ensure you have no issues with posture and a host of other vital things. Additionally, while you're grabbing a healthy bite from the cafe you could simply drop your bike off at the Spinner Bike Spa, a part of the area that literally pampers your bike. Finally, the cafe is the coziest and coolest place, it's got bicycle themed decor and tiny bicycles inside the cafe for toddlers to peddle about, while you enjoy their twists on classic Sri Lankan dishes.
Ambience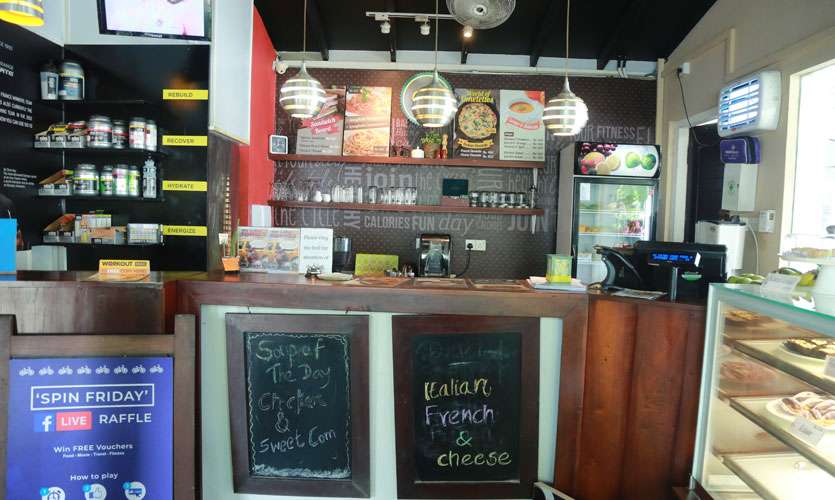 The cafe is the coziest little nook. It has a certain inspiring aura about it- one that makes you want you to get up and go exercise and reconsider your unhealthy life choices (which in our opinion is a good thing). The decor is absolutely inspiring and sticks to its "Bicycle Theme". It's comfortable, chilled out and is perfect for a hang out session at any time of the day, specifically if you're looking for some healthy tasty food and good drinks. Furthermore, if you leave your ID with the counter, you can go for a half hour bicycle ride for FREE!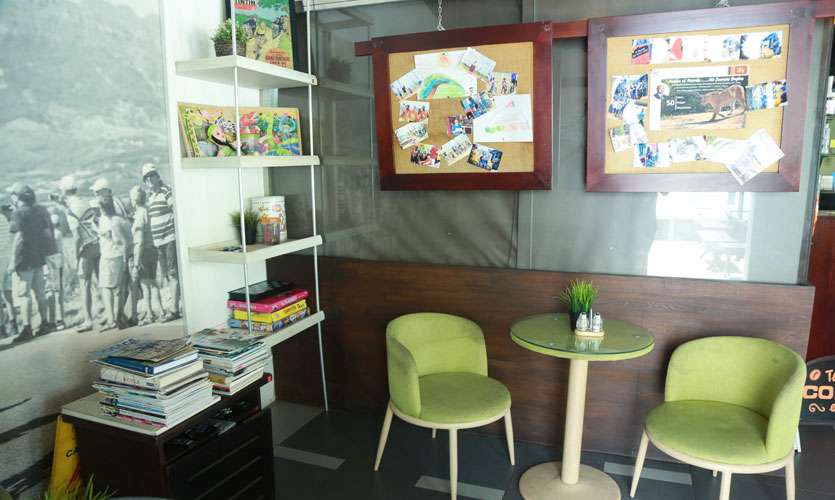 Food:
Rotti Sandwich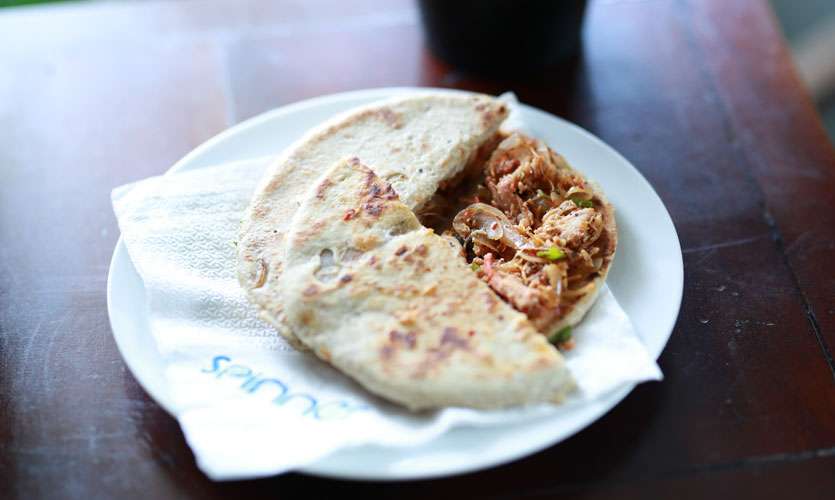 We swear by their Rotti Sandwiches. It is basically a twist on your classic Sri Lankan Pol Rotti. We had the classic Chicken Rotti Sandwich because we believe that if you can get the classics right then you're good to go. So this sandwich was everything we expected it to be and more. It was warm when it was served which added to the spice and the all round tingling feeling in your mouth when you eat something hot and spicy. It had a generous serving of chicken, which is something I love and look for in a cafe. If you're stingy and charge extravagantly, that is a big no for consumers. But Cafe Spinner is not only generous with its serving, its prices are beyond reasonable. My mum makes me rotti sandwiches so my standards are pretty high, and it's safe to say that they were met.
Manioc Kottu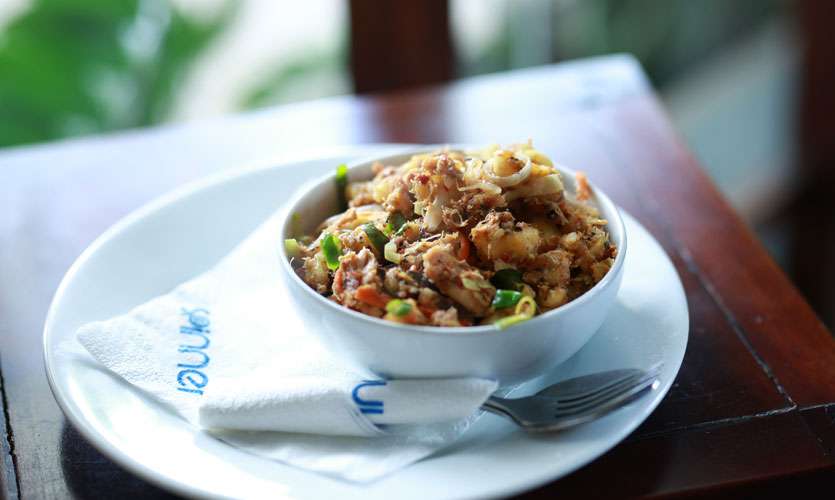 Okay, so I know you're possibly as skeptical as we were when we first heard the words "Manioc Kottu". But trust us when we say it will most certainly blow your mind because it most certainly blew our minds. The portion is massive, and we absolutely couldn't finish it, it was just the right amount of spicy, and the cafe actually has a cheese kottu option as well. The Chicken Manioc Kottu just like the Chicken Rotti Sandwich had a generous helping of chicken in it, and it was so filling, you could easily share a dish with a friend if you're not that hungry, and if you're famished this is the dish you should get. We would recommend it and give it a 10/10.
Drinks
Citrus Kick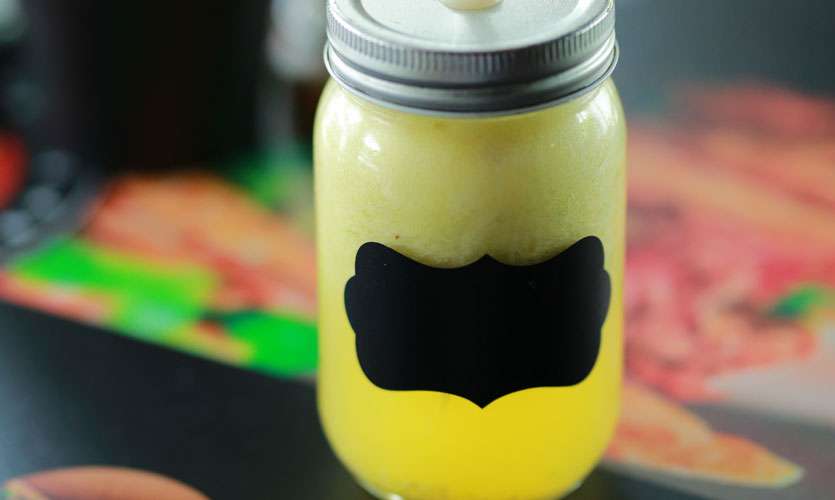 I have on numerous occasions stated that I love my citrus so that's literally what we got at the Spinner Cafe, we got ourselves the Citrus Kick, and trust us when we say it lives up to its name, it literally woke us up, it had an amazing kick to it. Furthermore you could tell that the juice was fresh, because it had really tasty fruit pulp in it, and not to mention their fruit to water ratio was just right. I love that they did not put sugar in the drink, it's the little things that help with sticking to your theme of an all round healthy lifestyle.
Things you need to know
Cafe Spinner lets you place your order, leave some form of identification and take one of their bicycles out for a spin, and the best part of this is that the first half hour is free.
Cafe Spinner also has a free programme that teaches you how to ride a bicycle, it's mostly for kids and it's on a Saturday, but we asked and they said that if you're an adult and you want to learn to ride a bike, just drop by and they will teach you.
The third thing that you need to know about Cafe Spinner, is that they have an ongoing CSR project, where they take used and broken down rusted bikes and give them a makeover and completely turn them around till they're good as new, and then they give it to kids who can't afford to get themselves bicycles. So if you have used bicycles rotting in a corner, just contact cafe spinner and help them help a kid, by giving that kid the gift of a bicycle.
Would we go again?
We most definitely would go again, we've got friends who are almost 30 and still do not know how to ride a bicycle, so we're definitely going back to Cafe Spinner (mostly for the food and also for the bicycle lessons).
Toilets: Available
Parking: Limited