The beauty and wellness industry - which has undergone a significant transformation especially in terms of heightened health and safety measures - recently recommenced services. Having implemented guidelines enforced to minimise the potential spread of the virus, the establishments have opened their doors to those seeking their services. While the industry hasn't withered away due to the inability and impracticality of enforcing physical distancing and the rise of home self-care practices, footfall is still relatively slow.
For industry veteran and President of Sri Lanka Association of Hairdressers And Beauticians (SLAHAB) Nayana Karunaratne, the strict implementation of health and safety standards and the involvement of PHIs is a welcome change. "For us, it has not been a very difficult thing because most of the health and safety standards that are expected as a result of COVID-19, are those salons should have. I would say 80% of the standards we already maintain - the mopping, the cleaning, the changing of towels, washing brushes, and combs. All those things are practices that are meant for salon health and safety and our salons have been doing it". However, Karunaratne acknowledges that this is not the case for a majority of the salons. "But the other things like the handwashing, taking the temperature, disinfecting shoes are all being done and I am very happy to say that cleaning tables and chairs immediately after use is all happening. Even the card machines and pens are disinfected".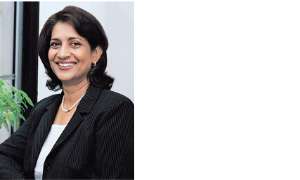 Image: Nayana Karunaratne
Gerald Solomons of Chagall has also ensured that the guidelines are adhered to at his salon. "The sterilization of the feet, the products, the bottom of the shoes are all done. The PHIs came a couple of times to make sure we're doing it right".

Faced with Challenges
Although Karunaratne is appreciative of the regulations and guidelines, she admits that there are many challenges they face. "The biggest issue with COVID-19 is social distancing. I would say that our services are not even personal space, but rather, really intimate space. Some of them are as close as six inches and the maximum distance is two feet. So that is the issue and that is also the danger. The danger is more for the salon staff than for the outsiders because we are exposed ten times when ten customers come".
For a customer-centric profession, the safety gear the staff is required to wear poses an additional inconvenience. "The protective gear, which is the face mask and the shield is actually very uncomfortable and there is often a mist on the shield because our breath escapes from the top of the mask" Karunaratne states. "But obviously, we have no choice, and we have passed the message to the staff that it is for our safety. So everybody is using it". Solomons shares similar sentiments about the discomfort related to the face mask - face shield combo. "The face mask is okay, the shield is hard. When you wear both, you can't see things properly".
While the services offered at salons are very hands-on, for Waxing services, which are comparatively more intimate, the apprehension of clients is often higher. A fear Durga Kenny, owner of popular waxing service Bewaxed, hopes to alleviate with strictly enforced guidelines, but this too is not uncomplicated. "As for the regulations, I feel although certain practices and guidelines might be impractical, we all need to adhere to them for the safety of all. Communication between the local authorities and the specialists in the trade needs to be improved so that the local authorities have a better understanding of the specific services".
Image: Durga Kenny
Slow Footfall
"Still the fear is there" Karunaratne states. "People are coming for the essentials. I don't know if financial constraints are also there, but I think people are being careful with their money. So it's not that you don't have the money for the facial, but you'd rather hold on to that money for something else".
Chammi Kumara of Cezanne Hair Studio agrees that many clients are still afraid of venturing out, especially to salons, where one on one contact is unavoidable. "People are scared. Most of the older clients who already have health issues are more nervous and they ask whether it's safe to visit the salon. Some clients haven't gone out from their front gate during the last two months but are visiting the salon for the first time, so it's our responsibility to take all important hygienic precautions to make them feel safe".
"We have only just started - it's been about 3 weeks now" Solomons states. "No facials are allowed. We are allowed waxing of the arms and legs. Haircuts are okay. We are managing. I think people are a little bit scared still. The older people especially. It has affected people a lot. It's not at full capacity".

An Expensive Affair
Salons have to be all kitted out to ensure they are adhering to the regulations. Nevertheless, the updates don't come cheap. "We had to buy extra equipment that was demanded by the PHI which is very costly" Kumara explained, adding that there would undoubtedly be numerous salons that would not be able to afford these. Solomons also shared that due to facials not being allowed, their products used for the purpose have to be replaced with new ones, resulting in one of many unavoidable additional expenses. "We have incurred many losses and paying staff without any income has also been a challenge".
The New Normal?
"From a hairdresser's point of view I am extremely happy that health and safety standards have come to stay and the customers are aware of this" adds Karunaratne. "We are getting quite a lot of gents haircuts that we never got before. I am suspecting that they are patrons of mediocre quality salons and are coming to us because of our health and safety standards". Nonetheless, she is optimistic about the future, adding "the country itself has been quite successful in keeping the virus from spreading and we should do our part to support it". Her optimism hasn't distracted her from reality, and she is still very concerned that safety standards are maintained. "I always tell my staff 'Take precautions and don't relax yourself. Always look at the positive outcome of the situation'".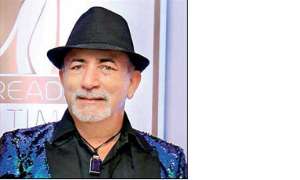 Image: Gerald Solomons
Kumara shares his optimism for the industry while acknowledging the reality of the situation. "Yes, it is difficult, but we do our best according to the healthcare guidelines and PHI requests".
"We need to acknowledge that this is new and different to all of us and it will take a little getting used to, but we will adapt and overcome like we always do. Furthermore, this is a time for us to tweak and better our services and standards as there is always room for improvement in any industry" states Kenny.