Fairway Colombo hosts a street food festival on the streets of Dutch Hospital Precinct, right in front of Fairway Colombo, by the name Fairway Colombo Street Food Festival. This takes place on the last weekend of each month and often they try to introduce themes to the event, so the Sri Lankan folk will get to experience cuisines from all over the world. This time, it was as the name suggested, street food of USA and Canada. Ranging from burgers to maple chicken, they had it all!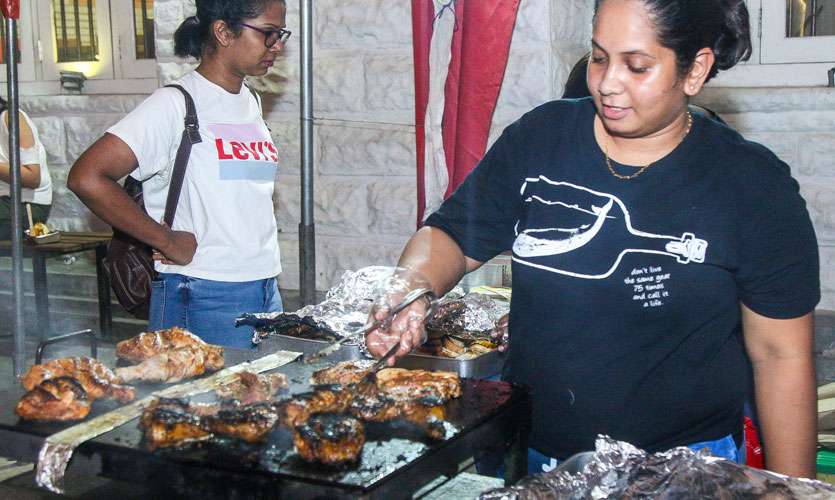 Ambience
Fairway Colombo is a hotel situated in the premises of Hospital Street and this time the street food festival had around 20 vendors, to give us a taste of American and Canadian cuisine. There were stalls from established restaurants like Botanik Rooftop Bistro and Bar and Tap House by RnR, to small business that are trying to make it such as TA's Kitchen and Wild Grill. There was also an area filled with games for the young crowd, such as high striker, hoops, and other fun games. The whole night with live music, with a band playing all the greatest hits from the continent of America.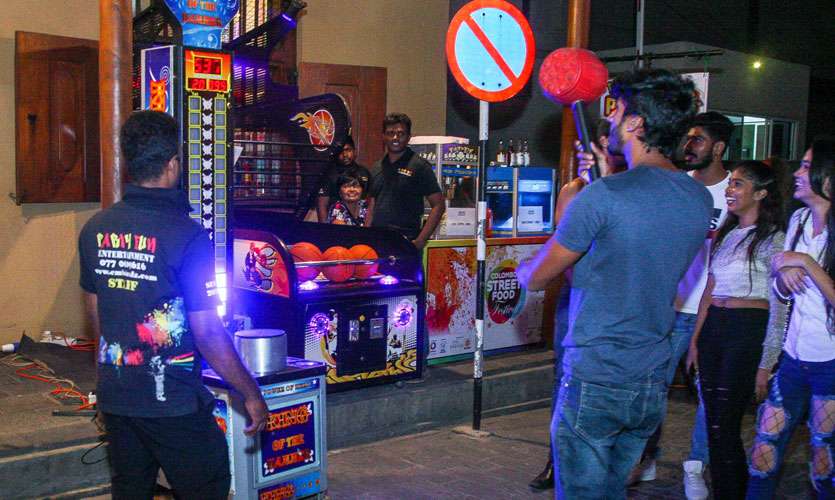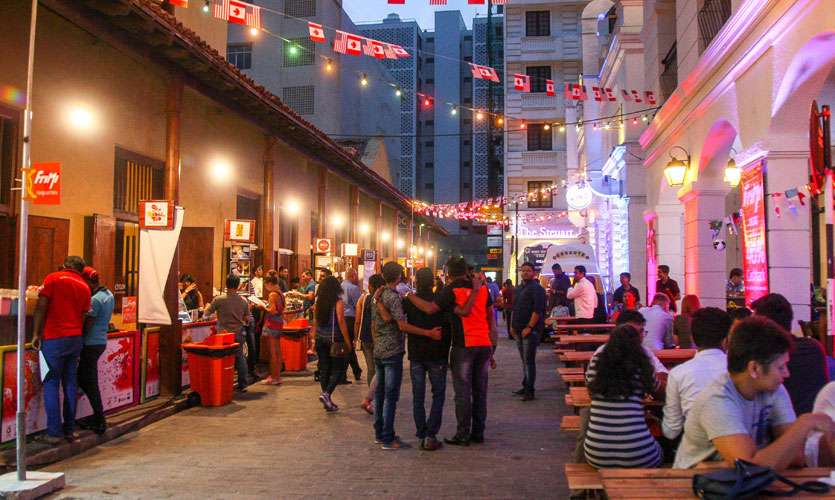 Let us take you through a few of the stalls we tried out.
Street Kade of Tap House by RnR
We decided to try out the Virgin Strawberry Mojito (Rs. 520) by them and it was quite refreshing to have in the crowded atmosphere with the acidity of citrus and strawberries cutting through the sweetness. As the night goes, it gets a bit tiring as it is a night packed with high energy and something like this can really rejuvenate you! They also had Wings and Wedges (Rs.580), Chicken St. Panini (Rs. 780), Pork St Panini (Rs. 780), Veg St. Panini (Rs. 720) and their Virgin Passion Mojito (Rs. 520) as well.
The Dutch Pub
We tried out their Buffalo Wings (Rs.600) and Doughnuts (Rs. 400) and both had four pieces each. The Buffalo Wings were fried to perfection and the coating sauce was spicy and everything you'd hoped it'd be. The doughnuts were light and fluffy and topped with sprinkled sugar. Both of these items captured and represented the taste of American street food seamlessly. They also had Jumbo Hotdogs (Rs. 350), Fish and Chips (Rs.700), Fried Calamari (Rs. 750), Smoked Beef Burger (Rs. 800), Roasted Full Chicken (Rs. 950) and much more.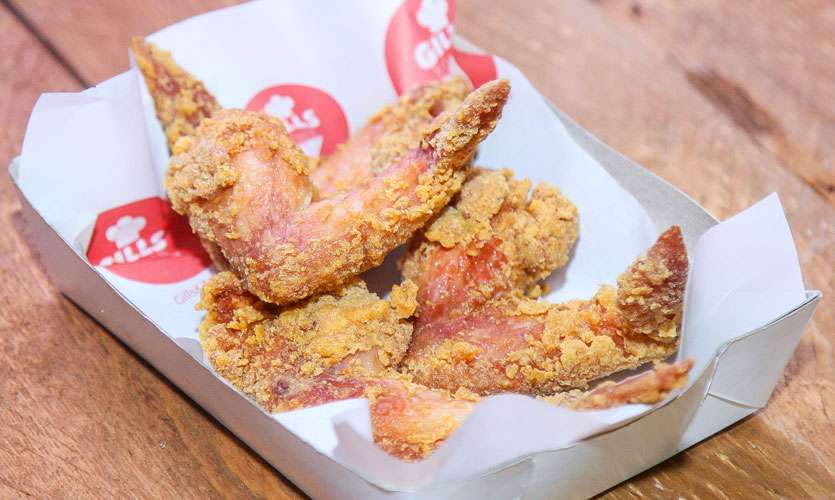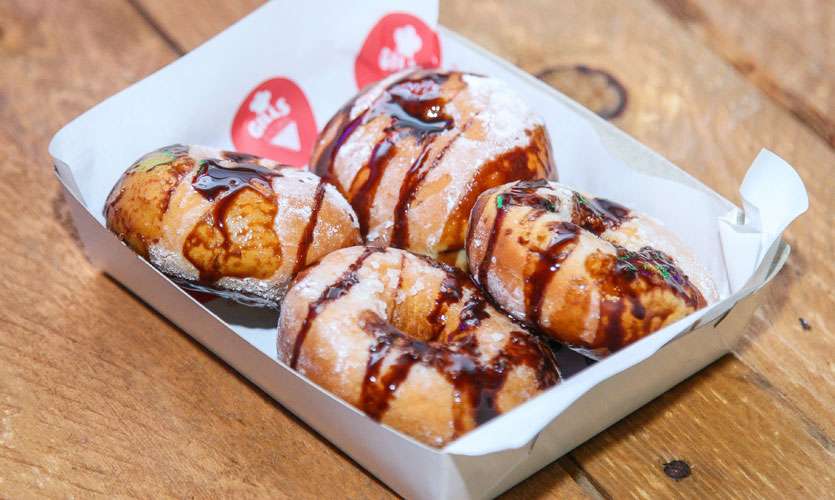 Botanik Rooftop Bistro & Bar
The Botanik Rooftop Bistro & Bar, offered three items, which are the Chicken Liver Parfait + Brioche Toast (Rs. 450) which had 4 pieces, the Beef Slider (Rs. 550) which had 2 pieces and the Prawn Roll (Rs. 600) which consisted of sriracha mayo and a brioche bun. From these we picked the Prawn Roll, which was beyond amazing, it did not deserve to be a street food. The prawns fresh and mildly cooked, dressed with the sriracha mayo, created a combination which was quite unfamiliar to my taste buds and it was absolutely delectable. We hope that this is in their usual menu so that we can try it out sometime later!
Wild Grill
The Wild Grill is a startup and was so eager to serve us their amazing and yet unique dishes. They had Grilled Chicken (Rs. 490) which was served with garlic bread, mashed potatoes or grilled corn, Grilled Sausage (Rs. 150) which was served with grilled corn and Mixed Grill (Rs. 690), which was served with garlic bread, mashed potatoes or grilled corn. Every dish could be dressed with a sauce of our choice from the sauces they had, which were a kochchi sauce, peri peri sauce, and BBQ sauce. We ordered the Grilled Chicken and I immediately went for the kochchi sauce, which is a staple for me. They were kind enough to garnish it with peri peri sauce as well. The dish tasted absolutely amazing, and if you ate the whole thing, you won't have any space to eat anything else. It was a large portion for Rs. 490 and totally worth it.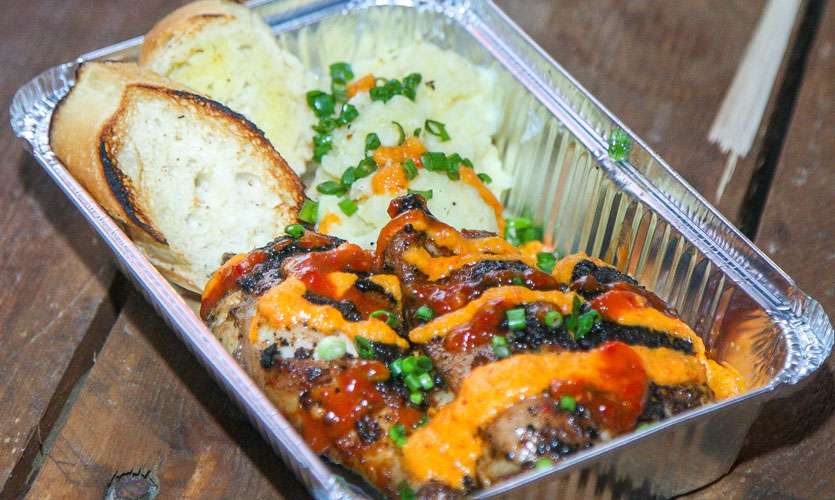 Desserted
Desserted was a dessert truck, which was quite the handy addition to the street food vibe the festival had. They had Creme Brulee (Rs. 250), Waffles (Rs. 360) and Muhalabia (Rs. 200). We decided to try out the waffles and it was quite good, with the waffles crispy, the chocolate sauce so rich and the whipped cream complementing it, it was literally a happy ending to a fantastic night.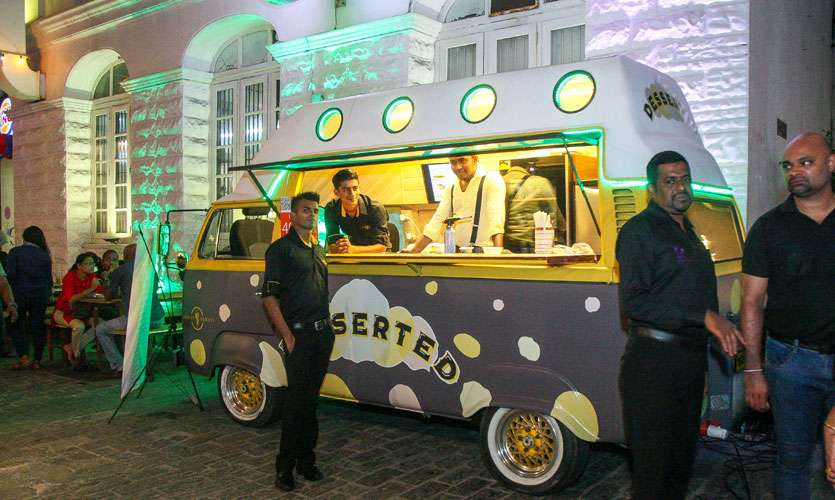 What we recommend: We would totally recommend the Prawn Roll by Botanik Rooftop Bistro & Bar and the Grilled Chicken from Wild Grill. Everything else we tried out was pretty good as well, hopefully, they'll organize an AmCan Street Food Festival again!
Service: 5/5
Parking facilities: 3/5
Toilets: 5/5
This event is something we thoroughly enjoyed and we are waiting till the next time to check out what amazing things they have planned.
Tips/notes by the author – The earlier you go the better. It gets crowded really soon, so to enjoy all of the things in place, it's better to go early.
Following are some of the comments the people there gave with regard to the food festival.
"It's good but we didn't get to experience much Canadian food here. It was mostly American food." – Lakshan Wijesinghe

"This event is interesting and they have a lot of varieties of food. Mostly they have burgers and food of that sort. Because Americans love burgers a lot. It was quite good!" – Nazra Ameer

"It's really good and it's really happening. The food is also very nice. We are fans of Fairway Colombo Street Food Festivals" – Nadeesha Rathnayaka and Shalini Peiris

"It's a great event in happening in Colombo. We are really enjoying the event. This is the third time, I am coming to Fairway Colombo Street Food Festival. I really like it." – Prince Gunawardane

"I've actually been here before and the event is really good. Pretty happening, really fun with live music and everything. I'm really enjoying it because of the FIFA season and a good combination of the popular trends" – Sean Dehoedt

"We have been expecting an event like this in Sri Lanka for some time. So, this is a great opportunity for the local people as well as the foreigners" – Aashiq Mohomed

"This is really great fun and we get to meet our friends here and also they have a lot of food stalls, which is pretty great. And we have games here as well, which people can enjoy. It's a good thing where everyone can enjoy" – Maleesha Arshad

"The Chamber of Commerce and the Sri Lanka Canada Business Council, to try and bring in the bilateral business councils together to support the tourism development in the industry as well as Canadian trade and American trade. So basically some of the food, like maple syrup is coming from Canada and steaks and such are from USA. And the products, produced from the two countries are brought in for the Sri Lankan consumer to experience the fusion of the culture. Also the bands that are coming here are playing a lot of American hits. We will be continuing with this process and this is in association with the US Embassy and the Canadian High Commission and the Ceylon Chamber of Commerce." – Ramya Weerakoon, Sri Lanka Canada Business Council of Ceylon Chamber of Commerce
Pics by Nisal Baduge