The Prince of Galle is a little slice of paradise we discovered in Galle by happenstance, and believe us when we say, it is one of our best discoveries to date. If like us you expect a rather royal experience just by reading its name, you wouldn't be disappointed. The Prince of Galle Hotel, Spa & Cafe is run by the nicest person you could ever hope to meet, he goes by the name of Kirk. We tried out their five-course breakfast option and we were pleasantly surprised by the twists the location had made to dishes you're normally used to. The dishes that made up the five-course breakfast were just right in terms of size but their taste could leave you clamoring for more. We were thoroughly impressed by our experience, so it's safe to say the Prince of Galle exceeded expectations. The Prince of Galle is somewhat of a boutique hotel, so if you plan on staying in Galle for longer than a day, maybe this would be the perfect place for you to set up camp! We've seen the rooms, they're luxurious and homely!
Ambience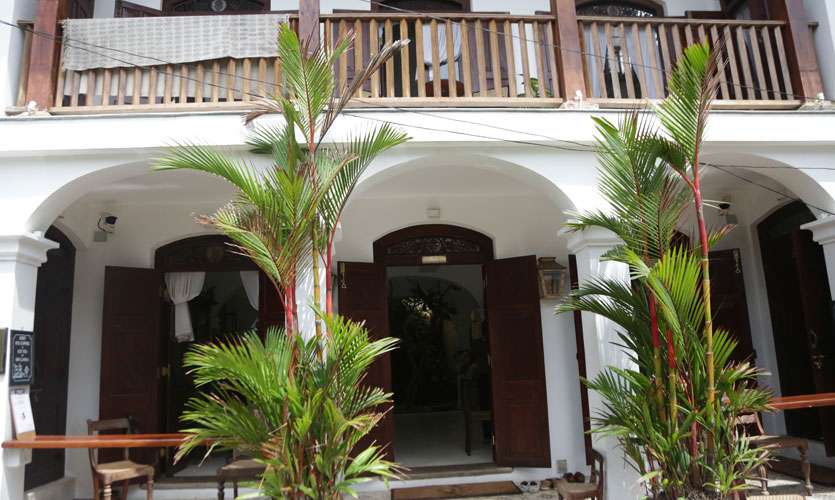 Would you believe us if we told you that it is possible to be in an area that feels like it is out of a fairy tale, with a touch of royalty and somehow homeliness? Because that was the vibe the Prince of Galle Hotel, Spa and Cafe gave off. The decor brings about a rather down to earth feeling, as do the seating arrangements, and we say this because the table we sat on was literally an old sewing machine that had been fixed up to give off a rather elegant look. We are of the belief that service adds to the all-round experience of a place and the service at the Prince of Galle was exemplary, it was efficient and the staff was the friendliest and most pleasant people you could ever hope to come across.
Food
Breagustation (5 Course breakfast)
First Course ( Fruit Bowl with freshly roasted muesli and buffalo curd with treacle)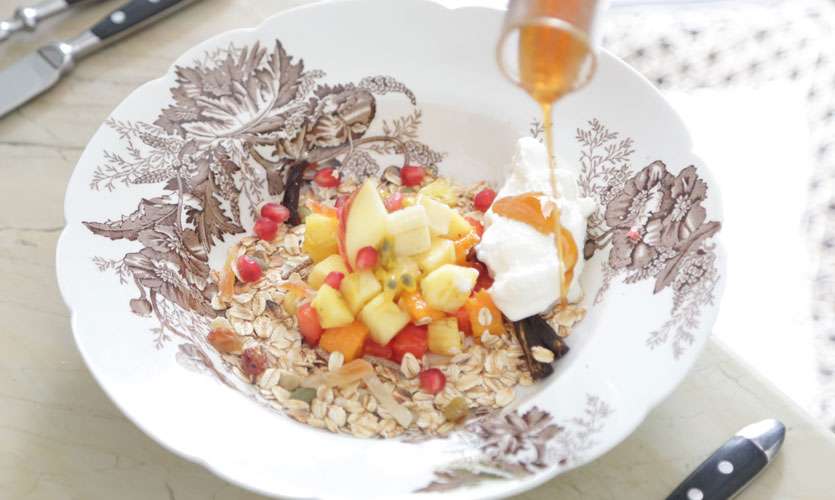 The first course consisted of a generous serving of chopped up fruits ranging from fresh mangoes, apples, bananas etc served with freshly roasted muesli, a scoop of buffalo curd topped with kithul treacle. It was interesting because I had never had fruits and curd before, let alone not with freshly roasted muesli. Each component of that dish was a compliment, it tasted amazing and we made it a point to get in a bit of each part of the dish with each bite. It was a lovely combination and served as a perfect first course.
Second Course ( French Toast with a Lankan Twist )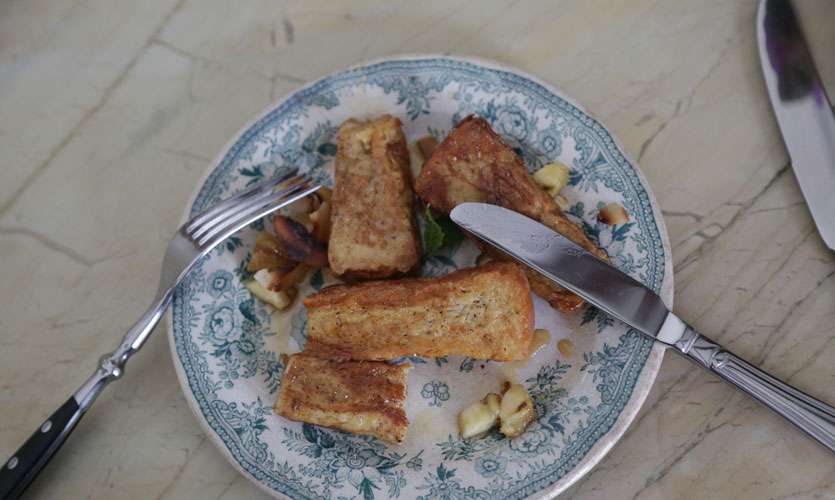 This, to be honest, was the dish that we loved the most throughout the entire experience, more specifically because in all my experiences with french toast I have always always been disappointed. Yet somehow, this dish made with "roast paan" turned my perception of french toast right round. We were thoroughly impressed by how the toast, although soaked in egg, bore no eggy smell, and was crispy on the outside and had a custard-like consistency on the inside, which in my opinion is perfect for french toast. We were actually left wanting more even though the serving size was perfect. It was good enough to leave you satisfied and memorable enough to leave you forever wanting more.
Third Course ( The Palate Cleanser )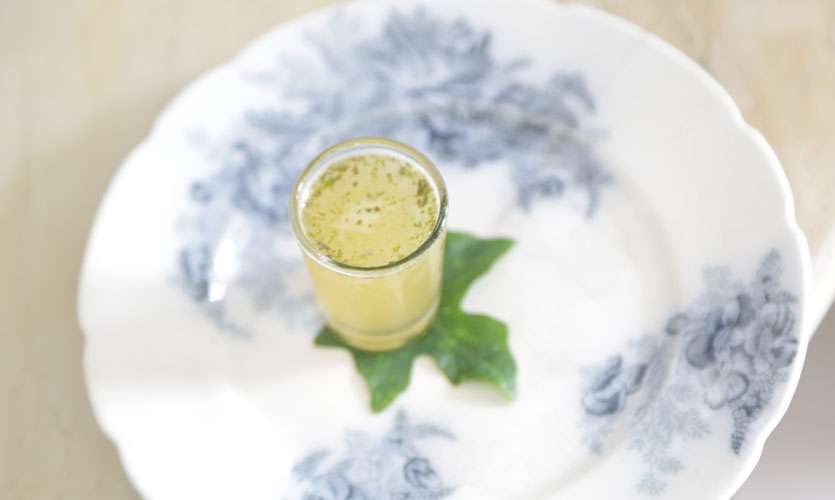 The palate cleanser came in a tiny shot glass, and it was a burst of citrusy goodness, and considering that I am somewhat obsessed with all things citrusy it proved to be perfect in the middle of breakfast. The palate cleanser served its purpose well. It did clear my palate of the sweetness that I had before and better prepared me to take on the main dish of the 5-course breakfast.
Fourth Course (Hoppas)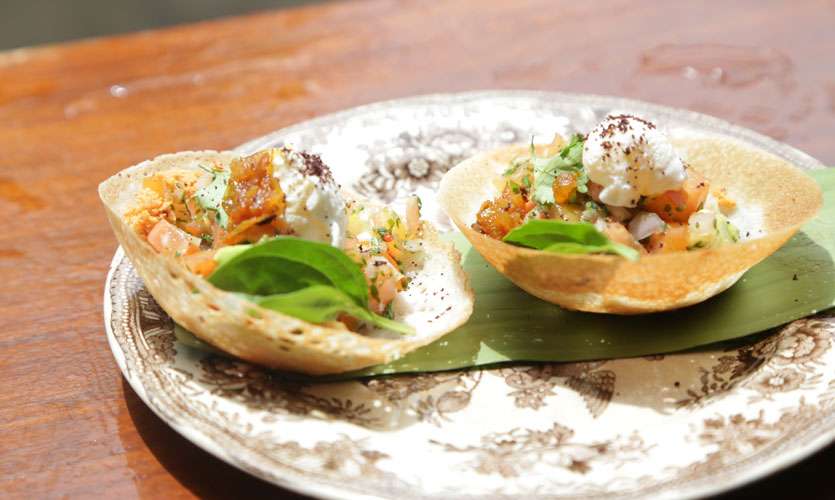 The fourth course of the meal was the most interesting of it all, it was a merge between Tapas and Hoppers, basically Hoppas! And the Prince Of Galle take's their Hoppas very seriously, so much so that they specially crafted tiny pans to make their guests bite-sized hoppers. Tapas by default are small servings of practically anything and while Prince Of Galle served tiny hoppers they added a little twist to it. The hoppers came with the most exciting salad like filling topped off with a poached quail egg. The egg, the avocado, and the hopper contributed to an enticing slightly creamy experience, one that I'm quite certain you'd only experience at this establishment. This particular dish earned the Prince of Galle 10/10 for creativity and presentation.
Fifth Course ( Toasted bread with Homemade Jam)
As normal as the title sounds, this dish too was special in its own way, when a menu says "toasted bread" you always tend to expect that clean cut, squared slice of white bread, but guests at the "Prince of Galle" get slices of the classic Sri Lankan "Roast Paan". Let us take a moment to tell you just how much we loved these authentic little surprises, it really did make the experience all the more interesting and enjoyable.
Now the homemade jam was something out of this world, not many locations stay true to their claim of making actual homemade jam, but if you were to visit Galle and you wanted some amazing homemade jam, we would absolutely recommend the Prince of Galle. We had their woodapple jam and pineapple jam, and it was like eating the fruit itself, it even had pulp in it. No synthetic taste to it at all.
Drinks
Iced Tea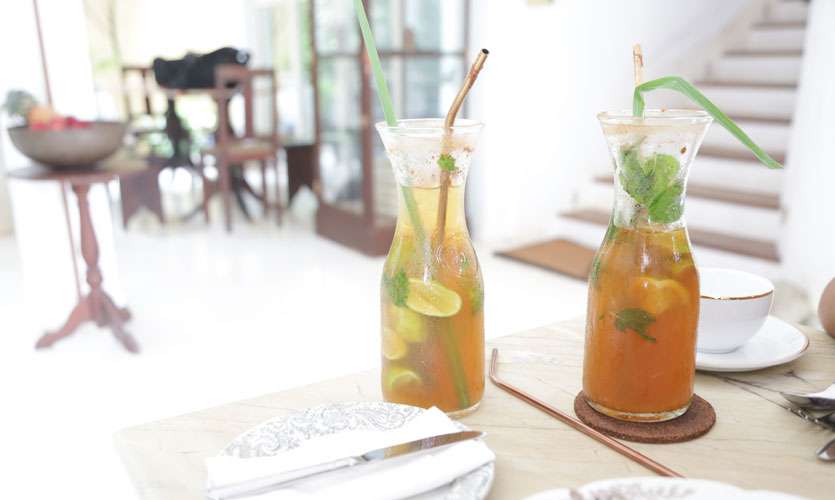 We had the iced tea, which is generally served as a welcome drink to all those that grace the hotel. It was served in a large jar, with a metal straw and dusted with cinnamon powder, which is also made in-house. It was a simple lemon iced tea but it was so refreshing after the long journey we took to come to Galle. I must say as opposed to heavy drinks you are normally served at Hotels, this was a breath of fresh air. It was light, it was abundant and it was tasty.
Things you need to know
The Prince of Galle is ECO-FRIENDLY! That's right, I was overjoyed when I saw the metal straws and the straw cleaners and the lack of plastic in the Hotel. Our amazement hit higher levels when the owner told us how adamant he was that plastic not be used in the hotel, so much so that suppliers are not allowed to bring plastic in through the door, meaning their packaging cannot be plastic. Considering that the hotel is located in Galle and is surrounded by the ocean, we're impressed that its values are so sound.
Would we go again?
Of Course, we would go again. It's situated in the perfect location and in terms of service and quality, it is at the highest it can be. Each guest is well cared for and they're also surrounded by such positivity courtesy of the lovely manager and her staff. We would definitely go again and we recommend that you visit the place too.
Toilets: Available and so well kept!
Photographer: Dasun Muthugala