Harpo's cafes and restaurants have brought back their specialty menus for the summer season, featuring a combination of zesty
flavours
in mouth-watering dishes, and deliciously refreshing drinks to beat the heat. It's evident that each dish has been carefully curated to capture the vibrant essence of summer, and all four restaurants we visited did not disappoint.
Here are our
favourite
items at each spot!
Colombo Fort Café – Dutch Hospital
Drinks (3.5/5):
The cherry lemonade and cucumber lemonade are the perfect thirst quenchers to complement your meal without filling you up.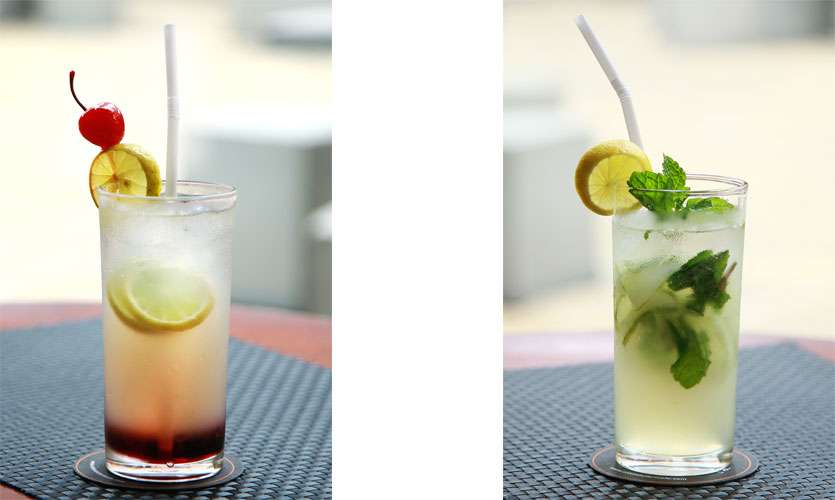 Mains:
Grilled lime salmon with avocado mango salsa and coconut rice (5/5) – This dish is the embodiment of summer with an incredible balance of flavours, both sweet and sour. That coconut rice though. Yum.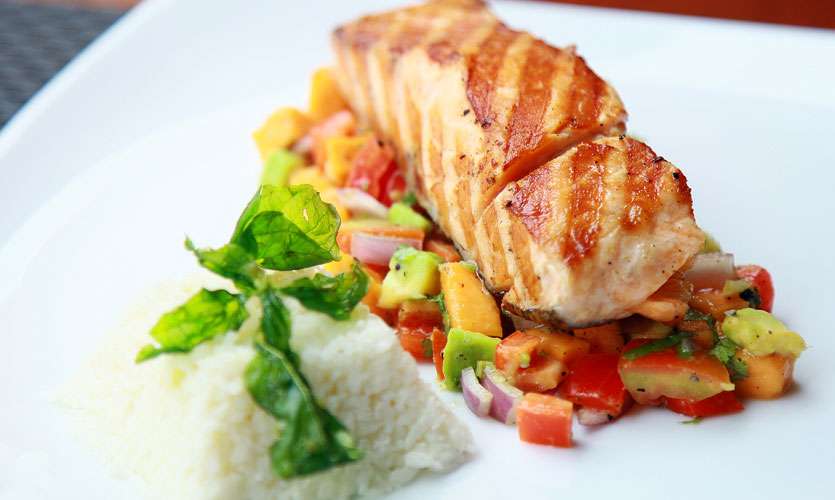 Slow cooked teriyaki pork ribs with salad (4/5) –Flavourful, succulent meat that is fall-off-the-bone tender. Wish it was served with a side of carbs, however.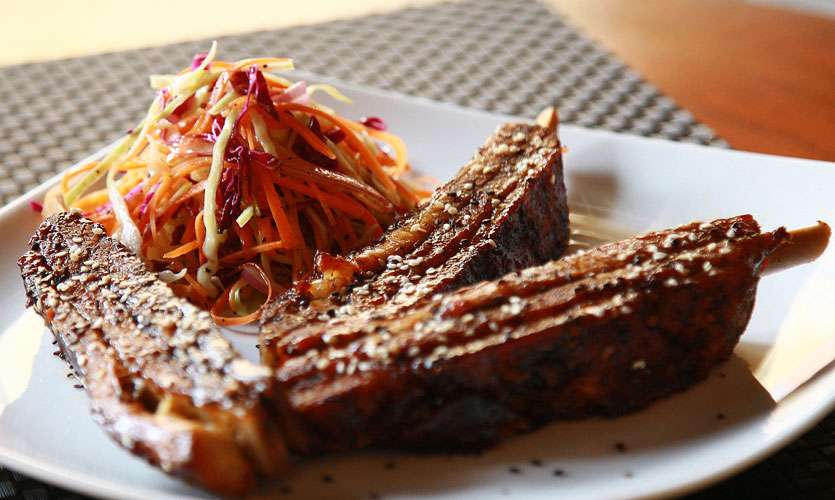 Grilled spiced chicken with crunchy apple salad (3.5/5) –The marinade elevates the smoky flavour of the chicken, with an invigorating hit of sweet acidity brought by the apple salad.
Dessert (4/5)
The frozen peach shortcake is one for fruity fans with a sweet
tooth and
consists of a vanilla mousse embedded with peaches, on a layer of dark chocolate cake.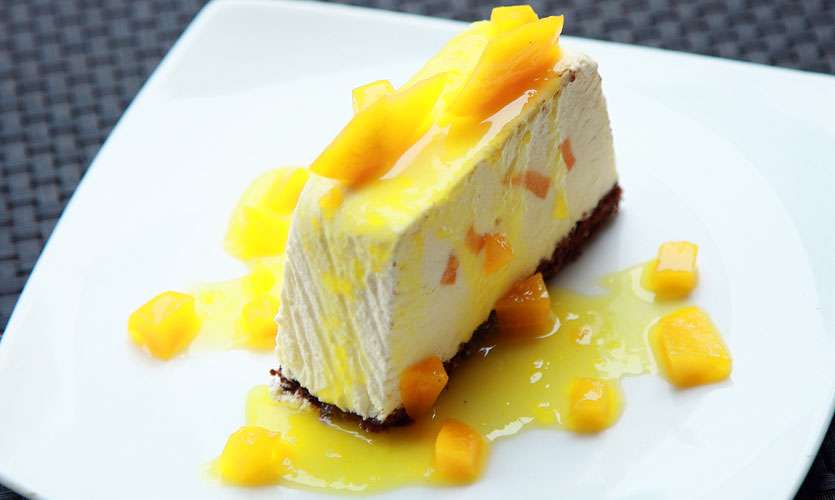 Park Street Mews
Starters:
Pan Tahini glazed chicken loin, with wasabi guacamole, strawberry, melon and chili dressing (4/5) – The chicken is flavourful on its own, but the sauce knocks it out of the park (wish there was more of it, though). The watermelon doesn't quite fit, but the strawberries add an interesting sour edge to the dish.
Teriyaki seared tuna with grilled baby young corn, peppers and banana chutney (4.5/5) –The tuna is juicy and light, making it a great starter.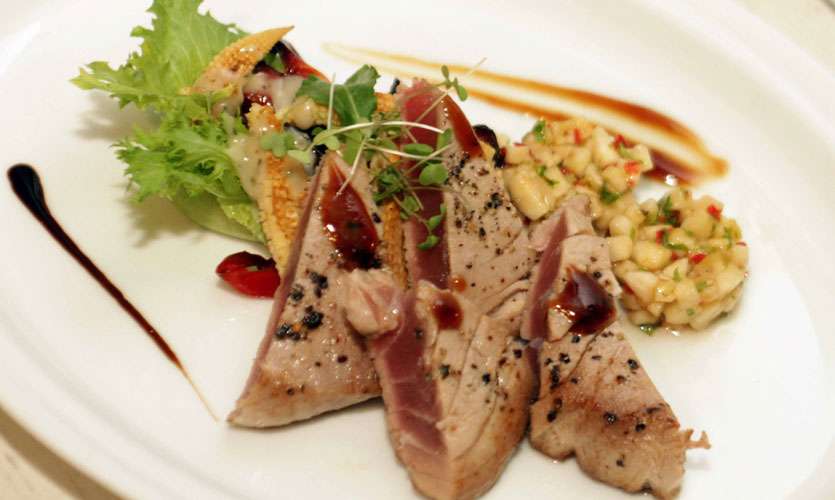 Mains:
Szechuan style fried pork with wok fried rice (3.5/5) – A must-have dish for Chinese
cuisine fanatics
!
Pan-fried salmon fillet with aubergine caponata and sweet tamarind sauce (4/5) –A delicious meal overall, with the tamarind sauce shining through.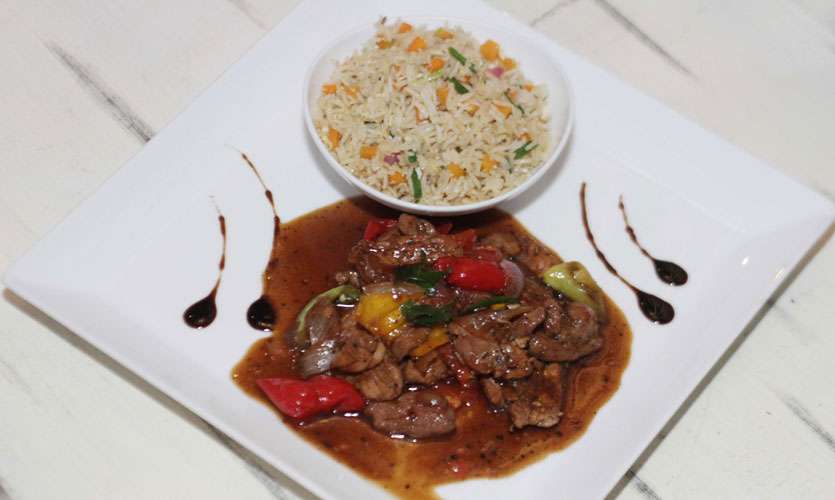 Lemongrass marinated chicken accompanied with oven roasted butternut squash, onion, strawberry and mint salsa (3.5/5) – A beautifully plated dish where, although the chicken can be a bit dry, the combination of strawberries, mint
and
lemongrass creates a lovely balance of
flavours
.
Dessert:
Summer
Berry
Pavlova with
jocande
sponge and creamy orange sauce (4.5/5) – We fell head over heels for the dollop of
orange-flavoured
ice cream it was served with.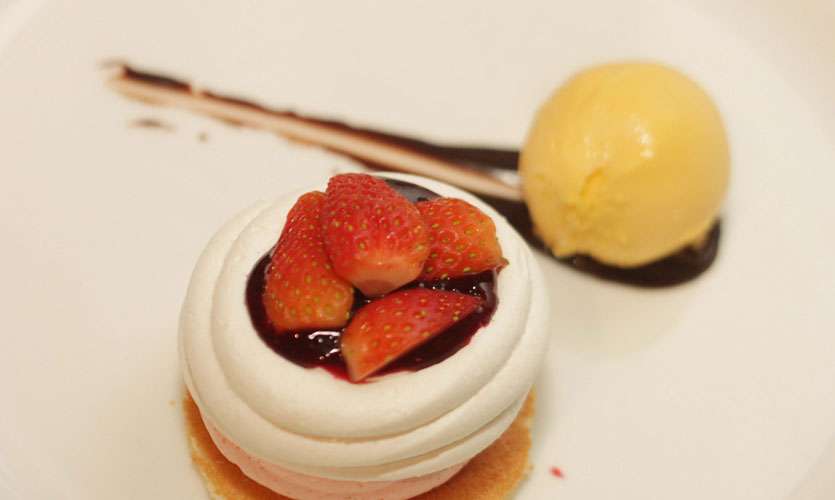 Lychee granite rose buttermilk pannacotta with raspberry sauce (4/5) –A very summery dessert, the raspberry sauce prevents it from becoming overpoweringly sweet.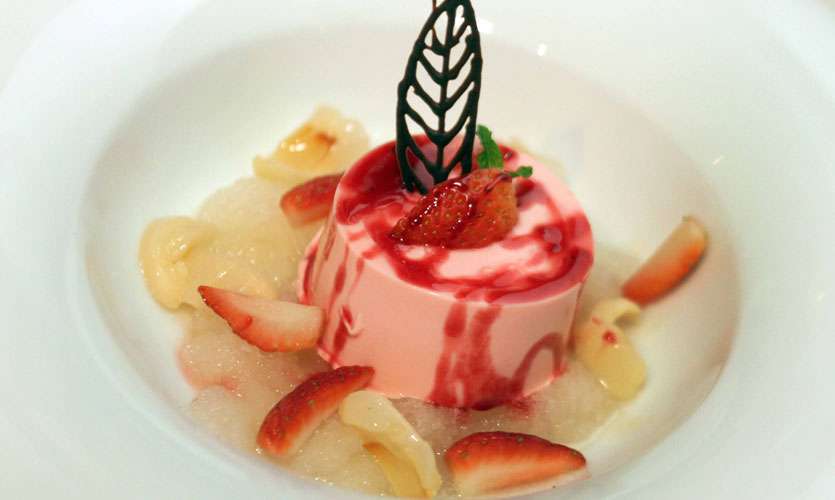 The Summerlicious menus are available from July to August
Photographs by Damith Wickramasinghe, Pradeep Dilrukshana and Waruna Wanniarachchi