KAVINDYA THENNAKOON IS A POSITIVE CHANGE-MAKER THAT LOOKS AT SOLVING PROBLEMS IN A PRACTICAL WAY, ESPECIALLY WHEN IT COMES TO EDUCATION. BILLED AS A CHANGEMAKER KAVINDYA WILL CHAIR DISCUSSIONS AT SLDF 2021. DRIVEN BY PASSION TEMPERED WITH FEARLESSNESS KAVINDYA IS AN ACTIVE CAMPAIGNER FOR SOCIAL JUSTICE. IN 2014 SHE WON BOTH THE HARVARD GLOBAL TRAILBLAZER AWARD AND THE INAUGURAL QUEEN'S YOUNG LEADER AWARD FOR A COMMUNITY SERVICE PROJECT THAT SHE DESIGNED TO IMPROVE EDUCATION AND PROSPECTS FOR DISADVANTAGED YOUTH. KAVINDYA GRADUATED FROM WELLESLEY COLLEGE IN 2019 WITH A MAJOR IN ANTHROPOLOGY.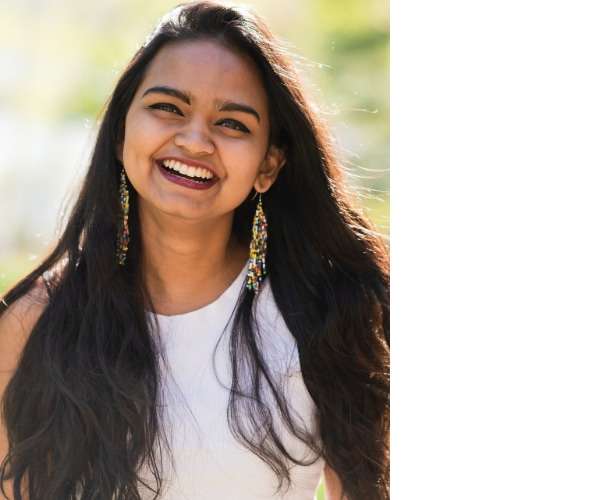 Q WHAT MADE YOU FOUND WITHOUT BORDERS?
We started without borders in 2014. My co-founder; Sakie Ariyawansa and I had very small plans of starting an English teaching programme at the village temple in Kahanwita, where I was raised. I saw first hand the crippling education divide that existed between classrooms that had access versus those that did not. This was the problem we set about to solve. Over the past 6 years, we have explored the learning space in trying to understand how we can make high-quality learning experiences accessible to every learner irrespective of where they come from.
Q BRIEFLY, WHAT IS THE MANDATE OF WITHOUT BORDERS?
We have pivoted over the years and now operate as an Instructional Design company creating accessible and impactful learning experiences. We combine pedagogical knowledge from the learning sciences with the power of human-centred design to create learning experiences that are outcomes-driven, accessible, and playful. We focus on two core skills; critical thinking and creative problem solving and apply this within the different domains we work in like social-emotional learning, English language skills, community organising and Sex Ed.
Q WHAT DRIVES YOU TO PUSH YOUNG PEOPLE, DISRUPTORS, THOUGHT-LEADERS, MAKERS AND SHAPERS TO RE-IMAGINE THE WORLD AROUND THEM?
I strongly believe in the power of 'reimagination' to envision and create a future that is more just, equitable and kind. We cannot create a future that is different, a future that works for everyone and not for just a few of us if we continue to use the same mindsets and systems as those who came before us. I think this is the very reason why disruptors like Rep. Alexandria Ocasio-Cortez and Greta Thunberg take the world by surprise and cause those in power to retaliate. We have a healthcare system that doesn't work for everyone, an approach to the economy that continues to make the rich better off and a political system that is run by a few families. There is always a better way.
Q WHY IS IT SO IMPORTANT FOR THEM TO "RE-IMAGINE"?
My thesis while at Wellesley was on 'Design Anthropology as a tool in reimagining local education
systems.' I spent a year exploring the concept of 'reimagination.' The act of reimagination is often seen in the world of Sci-Fi and also written about extensively in Anthropology. It's more than just a word but rather a political act. Reimagination means to challenge the status quo. To question power and authority. To dismantle systems that are oppressive and inequitable. To ultimately create a way of life that works for every community; especially those who have historically had less power and privilege.
Q CRITICAL THINKING IS NOT ENCOURAGED IN THE SRI LANKAN EDUCATION CONTEXT. WHY SHOULD
WE CHANGE THIS?
Critical thinking is one of the most in-demand skills of the emerging world. More importantly, it factors into everything from better social-emotional skills to making better civic choices. Critical thinking is not something that could be taught in a classroom similar to other subjects. It needs to be seamlessly integrated into everything from math to the humanities to become the connective tissue that allows us to apply our classroom learnings to better analyse and solve the problems that we face in our daily lives. For example, if you look at our civic curriculum we give students a bunch of facts, figures and pieces of information that they are required to memorise and reproduce on an exam paper but we don't give them the opportunity to apply their learning to better engage with their local government, to make use of privileges like the Right to Information Act or more importantly to vote smart.
Q HOW DO YOU PERCEIVE THE FACT THAT THE LACK OF CRITICAL THINKING HAS IMPACTED ON CREATIVITY?
Creativity and critical thinking are the two core skill sets we focus on at Without Borders. For us, these two are intrinsically linked. Our education system is based on rote learning. The structure of our school to university pipeline doesn't allow for much creative problem solving since there always seems to be a right versus the wrong answer. Critical thinking brings with it the freedom to think, which is where creativity often begins.
Q YOUR WORK WITH WITHOUT BORDERS ENCOURAGES A LOT OF FUN, CREATIVE AND INNOVATIVE LEARNING. HOW SUCCESSFUL DO YOU THINK THIS MODULE IS?
We believe that learning should be intentionally designed, playful, and relevant to the world beyond the classroom. We use a range of different metrics to measure the success of our learning experiences, such as engagement, accumulation of new learning, application skills, shifts in perspective and confidence. For example with our school-based programmes such as Ideator focused on taking Design Thinking to local schools, we've always recorded success rates of above 85% in terms of the percentages of students who report having acquired new learning, those who report to feeling more confident in solving issues in their community and using empathy in their everyday lives. We have always received incredible local support from divisional secretariats, school teachers and principals and requests for repeat interventions.
HOW CAN WE AS A NATION ENCOURAGE OUR YOUNGER GENERATIONS TO PLAY A GREATER ROLE IN CREATIVE PURSUITS INSTEAD OF TRAVELLING DOWN THE TRADITIONAL ROUTE OF BEING A DOCTOR, LAWYER OR AN ENGINEER?
I think all these traditional routes are also in dire need of critical thinkers and creative problem solvers. As you will see in our series of speakers during SLDF many of them come from very structured institutions and even occupations but they have been able to rethink the spaces they work in and become disruptors in their own right. I think this is exactly what the generations that come after us should be supported to become - empathetic problem-solvers and creatives irrespective of their job title.
Q YOUNGSTERS ARE RELIANT ON THEIR PARENTS TO FUND THEIR EDUCATION. HOW CAN WE CHANGE THE TRADITIONAL MINDSET OF PARENTS THAT EMPLOYMENT IN THE CREATIVE INDUSTRIES IS AS RESPECTABLE AS OTHER FIELDS?
I think I am not the best person to speak to this. I was raised by an extremely creative, radical thinking mother who always encouraged me to speak my mind, to take risks and do work that is meaningful. We come from a very ordinary background and I am sure this was a tough call for her as well since most parents simply want to ensure their children have a secure future and creative industries are inherently seen as unstable and unpaid. I think the industry also has a role to play in changing this mindset. We're always super quick to ask our creative friends for time to 'pick their brains' but we never ask our doctor friends for a 'free consultation.' We need to start paying our creatives better and to put an end to assuming that creative work is easy hence can come for free. Our schools need to change the narrative of what 'success' means and for that we need more stories of ordinary people doing extraordinary work within the creative industry to be publicized.
Q WHAT IS YOUR MESSAGE TO YOUNG PEOPLE WHO ARE CONSIDERING A CAREER IN THE CREATIVE INDUSTRY?
Three things:
1.
Find a problem that makes you angry and be relentless and obsessed with solving it.
2.
Intentionally design your creative process.
3.
Leave your community better than you found it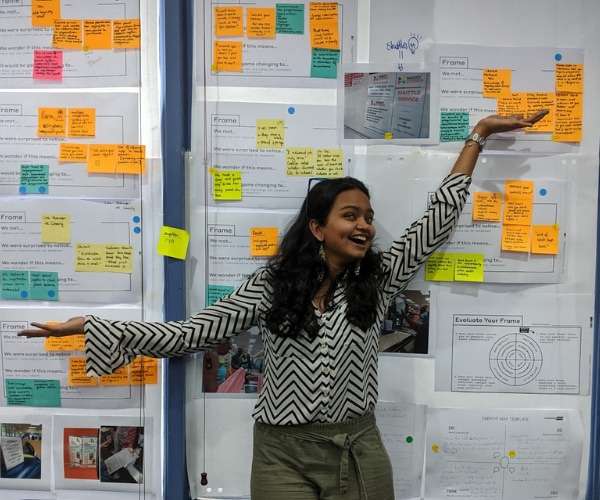 Activities moderated by Kavindya are listed below please register for the programme via
www.srilankadesignfestival.lk
CHANGE MAKERS: REIMAGINING LEARNING 15 JAN, 11:00 – 11:45 GMT+5:30 ONLINE ZOOM EVENT
Schools and classrooms as we traditionally know them have 'killed creativity'. The world desperately needs a new approach to learning that works for every learner and educator. Learning that is accessible, equitable, playful, outcome-driven, and re-imagined. Stay tuned as we unveil more details.
CHANGE MAKERS: REIMAGINING HEALTH AND WELL-BEING 16 JAN, 11:00 – 11:45 GMT+5:30 ONLINE ZOOM EVENT
How are innovators rethinking health and wellbeing from hospitals and care institutions to our homes, Healthcare. Stay tuned as we unveil more details.
CHANGE MAKERS: TECHNOLOGY 17 JAN, 11:00 – 11:45 GMT+5:30 ONLINE ZOOM EVENT
Over the past decade, technology has dramatically changed our everyday realities in ways that we hadn't imagined before. How are young people
leveraging technology for good? To rethink everything from how we stay healthy to the way we learn. Stay tuned as we unveil more detail