Identified as one of the seven most beautiful beaches in the world by some global destination experts, Unawatuna is currently one of the most popular beach destinations in Sri Lanka. Unawatuna, a traditional fishing village with a magnificent horseshoe-shaped bay beach frontage and mysteriously beautiful Rumassala Forest as a backdrop, attracts not only foreign travellers but many Sri Lankan adventure lovers.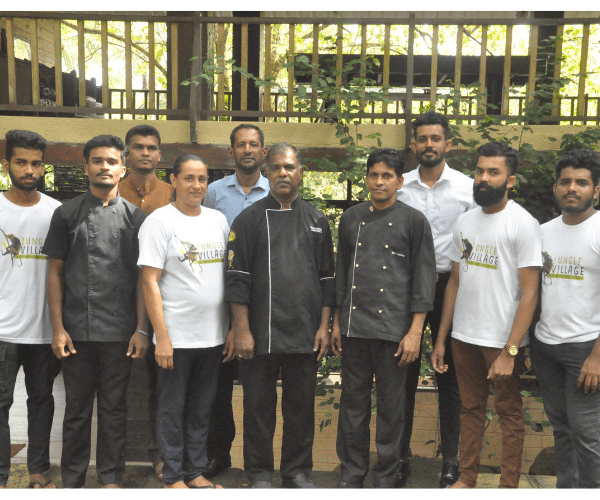 Uniquely located on a five-acre land off the summit of Rumassala hill with a view of renowned Galle harbour, which was known as 'Buono Vista' (magnificent view), 'Jungle Village Resort' is probably the only resort in Sri Lanka with rainforest at its backyard and mountain top sea views in front.
'At 'Jungle Village by Thawthisa' guests can experience the calmness of an isolated jungle and the excitement of the popular 'Jungle Beach' of Unawatuna at the same time' said Nimal Geeganage, the proprietor of the property.
'Jungle Village by Thawthisa' boasts of having 24 well-appointed rooms with stunning views of the jungle or the deeply peaceful garden that is famous for its tranquillity. All Jungle Village chalets are traditionally designed and provide all modern facilities.
All 24 double rooms of the Jungle Village have modern amenities and an unrestricted mountain jungle view with the sounds of hundreds of bird varieties. Superior Chalets are furnished with either twin beds or double beds and with all other modern amenities. Apart from free Wi-Fi, satellite TV, a mini-bar, and coffee and tea-making facilities, Jungle Village offers round-the-clock room service.
'Jungle Village is an Eco-friendly resort and its name expresses the vision of our service. It's a village in a jungle where guests can experience the real village homely atmosphere. Guests have the freedom to enjoy and adopt the pace of nature. We do not have fixed time tables for meals or rules. The guest is the king and he can have his meals at any time, and do whatever he wants. We are ready to serve him' Geeganage added.
'Jungle Village by Thawthisa' also features a host of added luxuries, a fusion restaurant promoting innovative Sri Lankan, Eastern and Western cuisine – and the famous English pub style Bar, flaunting a diversely inspiring beverage list. It offers guests an experience that is intimate and personalised while providing the highest level of service.
'From our traditional cuisine to hot and authentic rice and curry along with a whole range of Sri Lankan dishes are the most popular. Western, Continental, Far Eastern, Italian, Mexican dishes and Chinese and Indian cuisine too can be prepared by our experienced team of Chefs led by Group Chef Nihal Lokusuriya' said MD Nimal Geeganage.
The main restaurant and sitting areas are designed to provide a super, natural view of the jungle. The Jungle Village Chef Indika offers to arrange an open area dining in the jungle or by the pool on request or for special occasions.
Excursions and tours are another service of 'Jungle Village by Thawthisa'. Unawatuna is an attractive sandy bay popular for lounging and snorkelling. Dalawella, Talpe and Mirissa are also a very short distance away and popular with water sports lovers.
'Whale and Dolphin watching in Mirissa is a half a day tour, which can be arranged on request' said Chandana Godage, the Marketing Coordinator of the Thawthisa Group.
Apart from Galle Fort and other colonial places, other attractions close to Jungle Village include Kottawa Rainforest, Spice and Cinnamon plantations and Tea plantations at Hinduangoda which is said to produce the world's most expensive white tea. The Martin Wickramasinghe Museum and Turtle Hatchery at Kosgoda, Madol Duwa in Koggala, stilt fishing at Ahangama, Blow hole in Tangalle and the temples at Yatagala are some of the other popular attractions for travellers.
By Sanath Weerasuriya
Pix by Shan Bandu Weerasinghe