As I drive up through the lush green jungle in Rumassala, Unawatuna, I spy my destination for the night. Cantaloupe Levels is true to its name – the property sits high on the hill overlooking the ocean with distinct architectural levels (even though the hotel was actually named after the Avicii song "Levels").
Most recently, Cantaloupe Levels has won the World Luxury Hotel Awards for Top Luxury Contemporary Hotel in the South West Asia Region in 2018, so I had high expectations.
Upon entry into this greenery filled oasis I'm met a friendly smile as I'm served a tropical welcome drink and I'm immediately impressed by the fact it doesn't include a plastic straw; instead they offer eco-friendly metal straws.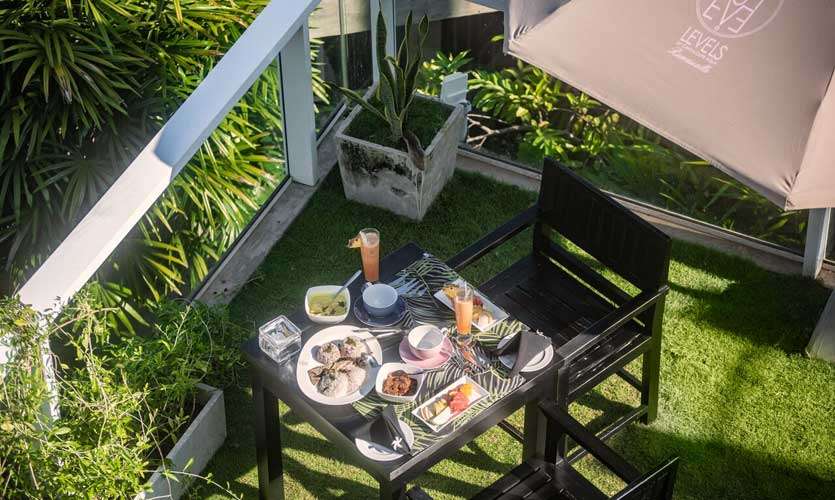 As much as I would like to sit on a daybed and drink cocktails, I'm here for another purpose. Levels, a boutique property with only 8 rooms, have recently transitioned into the lifestyle and wellness hotel scene.
The concept of the hotel allows you to choose how little or how much "wellness" you actually want to be involved in. Guests can either pre-book activities or decide on the day, based on availability.
As a bit of a wellness junkie myself, the thought of yoga, spa treatments and healthy food but in a luxurious surrounding sounded like the perfect break to me and Levels didn't disappoint.
My room was one of two suites with large floor to ceiling windows that looked out over Unawatuna Bay with Galle visible in the distance. The room itself was spacious, the furnishing a stylish mixture of blue and white, with all the modern comforts. The rooms even come with a smart TV that let me access my own Netflix account. The bathroom was huge, with both a water-color-changing jacuzzi and large shower complete with high-quality soap, shampoo and conditioner which smelled delicious.
I'd arrived just in time for lunch and decide to start off light, I enjoyed the jackfruit hummus moutable + gotukola sambol with a chilli coconut roti, the perfect small meal to start with as in only a few hours I had booked in a traditional cooking workshop, and I wanted to save room.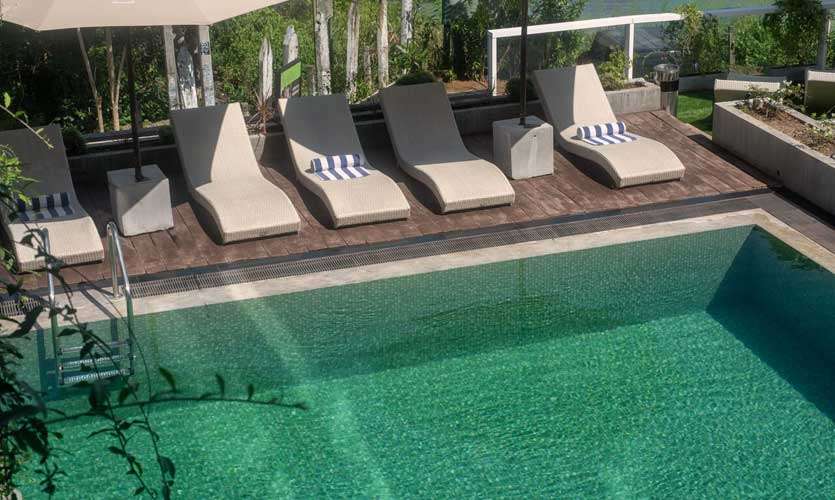 For the workshop I learnt how to make dishes off their new detox menu, all which had been locally sourced and using only fresh ingredients. They are easily able to cater for dietary requirements such as vegetarian and vegan and when you check in, all you need to do is speak to them about what you would like and they will happily accommodate.
As the chefs showed me how to prepare the dishes, I about the health benefits of ingredients such as bitter gourd and turmeric. I did a short version of the class but participants can also opt for the programme that includes a visit Galle Market with the chef to choose your ingredients – an activity I'm told is extremely popular with couples and hen's parties. By candlelight, I was able to enjoy my meal. The portions are served in a small size in keeping with the health aspect but there was definitely enough food. I complimented the meal with a virgin mojito that was pretty close to the real deal, but without the guilt.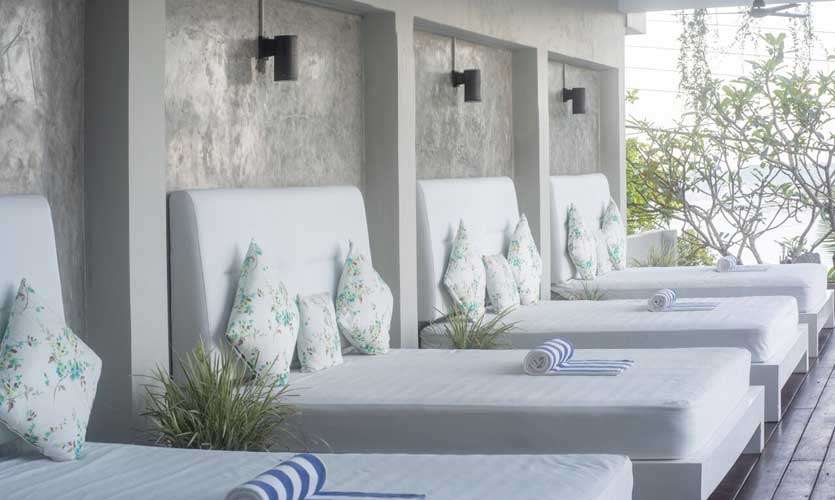 After dinner, I met my spa therapist for an essential oil full body massage. As someone who usually gets a sports massage that are so painful they have you hurting for days, it was a nice change to get a massage with the sole purpose of relaxation. The spa has an extensive treatment menu and the facilities for couple's massages, the perfect activity if you are on your honeymoon. I went off to bed that night feeling extremely relaxed.
It was all too soon the next morning when my alarm went off at 5.45am for my sunrise yoga session. The morning air was brisk but as the sun came up over the jungle, it was well worth the early start. The hour long hatha yoga class was a mix of beginner postures with a few tricky ones thrown in - a 40 second plank pose at 6.30am certainly proved difficult! A light meditation followed and while I'm glad I tried it, I am definitely not a morning person and next time I visit, I will opt for a sunset class instead.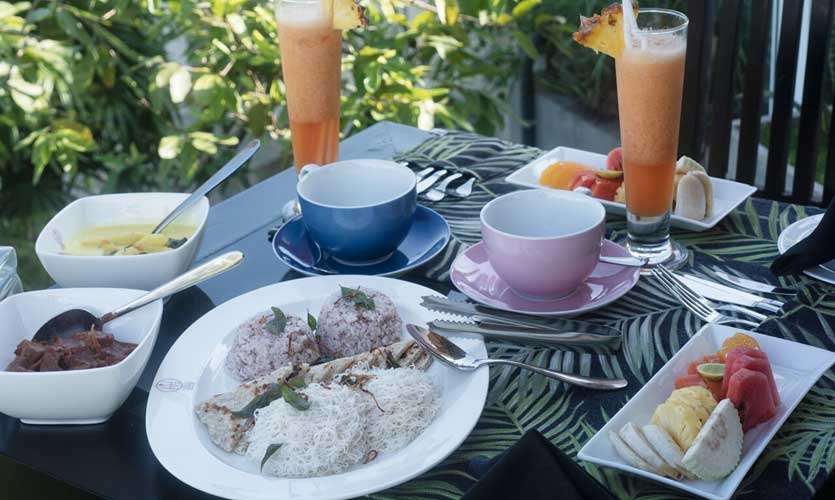 After breakfast, the hotel provided a guide to take me around to the main sites close to the hotel including Jungle Beach, the Japanese Peace Pagoda and Buddhist temple. While the beach wasn't too crowded, I preferred to head back to the hotel and relax by the pool there with a fresh orange juice.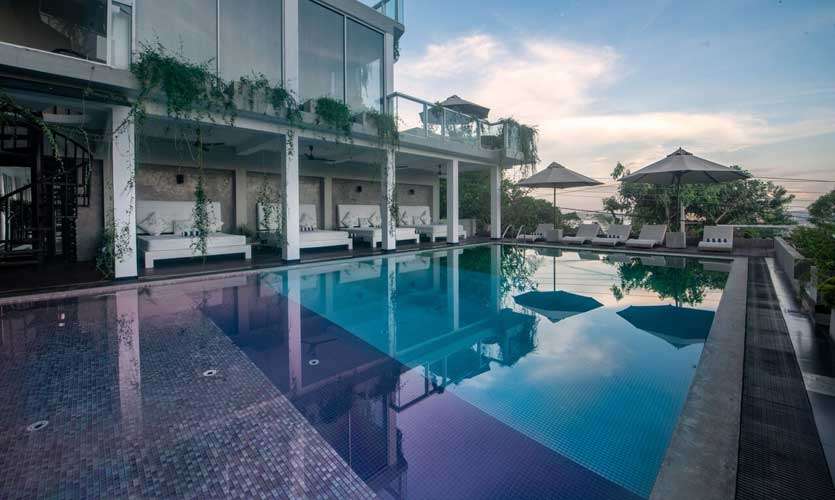 After another delicious lunch, my time at Levels was already at an end. Not at any point did I miss the "regular" holiday experience where you eat too much, drink too much and constantly need naps (although the beds were heavenly). Levels were the perfect mix of friendly service, relaxation and activities. I'll definitely be returning for a longer stay next time I need my wellness fix from the hectic pace of Colombo.