RATING: 5/5
Mad Curry Skills by Chari is run by Charindi Meegasthanna, who is a huge foodie and she has always been inquisitive to try out new recipes and dishes. Working a nine to five job as a designer, she had been feeling drained and uninspired, so she tried a few paths to see what sparks her interest. Being the daughter of an established chef, playing with flavours comes in her genes, which she brought to life with her new recipes done for Life Online. During this, the fact that an authentic lamprais couldn't be found in Colombo has hit her hard, so she brought forth "Mad Curry Skills by Chari" to give a lamprais that is extremely close to the authentic version with her own spin to it. As she continued with this, there were a lot of requests to expand her menu and because of this, she added a few more dishes to her list after carefully concocting the dishes just the way she likes it.
She feeds a lot of hungry tummies on weekends with the help of her family members, whilst maintaining the day job as well. Her father is a chef with more than 40 years of experience with whom she concocts the amazing recipes that bring you these mouthwatering meals! To the long-standing perfection of lamprais, now she has added yellow rice and fried rice as well.
Food: 5/5
Lamprais
After more than a year of serving lamprais, it still tastes as it did a year ago! Three types of Lamprais are served by her, which are vegetarian (Rs. 480), pork (Rs. 690) and chicken (Rs. 500). We opted for the chicken lamprais and it comes with rice cooked in chicken stock, seeni sambol, brinjal pahi, prawn balachang, ash plantain curry, chicken frikkadel and twice-cooked egg. Lamprais is a dish that originates from Indonesia which was brought to Sri Lanka during the reign of Dutch. Throughout its journey from Indonesia to here, it has changed in many ways coming to the version of it which we love and adore. But many places do not serve it the correct way, and this was by far the most perfect rendition of it we came across.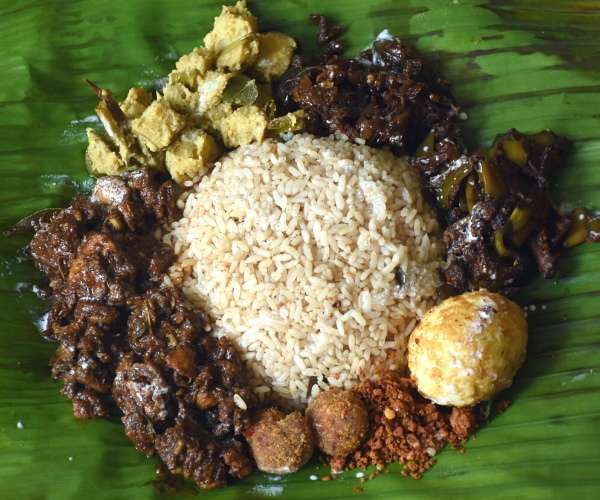 The seeni sambol in the original recipe is a bit different than what we are used to, so Charindhi makes her mother's recipe, exactly the way we love it! The chicken curry was perfect with every ounce of it bursting with flavour and it wasn't too spicy as to throw you off. The chicken was cut into pieces which have allowed it to absorb a lot more flavour than a full piece would. What caught our eyes were the chicken frikkadel, which is basically meat in a cutlet. The meat is compressed and fried like a patty and served. It was her that brought to our attention, a typical cutlet doesn't come in a lamprais but a frikkadel. All in all, this dish was amazing and absolutely should be tried out by everyone.
Yellow Rice
Yellow Rice is one of the dishes new on their menu and it comes in five variations, which are chicken (Rs. 480), vegetarian (Rs. 450), egg (Rs. 450), fish (Rs. 480) and pork (Rs. 500). The yellow rice comes with your choice of protein which are black chicken curry, black pork curry, black fish curry, egg curry or soya meat curry along with batu pahi, tempered potatoes, dhal curry, Malay pickle and fish or veggie cutlet. Also, I got mine with a twice-cooked egg, which is not on the set menu, but you can request it when you're ordering. Yellow rice is a Sri Lankan classic and Charindhi brings to life, a recipe that her mother has been perfecting for 12 years. This is a treasured meal at their house, which now they bring to you as well. As a person who has tasted many a yellow rice in my lifetime, I can safely say that this surpassed the expectations. The meat was nice and tender, bursting with flavour. The dhal was cooked to perfection with a lot of spices; this is tempered dhal and I have never had tempered dhal with spices which was an interesting yet delicious twist. The cutlets were so creamy, and I have never tasted cutlets that were that creamy. Honestly, I would just buy a batch of cutlets for myself, they were that good. Everything in the dish was cooked to perfection and you should definitely try this out!
Fried Rice
This was the soft launch of their Fried Rice and it comes with veg fried rice, sweet and sour chicken, stir-fried garlic kankun, hot butter mushroom, vegetable chop suey and homemade chili paste. The chicken was amazingly done, oozing with flavour, the sweetness nicely paired with the tanginess of it. The vegetable chop suey was filled with vegetables and the kankun was made exactly the way us Sri Lankans love it. This is a must-try and stay tuned to their Instagram for more updates on when they will be adding it to their menu and the prices.

What we recommend: You should try all of them!
Service: She is extremely friendly, you'll feel right at home!
Parking facilities: 5/5
Would we go again? Yes! We can't wait to see what she will cook up next!
Tips/notes by the writer –This is strictly pick up or delivery only and this is done exclusively in the weekends. It would be much easier for her if you can put the order one week in advance, so she can arrange everything for the coming weekend.

Address: 87, Pannipitiya Old Road, Pannipitiya.
Features: Pick up and delivery only
Price range: Rs. 450 to Rs. 690
Contact- 0711566655
Social media: https://www.instagram.com/madcurryskills_bychari/?hl=en
Pics: Kushan Pathiraja