ON14, the magnificent rooftop lounge and bar at Ozo Colombo launched its new F&B menu on the 22nd of January. The menu was launched under the guidance and expertise of culinary maestro, Chef Clifford Perera. After the numerous great reviews we heard, we finally decided to go and check it out for ourselves. Without a doubt, ON14 proved to be one of the best rooftop bars in Colombo, whilst also treating us to a breathtaking view of the Indian Ocean.
ON14 is one of the only Rooftop bars along the coastal line of Colombo that offers an unhindered view of the ocean skyline, and it is truly one of the most spectacular, but also relaxing, experiences you can ever have. With a magnificent sunset in sight, this rooftop lounge is the perfect place to spend an evening by yourself, gathering your thoughts, along with a few drinks. It's also a great place to spend quality time with your family or even go crazy and party with your friends. Ideal for a date night as well! You can also enjoy the soothing music of the inhouse DJ on Wednesday, Thursday and Friday and additionally, they've got a great Live Band that plays every Saturday. The infinity pool is quite fascinating, and you can get it hired out for pool parties and other private functions.
The food was impeccable. We received an array of mouth watering cuisines that we absolutely loved! The evening kicked off with the appetiser. They offer a number of great appetizers and salads, and we opted for the Char Grilled Jumbo Scallops (Rs. 1200) and the Citrus marinated Yellowfin Tuna (Rs. 650). The scallops were to die for! These buttery chunks of goodness were grilled to perfection. They had maintained the delicate texture of the scallops and it just melted away in our mouth much like a soft marshmallow.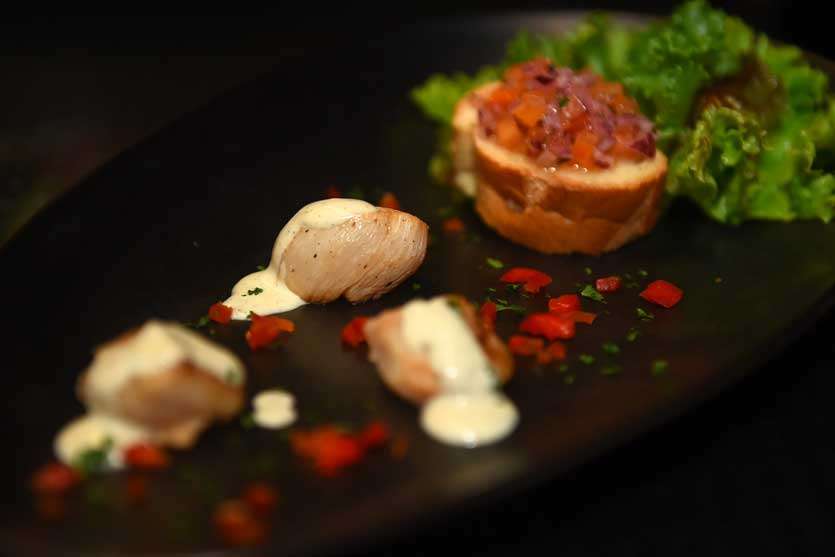 The vanilla bean sauce which accompanied it had quite a subtle taste so as not to overpower the flavour of the scallop. They had also added just the right touch of lime which left a pleasant yet low key tang in our mouths which we thought was commendable. The yellowfin tuna was also a great dish. The tuna itself tasted fresh, with a mild meaty flavour. The lime infused with the tuna was a nice touch in terms of flavour, and the mango salsa which was served with this dish was the perfect compliment.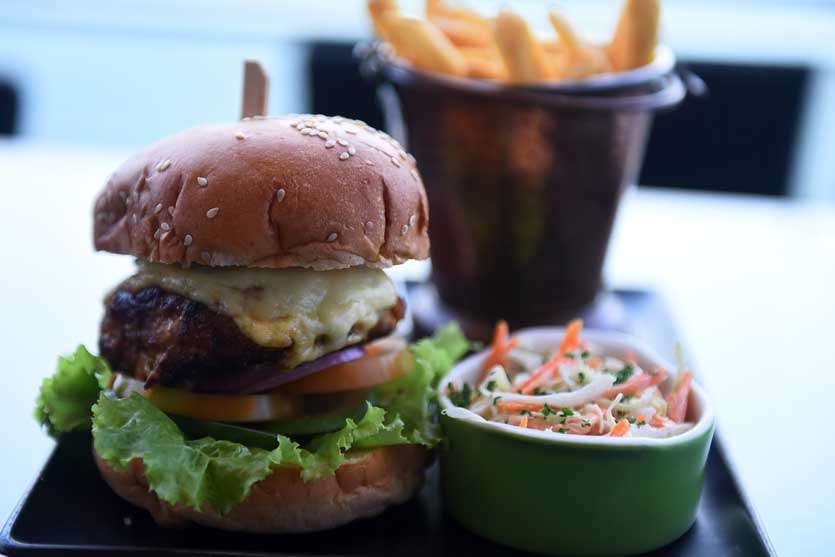 Next, we opted to try out the Pork Burger (Rs. 1650). There wasn't a crumb left on our plates by the time we were done with this, it was that good! The patty itself was juicy and had such great flavour! The sesame bun was warm and slightly crisp and the chef had been quite generous with his spread of cheese. The highlight, however, was the fact that even the other condiments like onions, tomatoes and coleslaw added more flavour to the bun. It was definitely a very well balanced pork burgher in terms of flavour!
Orange and Honey Marinated Roasted Duck Breast (Rs. 4000) was also equally fabulous! You will definitely not regret spending on this mouthwatering delicacy. The flavour was a unique combination of sweet and savoury and the meat was tender and juicy. The port and plum jus along with the roasted pumpkin cream fabulously complimented this dish.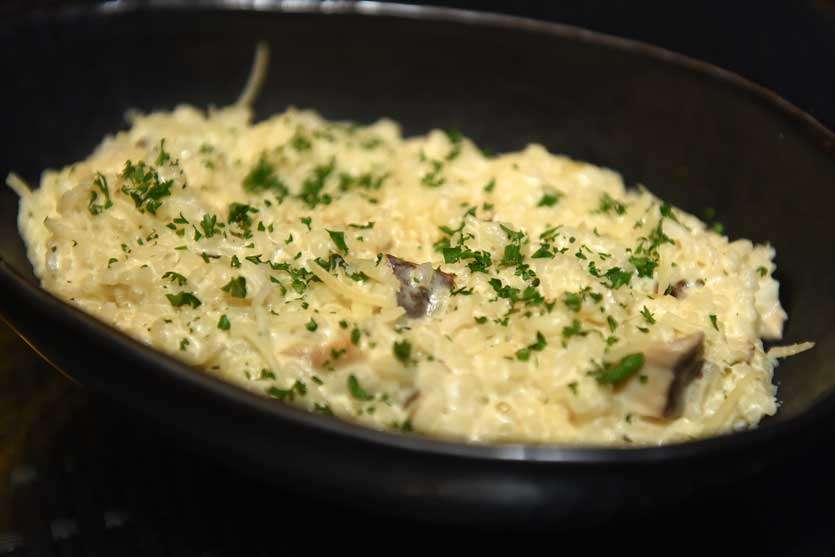 We also had the Black Mushroom Risotto (Rs. 1400). The risotto was very creamy and the mushrooms added a bit of an earthy flavour. There was also a generous serving of mushrooms and it had been garnished with basil pesto which amplified the flavour of the dish. It was a very satisfying and also a very filling dish.

The desserts at ON14 were the best! We decided to taste the "L'Opera", "Lemongrass Creme Brulee" and the Homemade Snicker. My favourite was the L'Opera. There were so many gorgeous flavours oozing from this dish making it a blend of chocolaty goodness. The cake was extremely soft and just melted in your mouth. There was a strong taste of creamy coffee and this was rivalled by the chocolate ganache and the chocolate glaze which together made the greatest combination of flavours ever! Another commendable point was that even with all that chocolate and cream it wasn't too sweet, and there was a very good balance of flavours. If I were to recommend a single dish from my whole experience at ON14, it would probably be this.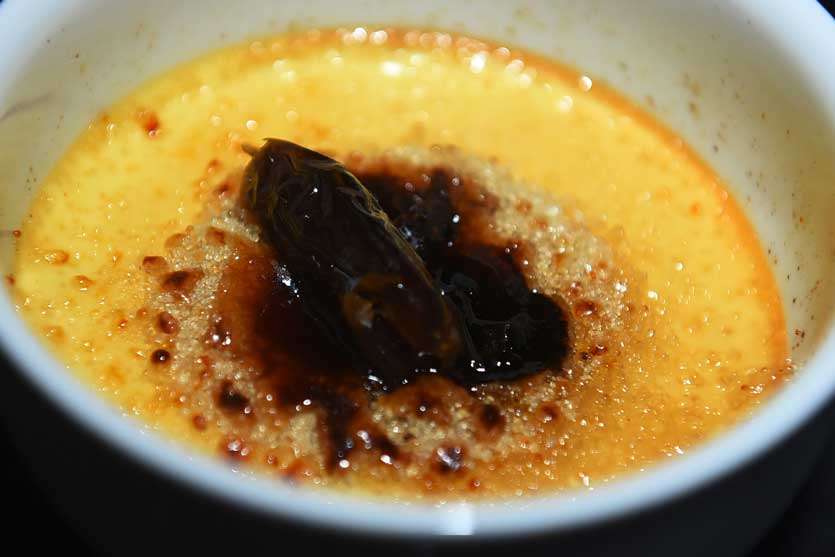 The homemade snicker was a replica of a normal snicker, except that it was a whole lot bigger and had a lot more chocolate. This dish was a bit too sweet and we ended up being unable to finish it. But if you are an ardent fan of chocolate, then this is a dish for you. It had a whole lot of almonds, caramel and chocolate, and a biscuit like base. The caramel was a tad bit overpowered by the chocolate but overall it was a great dessert.
The Lemongrass Creme Brulee was sweet, creamy and crunchy all in the same bite. It had a smooth texture, was spruced up with lemongrass, crunchy caramelized sugar and and grappa marinated dates which made for an amazing taste in a truly satisfying dessert.

ON14 is definitely a place you should visit and try out. It caters to the likes of every individual and in terms of food it's easily one of the best in Colombo. Everything is totally worth what you pay for, so its assured that if you do visit you will be leaving as a happy and content customer.
Pics by Nisal Baduge