Taking tourists on a culinary tour of Sri Lanka
Bringing tourists from her adopted homeland of Australia, to Sri Lanka, the country of her birth, is proving to be an interesting enterprise for Sonali Peiris. Sonali left Sri Lanka when she was a child and despite living away for almost 5 decades she still feels a great connection to Sri Lanka.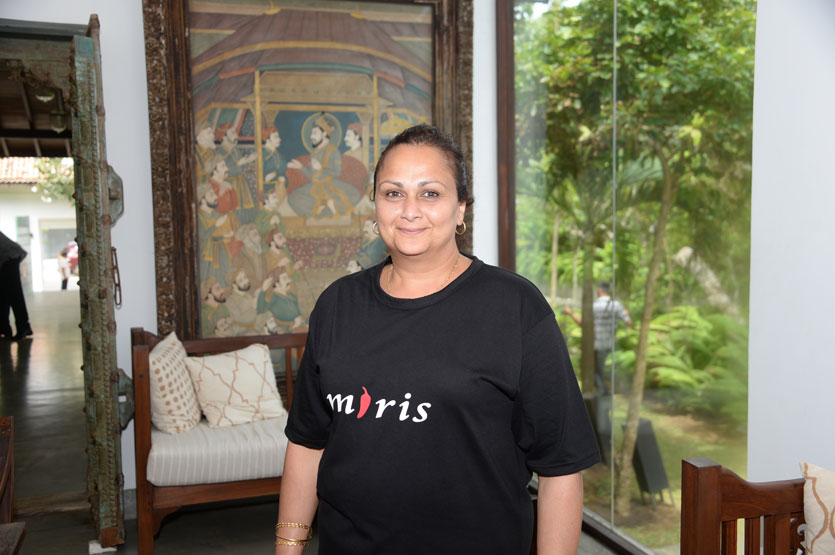 I had the opportunity to meet Sonali in the salubrious setting of Villa Republic in Galle on her third Miris Trail tour of Sri Lanka. Miris Trails was created through her initial business Miris Products where Sonali creates gourmet artisan style condiments which are snapped by culinary enthusiasts. Explaining how Miris Trails evolved, Sonali said "I was doing cooking demonstrations and Sri Lankan cooking classes for my clients. Some of them mentioned if I was to take a tour to Sri Lanka they would come. It was a natural progression. The idea of a culinary tour was conceived in 2012 and our first tour took place in 2013."
"During the last three years Miris Trails has brought several people to Sri Lanka, with many having returned as their initial experience of Sri Lanka through the Miris Trails tour had left a lasting impression on them. On this tour I have 10 people with me, they are all foodies and already two clients have expressed a desire to return next year" added Sonali.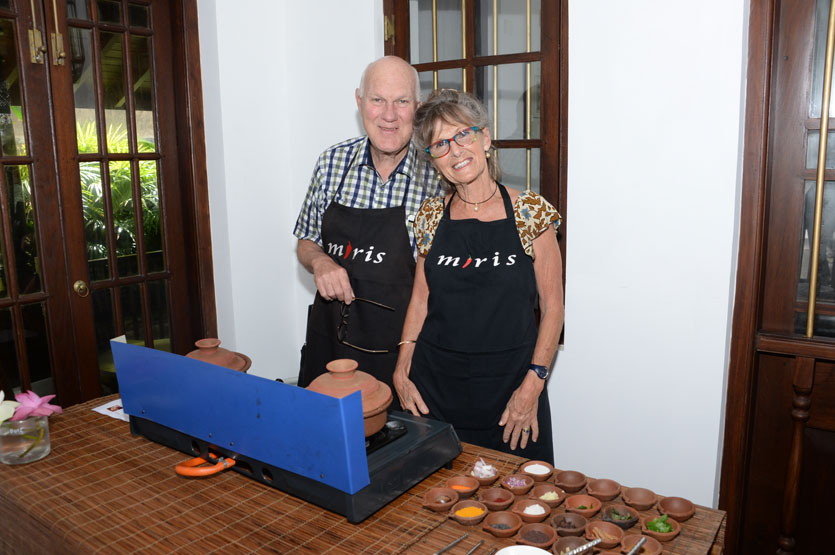 For Sonali, bringing tourists to Sri Lanka and showing them the heritage, culture and of course the cuisine of Sri Lanka is a dream come true. She says that each time she returns the connection she experiences is stronger and her vision to showcase Sri Lanka has not failed her clients. Explaining how she first started Sonali says "My husband Vasee and myself research all the places, we talk to people in Sri Lanka and they might mention new villas and boutique hotels. Initially the hotels were keen but not the chefs. I had to come to Sri Lanka and visit all the hotels that were conducting the cooking classes and basically sell the concept to the chefs. Once I met them and told them what I wanted and once they saw my enthusiasm they jumped on board. The brief stipulated that the menu had to be traditional, using local produce. I asked them to come up with something they felt comfortable with. It had to be made as a complete ''hands on experience'' in 3 hours where after cooking they would all sit and eat what they created."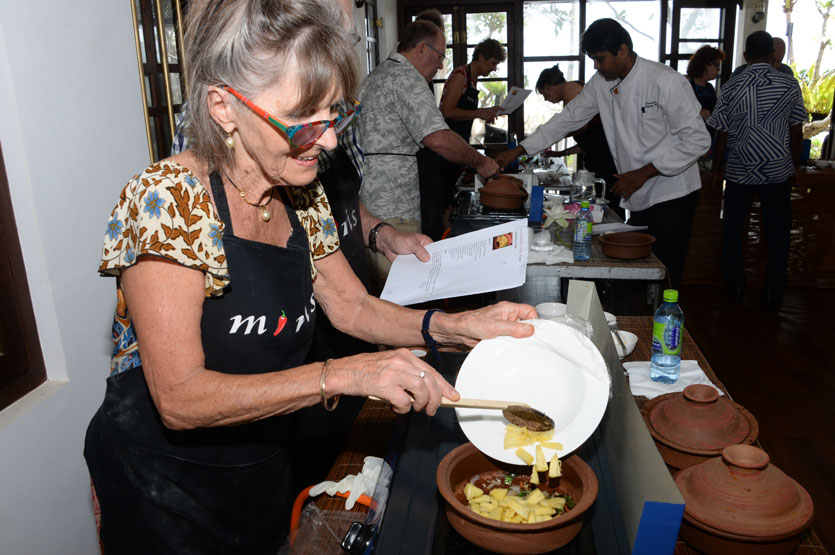 The Miris Trails tours are created so that the client has autonomy of how they want to see Sri Lanka within a structured itinerary. They offer five cookery classes. Clients can choose to do all 5 or none. They are also encouraged to climb Sigiriya, go on the Hiriwaduna Trek, visit Pigeon Island, Geoffery Bawa's garden in Lunuganga and many other places that are enroute. "Ultimately this is a culinary tour which offers the experience to cook and sample some of these dishes like Dungassu Mas with a backdrop like Vil Uyana and finishing up with a spectacular class in the breathtaking Villa Republic, Galle, where we made prawn biriyani, pineapple curry, mint sambol and watalappam against a beautiful ocean backdrop. We have had a real diverse group of guests on this trip including a former Olympic rower who has just won 6 gold medals at the World Masters who joined us straight from his victory in Copenhagen. On this Miris Trails Tour we have visited Jetwing, Jungle Beach, Heritance Tea Factory, Vil Uyana, Cinnamon Lakeside and Villa Republic," said Sonali.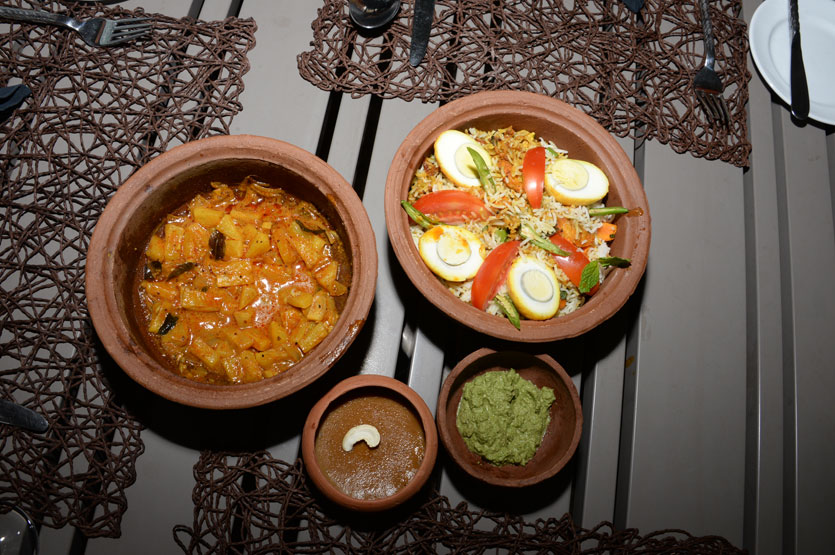 ---
Quotes from guests: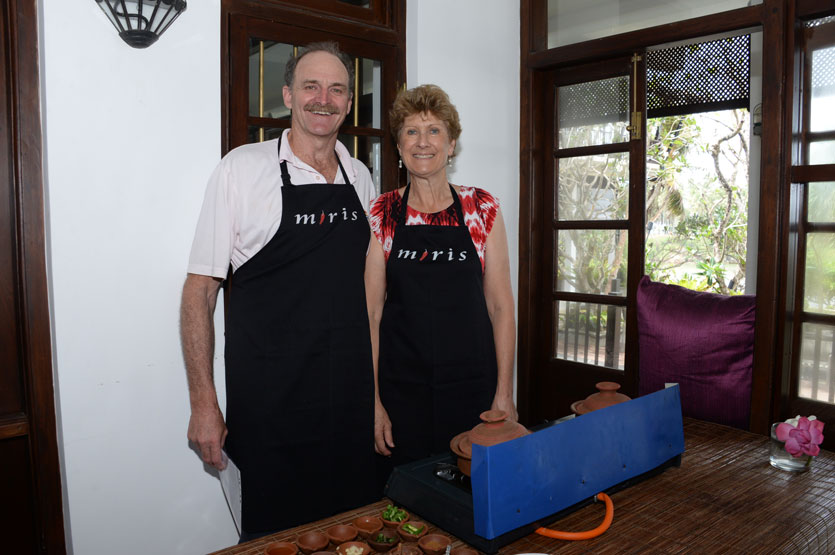 "I loved the way the tour was presented. Making hoppers was a highlight for me." - Sue Lowe (right)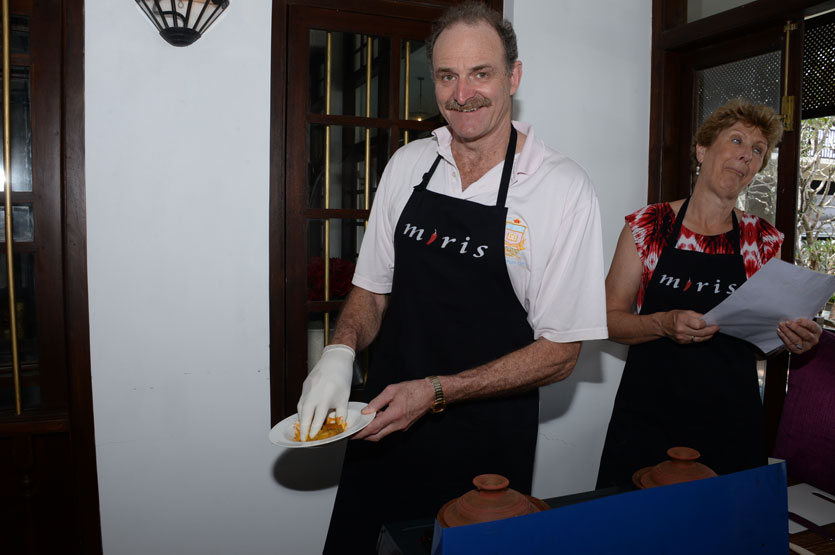 "This culinary tour is certainly different to rowing. We have seen some spectacular hotels during this meaningful tour." - Jim Lowe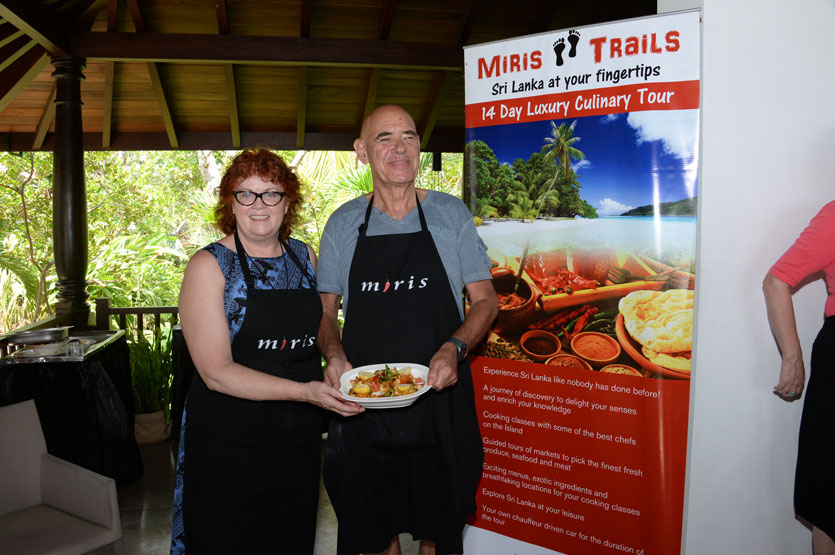 "I am a chef so this tour has been a real revelation for me. I will return and recreate each dish that I learnt to cook in Sri Lanka." - Mary Gyles (left)