Nestled in right in the heart of Stratford Avenue, Colombo 05 you will now find a heaven for dessert lovers big and small.
Indulge Desserts opened its doors close to 6 months ago and they've taken the dessert sphere by storm. The location deals with everything sweet with just a dash of savory and we got the 'scoop' on the whole story.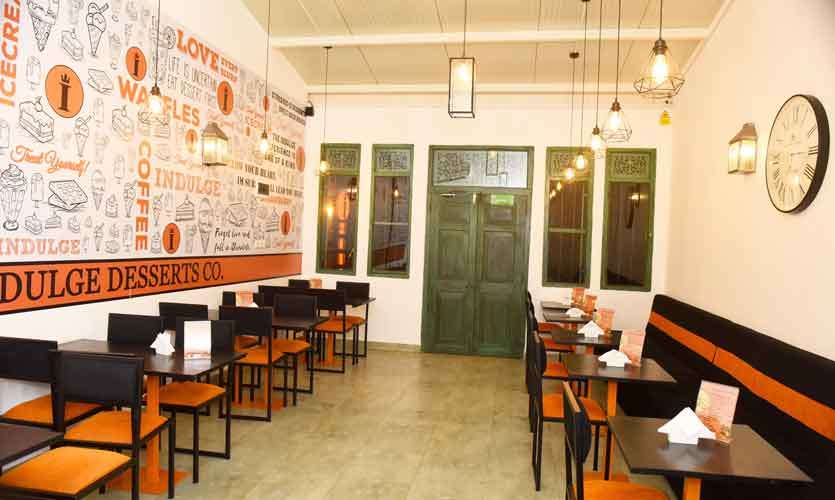 Fun Fact – When speaking to the team at the location we learned that Indulge uses only the finest chocolate imported from England and Belgium and "oh my do they have some 'treats' instore for you"!
Bubble Waffles
While they do have the usual concoctions they serve, Indulge has their own version of 'Build your own dessert' as well, and who would we be if we didn't go ahead and try our hand at assembling our own dessert?So we built a Bubble Waffle based dessert from scratch and it comprised of bits and pieces of 'Kinder Bueno', 'Marshmallows' , 'Toasted Nuts' , 'Rainbow Sprinkles' , 'Dark Chocolate Sauce' , 'Ice Cream' made in house and the recently introduced 'Ruby Chocolate Sauce'. Although that seems like a lot to stomach, we we're in awe of the combinations whipped up by other guests. The dessert however tasted amazing! We mixed the dark chocolate and ruby sauces based on recommendations by the café and you must know that the 'Ruby Sauce' has a bit on tanginess to it and it balanced itself out perfectly with the dark chocolate only to be complimented by the crispy aspect thanks to the nuts! It was a lovely dish and we recommend it.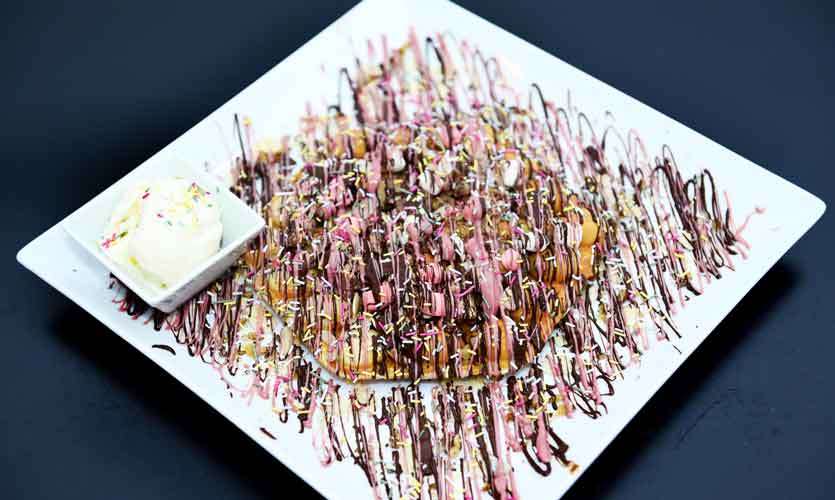 Shakes and Drinks!
We had the pleasure of sampling to different beverages at Indulge and first we're going to talk about the freakiest one, the 'Nutella-Milo-Cheesecake Freak Shake'. The ingredients are pretty much in the name, but the real surprise hit us when the drink arrived at our table.
You'd have to see it to believe it but there was a huge piece of 'No Bake Cheesecake' held up by a mountain of whipped cream as garnish on the shake! Not only did it look great, but it was out of this world in terms of taste too!
Compliments to the chef behind the 'No Bake Cheesecake'.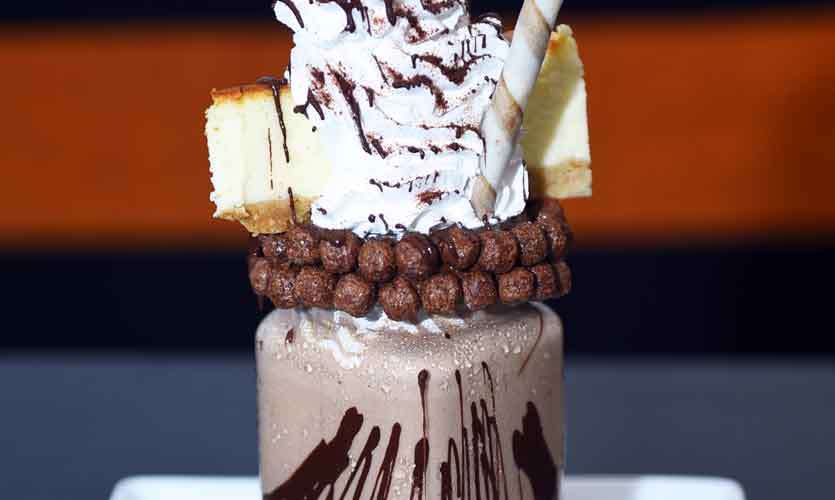 The second beverage we tried was called 'The Blue Lagoon' which comprised of 'Blue Curacao', 'Fresh Mint', 'Orange Juice', 'Sugar' which is muddled and shaken with a splash of soda. If you're looking for something refreshing this is the best bet in terms of a beverage. One thing you must remember is that it is made to look good when it's handed to you, and it is your job to mix it up a bit before you drink it, so as to distribute the flavours evenly.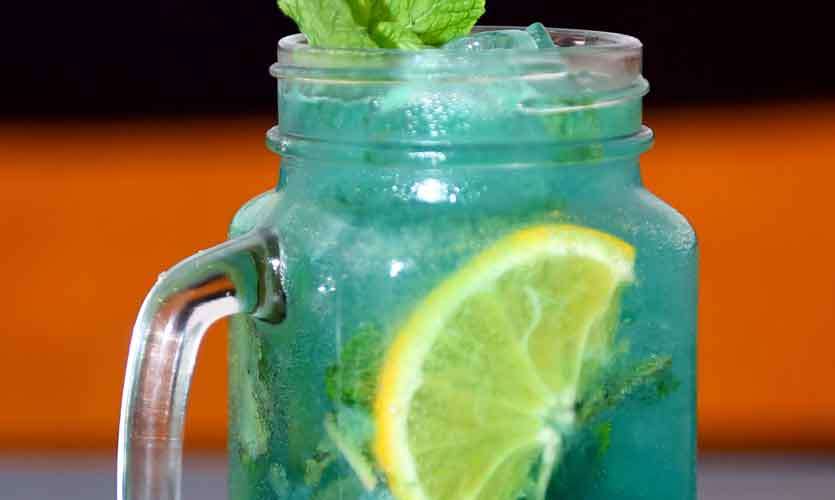 The Savory Saviour -
Indulge has only a very limited menu in terms of savory items however, they have perfected the dishes that they do have. We had the pleasure of trying the 'Thai Prawn Crepe', and well the ingredients are pretty much in the name itself. Incidentally we chose to have this after desserts which is a practice we recommend if you're not a die-hard sweet tooth. The dish was lovely, the curry was spicy, and the prawns were plentiful.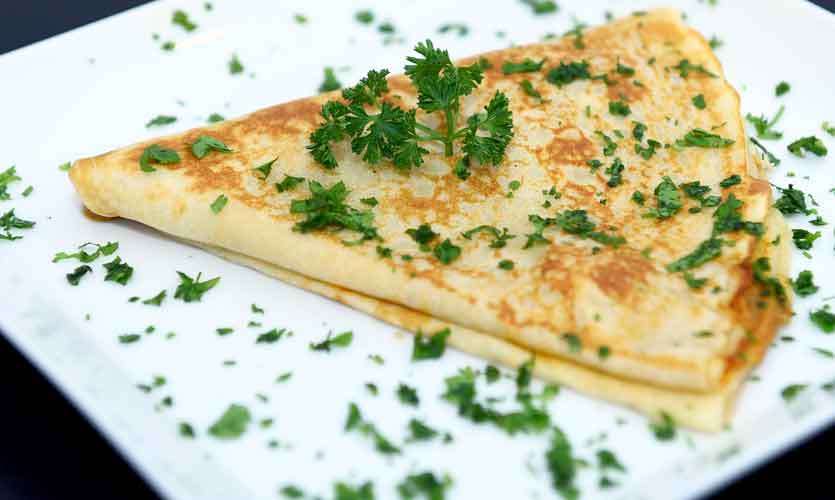 All in all Indulge was impressive, the staff accommodating, and the food was amazing. One thing you need to remember is that they deal with waffles and crepes mostly and these items can get soggy if you spend too much time taking pictures of them (they're very pretty).
So, when you head on over order up and dig in as soon as you can!
The location is usually open from 12 Noon to 12 Midnight Saturday through Thursday and 3pm to 12 Midnight on Friday. They have very limited parking and their toilet is in pristine condition. Their menu is extensive and they deliver on UberEATS & PickMe Food too so even if you do not get the chance to visit soon maybe you can order in!
Photographer – Kushan Pathiraja