Tranquility by the sea
Sri Lanka has evolved in to a prospective tourist attraction with its golden sea beaches, breath-taking sceneries and sites to explore. Negombo being one of the major attractions is a favourite choice among travellers especially due to its location, wide array of eateries and things to do. Spanning across an eight acre expanse of land is Heritance Negombo, a recent addition to the hospitality industry in Sri Lanka. Earlier known as Browns Beach, the hotel was demolished to put up this five star 139 room property designed by a consortium of foreign architects.
Accommodation
Heritance Negombo includes five categories of rooms including Basic deluxe, Superior deluxe, Premium, junior/ deluxe suites and Presidential suite. One significant feature of these rooms is that they are all located in such a way so that the guests would get the best view of the sea.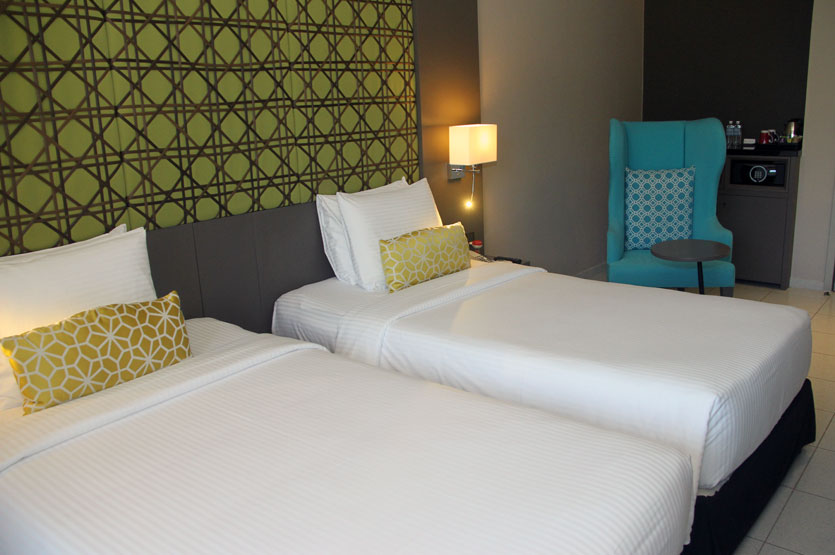 Basic Deluxe Rooms
The 64 Basic deluxe rooms include all facilities including a king-size bed, LED TV, A/C and fan, iron with ironing board, drinking water, IDD telephone, laundry services, free Wi-Fi, hair dryer, electronic safe, mini-bar and tea/coffee maker. The bathroom is equipped with all modern toiletries including bath robes, slippers and other materials. Guests are entitled to utilize the mini-bar on a complimentary basis. This category of rooms also includes a private balcony and since they give easy access to the pool guests also can relax on sun-loungers which are placed in the private balcony.
Superior Deluxe Rooms
48 Superior deluxe rooms merge comfort with space once again including many facilities in addition to those found in a basic deluxe room. Superior deluxe rooms also offer a magnifying mirror, iPod docking station and a room with private lanai. This category also includes a private balcony and offers a spectacular view of the sea.
Premium
Premium rooms have the same facilities as those found in a Superior deluxe room but they give better views of the sea. There are 22 Premium rooms that promise private luxury and all indulgences expected from its guests.
Junior / Deluxe Suite
Offering supreme luxury the Junior/Deluxe suites are a perfect mix of style and seclusion. This category comprises a master bedroom, a second parlour room, private living/dining room and a vast, private balcony in addition to the other facilities available in a superior deluxe room. Four suites in this category are available for the guests.
Presidential Suite
The Presidential Suite at the Heritance Negombo is a masterpiece spanning 200 square metres of luxury. It includes a deluxe bedroom, a parlour room with a SICO bed, a lounge and a dining room for eight, all complete with the finest fittings and features. This category includes two TVs, one for the bedroom and another for the living and in addition its bathroom is equipped with a bathtub. Running the whole length of the suite is a private balcony giving yet another amazing view of the Indian Ocean.
Restaurants
Dining at the Heritance Negombo is taken to an entirely new level with exciting menus and fine delicacies. From fresh seafood to tempting desserts and other cuisine prepared by its expert culinary brigade, the hotel comprises one main restaurant, a poolside bar/restaurant and the main bar.
Blue Tan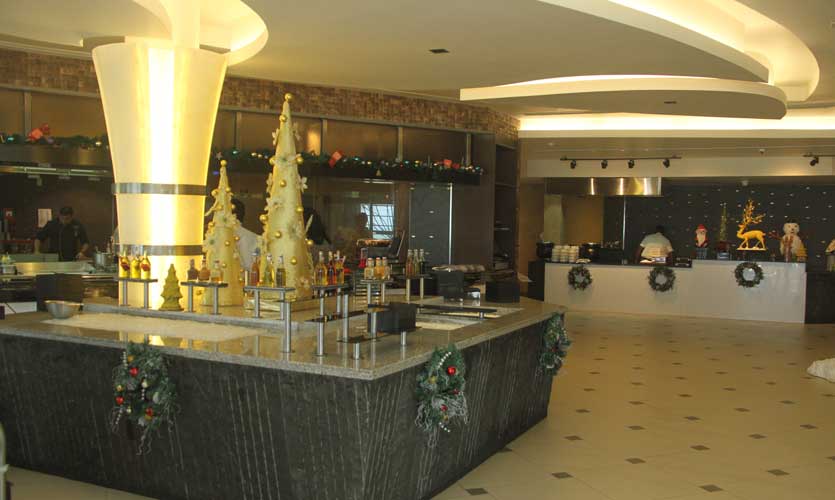 The Blue Tan is a wonderfully spacious restaurant equipped with several counters from salads to mains, ice cream and desserts. This being the main restaurant of the hotel, it can accommodate 160 packs and offers attractive buffets every day. It also offers an outdoor dining experience if the weather is fine.
See Lounge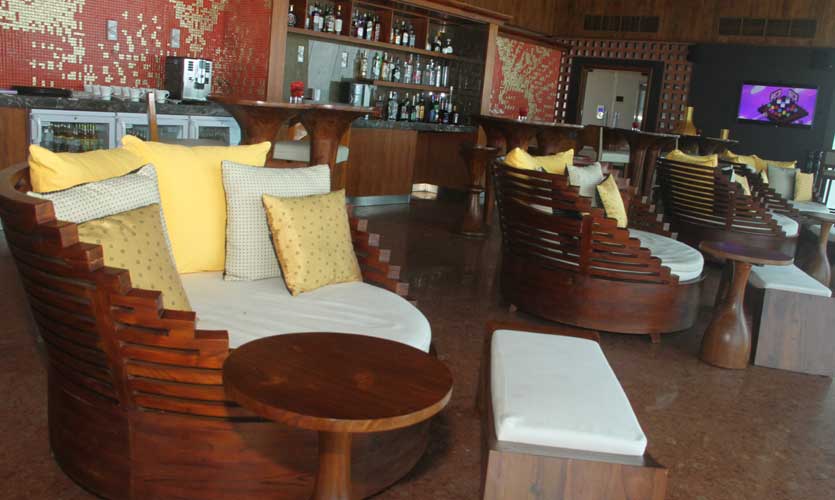 Offering a tempting bar menu the See Lounge offers an exciting range of cocktails and tapas and moving away from the conventional spirits it also offers pureed fruit juices as well. Dishes include snacks and an exciting range of tapas. It can accommodate between 30-40 packs and gives a breath-taking view of the sea. The See Lounge is a favourite among in-house as well as outside guests during the evenings as one can catch a glimpse of the golden sunset.
B-Bums
Outdoor dining at the Heritance Negombo is quite a hit where guests can dine in with their loved ones while enjoying the Negombo sunshine. B-Bums serve everything from cocktails to delicious treats and is located in close proximity to the pool.
IVO Ballroom
The IVO is a dynamic and sophisticated venue which serves both as a ballroom for events such as weddings and a banquet hall for conferences as well. The venue can accommodate 250 packs and hosts a wide range of corporate, business and social events including high powered board meetings, lavish annual conventions, exhibitions, galas and celebrations.
Spa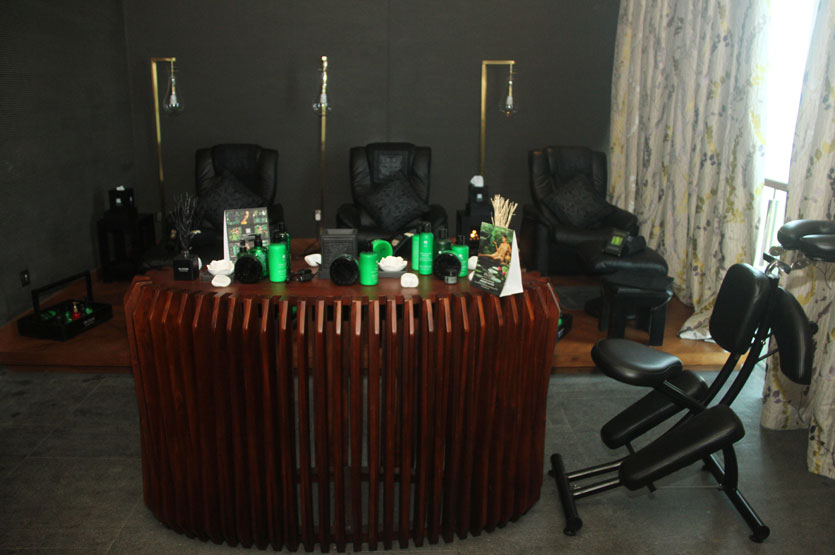 Located in the rooftop of the hotel, the spa comprises six tranquil treatments rooms including one couple room and five single rooms. The spa offers wellness treatments and services including aromatherapy, manicure/pedicure, head massages and other treatments by an expert Balinese staff.
Other facilities
The gymnasium is open for all in-house guests from 6:00AM - 9:00PM. It's a fully air-conditioned space with state-of-the-art gym cardiovascular and weight-training equipment and a personal trainer for all fitness enthusiasts. Two swimming pools- a baby pool and the main pool await those who like to take a plunge and spend some time in the cool waters. The pool also includes a swim-up bar offering cocktails and fresh juices.
---
Address: 115, Lewis Place, Negombo
Contact details: 0317431431
Website: www.heritancehotels.com/negombo
Photographs by Pradeep Dilrukshana