When an international franchise makes its way to Sri Lanka everyone goes crazy! And as of now Colombo is a-blaze with the WAFL craze! 'WAFL café' has set up shop at the 'One Galle Face' Mall on the lower ground floor.
Heads up, everyone wants a piece of the WAFL and there is literally a line almost all the time. It's worth the wait though considering that the combinations available are one of a kind and will most certainly make your taste buds go wild!
Now that's enough for an introduction lets get down to business.
The WAFL Corndog
The WAFL Corndog is internationally their bestseller and its easy to see why that is. The one we tried had a massive cheese and onion sausage filling and to be honest it's the perfect snack if you're hungry but also in a hurry. It's basically a sausage coated in a thin cocoon of WALF dough, which makes the perfect combination of savory with a dash of sweet. The Corn Dog comes on a stick so you can move around with it and explore the mall with ease, plus you get two per serving which makes it the perfect snack for sharing!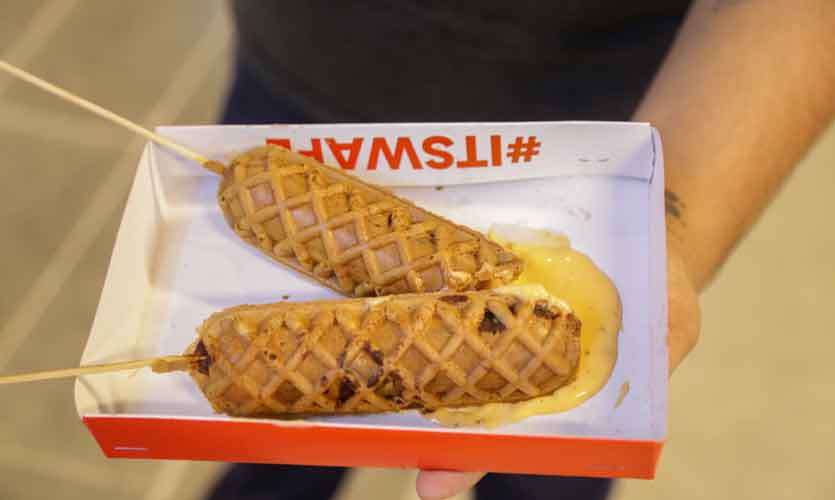 The Mojito & KIT KAT Shake
For a waffle chain they have a surprising amount of beverage options ranging for piping hot coffees to fizzy drinks and some really creative looking shakes. After much deliberation we settled for a regular Mojito and a KIT KAT Shake. The Mojito came in the flavour of 'lime & mint' and considering we had just finished walking around the mall it was super refreshing and tasty. The Kit Kat Shake was worth every penny spent, because you could literally taste little pieces of Kit Kat floating around and it was like a milkshake made of dreams.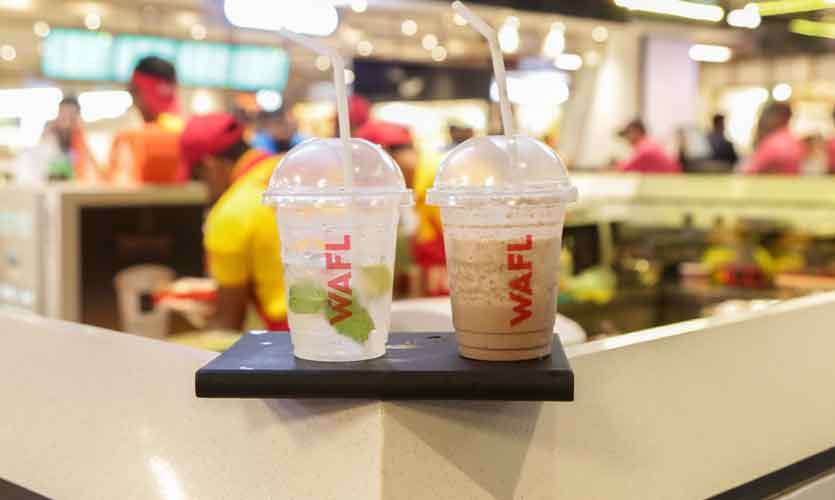 The Kiwi WAFL
We decided it was time we took a step away from the usual chocolate covered goodness and try something different, so we went with the Hong Kong - KIWI WAFL. The KIWI WAFL consists of a crispy classic egg waffle horn filled with Vanilla and Strawberry ice cream, smarties, slices of Kiwi fruit and some syrup. The sourness of the Kiwi perfectly complimented the sweetness of the waffle and ice cream mix which made it possible for us to finish the dish without having to give up halfway, in short it was lovely.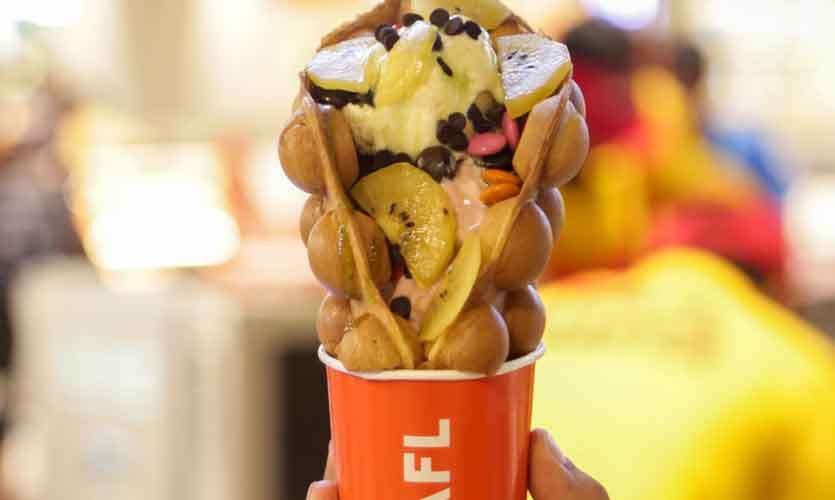 Our experience at WAFL was great and it's nice to see that there are different food related outlets popping up. WAFL is special because you'd never come across a place purely dedicated to all thing's 'waffle' in Sri Lanka and least of all in the food court of a mall. The space is small and has no seating, but there are cocktail tables placed around the food court where you can stand and enjoy your meal. A point to remember is that WAFL's waffles are perfect for 'Instagram' which we believe has led an influx of customers, so cut the staff members some slack and be patient with them while they prepare your order.
Pictures – Dasun Muthugala