As I stood bewitched by the azure hue of the ocean, stuck in a reverie, I couldn't help but marvel at the wonders of nature that our paradise island is endowed with. But I was soon to learn that the allure extended to the property that lay spread out in front of me - Ani Villas, an ultra-luxury private resort situated in Dickwella.
The hospitality began the very moment I stepped foot on the property. (It would have begun at the airport, with a personalised welcome, should I have flown in). I was heartily welcomed by smiling staff - many who would soon become a huge part of my stay and experience at the villa - who promptly set about making me feel welcome. From showing me to a seat, handing me cold towels, followed by a glass of fresh juice, asking me about my travels, I soon found myself relaxing, exhaustion wafting away. When I was sufficiently rested, I was invited to light a traditional oil lamp - something I had never been asked to do before - and a touch that I absolutely loved!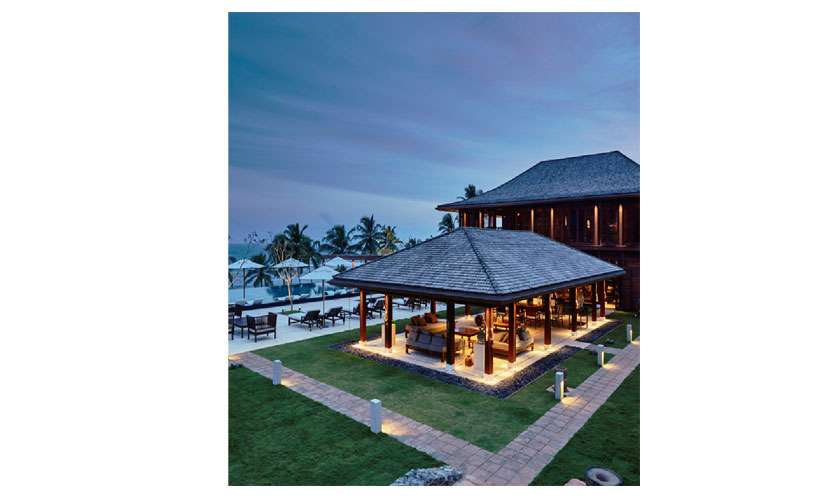 As my luggage was carted off to my room, I was escorted on a tour of the property. Ani Villas is a collection of private villas in Anguilla, Dominican Republic, Thailand and Sri Lanka. The Sri Lankan property has two separate villas you can rent individually or as a whole. Villa Monara, the larger of the two comprises 8 rooms, while Villa Divia has 7 areas common to both villas include the spa, tennis court and yoga pavilion. Other facilities, such as the infinity pool, waterslide, library, multiple dining areas, café bar, games and TV room, I'm told, are separate for the two villas.
I'm frozen in awe for the second time in a span of a few minutes as I'm escorted into what will be my bedroom. Each room affords stunning views of the Indian ocean that is swathed in breathtaking hues of blue throughout the day and is set up with all the amenities you would need. The room is tastefully decorated - chic, yet utterly convenient and spacious. Exploring the room is like taking part in a treasure hunt - you'll never know what you'll find. Shihani, who's my main point of contact at the hotel, patiently points everything out to me - the remote controllers for the fan and the electronic blinds, the iPod that's already connected to the Apple TV, speakers, the phone with a direct line to a butler who will be at my beck and call 24/7, a well-stocked mini fridge, welcome note, the itinerary, a list of spa treatments. There's more. I decide I'd explore them eventually.
We move on to the bathroom - double doors separate it from the bedroom - which is tastefully designed and spacious, a fact that is highlighted thanks to the neutral color theme. Complete with his and her counters and separate cubicles for the toilet and the shower, a bathtub, there's also an outdoor shower accessible via the indoor shower cubicle.
The Spa on premises - a luxury inclusion for guests staying at Ani Villas - is my next stop, once I'm done familiarizing myself with the villa and the staff members. As long as the time slot of your choice is available, the use of the spa is unlimited. That means you can get as many spa appointments as your heart desires. Owing to my extremely tired feet thanks to all the walking I'd done the first few days, I decided I'd first try out the Ayurvedic Reflexology Foot Massage. A few minutes before my appointment, I am escorted by a member of staff to the spa. The space is simple, and the ambience calming. The massage therapist welcomes me with a warm smile, shows me to a chair and hand me the form which I fill accordingly. She then escorts me to the massage table, ensures I'm comfortable and begins. Soothing music plays in the background, as she applies just the right pressure, alleviating all the aches in my tired feet.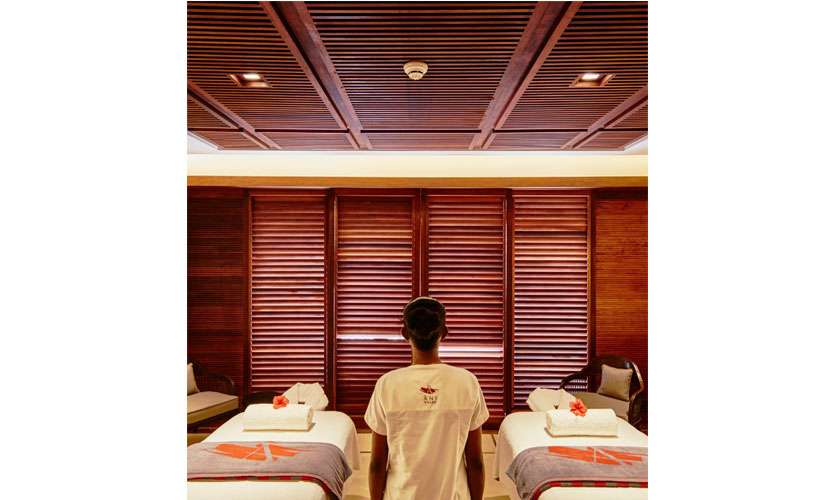 When mealtime approached, I was surprised to learn that there was no menu per se. I was encouraged to order whatever I felt like - Chef Cyril would make sure it was prepared and ready when I wanted. I picked seafood. Every meal here is served in 3 courses - Appetiser, Main and Dessert. Each segment was flawlessly executed; the seafood cooked to perfection. The dessert - an impeccable end to the meal.
I returned to my room after the excellent lunch to find my room had been attended to by the housekeeping staff. The mini fridge restocked. I would learn that every time I returned to my room after spending time elsewhere, the staff - I like to think of them as ninjas, not once did I walk in to find them cleaning my room - would ensure that I returned to an impeccably cleaned room. Anything I had unceremoniously dumped on a chair, neatly tucked away.
Dinner was an equally wonderful affair and Chef Cyril (is there anything he can't do?) had prepared a Western dinner at my behest. As someone who's always particular about how my steak is prepared, it came perfectly as requested - medium rare. After dinner, the staff had prepared the space for a movie night under the stars with a large projector, comfy seating and a popcorn machine at the ready. The gentle sea breeze, and the sky full of stars made for an ideal ambience.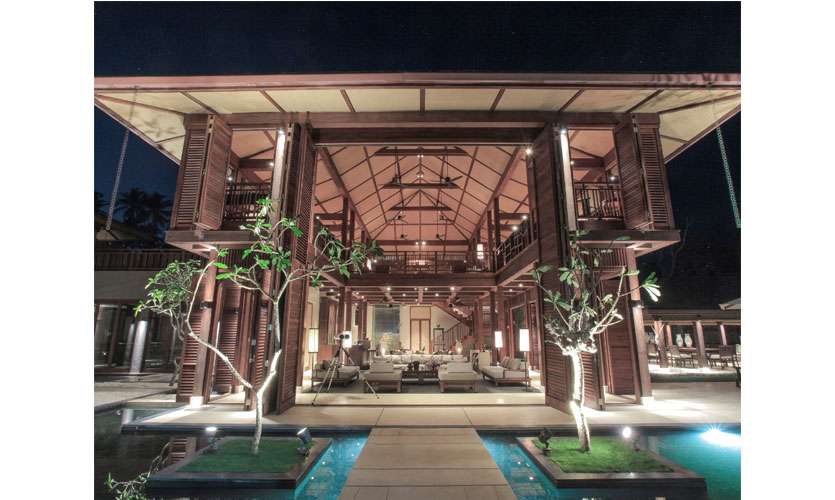 Despite thoroughly enjoying exploring the property and what it had to offer, I couldn't wait to sink into the plush bedding. While nothing beats a good night's sleep, what was a lot better was the theatrics of the electronic blinds unveiling the gorgeous view. It never gets old. At least for me. Unlike the rest of the meals, breakfast was a buffet with an indoor seating option. A sensible spread with a good balance of local and continental cuisine. But if you wanted anything that wasn't included in the buffet, all you have to do is ask. For lunch I opted for Japanese. And when presented with lunch, had no doubt that Chef Cyril was, in fact, a whiz - the food was phenomenal.
There is no doubt that the villa was designed to entertain - no matter your age. From game rooms to yoga pavilions, tennis courts and pools with waterslides, there's something for everyone to enjoy. What's a lot more noteworthy is that the property is wheelchair friendly - they even have a contraption that would help lower the wheelchair into the pool. Color me impressed!
Ani Villas is all about the service. From the excellent attention to detail, the discreet, ninja-like staff who are always there exactly when you need them and the all-inclusive service (random hunger pangs? Unlimited drinks? Additional amenities? Consider it done!) No stone is left unturned. Ask, and you shall receive a lot more than you even thought of - the staff will move the sun and the moon to make it happen. Because, as the villa's slogan reads, "It's all yours!".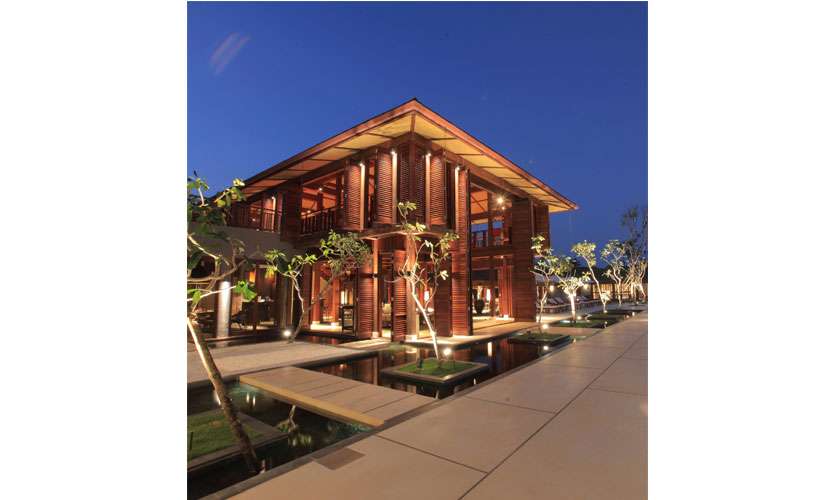 What I loved:
The resorts "ask, and thou shall receive" concept.
Being connected to a staff member via Whatsapp
Excellent staff and unmatched service
Luxury Inclusions
• One round trip transfer per group from Colombo airport
• Full gourmet menu including breakfast, lunch, and dinner
• Premier spirits, house wines, soft drinks and juices
• All-day snacks and cocktail service
• South Asian cooking classes with the executive chef
• Treatments at our private spa
• Personal fitness trainer
• Tennis lessons
• Daily Children's activity program
• Cycling tour
• Local walking tour and trek• Laundry
• Complimentary international calling
• High-speed Wi-Fi
• Unlimited movie and music streaming
Address: Kalukatiya Watta, Dickwella, Maaliyadda 81200
Phone: 0768209032, O41 7 634 634
Website: http://anivillas.com/en/srilankavillas/
Pic courtesy: Ani Villas