It was an afternoon hour at Sri Sharavi Beach Villas and Spa, which was our stop for the weekend. The varying melodies of the nearby Indian Ocean were more inviting than the signature iced tea we gulped down after a rather tiring two-hour road trip.
Spanning across a one-acre expanse of land, the property includes four beachside villas; Topaz, Amethyst, Aquamarine and Peridot, designed to give maximum privacy for its guests. With matching colour themes that correspond to each gemstone, each villa includes the Palm double room, Ocean signature suite and the Superior deluxe suite.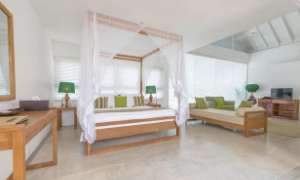 Equipped with basic amenities from tea/coffee making facilities, cable TV, in-room safe, en suite bathroom with hot/cold water and modern toiletries, AC and ceiling fans, spa robes, slippers, hairdryer and complimentary drinking water, the 12 rooms across the villa differ only by size. The Palm double room, for example, could accommodate two adults and includes a king-size bed or two twin beds. It also includes a private terrace.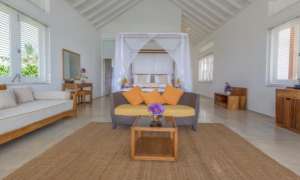 The Ocean signature suite offers a scenic beach-front view and includes a king-sized bed and a single day bed with exquisite linen. It also includes a private balcony with two sunbeds, dining table and two chairs. The Superior deluxe suite is similar to the signature suite but offers a framed view of the sea and the elegantly landscaped garden. Guests are provided with free WiFi as well. The villas could accommodate 28 adults in total and is ideal for a family or corporate outing. Each villa also has a butler, board games and a mini-library in case you want to spend some time with books.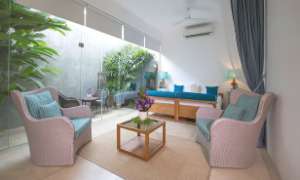 Dining at Sri Sharavi is an interesting experience with indoor and outdoor dining options. On a clear starry night, you can opt for a candlelit dinner with a calm sea breeze. The menu is quite elaborate with Sri Lankan and international dishes, local and international spirits, beverages and specially curated signature Sharavi cocktails. It's quite Sri Lankan to try rice and curry and we tried their black pork option for lunch which certainly entertained our taste buds.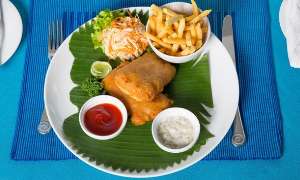 Rice and curry options come with around five vegetarian dishes and a choice of meat with papadam to add that complimentary crispiness to your bite. A chilled king coconut or a creamy mango lassi can be absolute thirst quenchers. Excess food is given away to street animals and they are into 100% recycling which is evident with metal straws and wooden spoons included in their cutlery as a means of supporting sustainable and eco-friendly practices.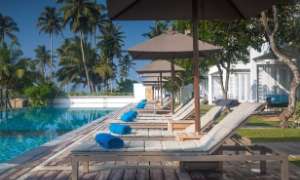 If you want to get that extra tan you can always have a dip at the property's 45-meter saltwater pool and float away to your heart's content. Those who want to unwind with a platter of snacks and a glass of wine, probably over a game of chess or while watching a game of football or cricket, could head over to their cosy cellar retreat located just below the boutique. The boutique includes souvenirs and batik-printed Sri Lankan outfits. A spa experience at 'Preethiya' or 'Vivida' - two spa rooms at Sri Sharavi is one you shouldn't miss but due to health protocols the spa is out of bounds for guests during this period. However, you can choose between a full body massage, steam bath and various other options on the spa menu once it's open.
Those who want to start their day with some yoga against the sea breeze from the Indian Ocean can attend complimentary yoga lessons conducted by a certified trainer every morning. Guided GPS cycling excursions are offered for those who want to explore the village life in Mirissa. Mountain bikes are provided free-of-charge and bike routes are designed to explore nature, local farming, plantations and authentic Sri Lankan village lifestyles along the Southern coast of Sri Lanka. Bike trails include an 18km trail from the temple, lagoon to the village, a 39km experiential loop through the village's cinnamon farms and local paddy fields and a 53km trail through Kirala kele and Ellakanda Temple. While in Mirissa you can also explore Coconut Tree Hill, visit the snake farm, turtle hatcheries or even pay a visit to the Dondra lighthouse. Adventurous souls can also opt for surfing in Weligama or go jet-skiing on days the tides aren't that rough. Besides all these, don't forget to go on a stroll along the beach stretch which is accessible all day long.
Discounted rates and weekend offers have been introduced for local guests with full board and half board menus. Time flew by and it was time for us to leave the next day, but if you feel like you have missed the ocean a little too much, the doors at Sri Sharavi Beach Villas and Spa are always open for you.
Image courtesy : Sri Sharavi