It is one of those things that I used to wait impatiently till my friends from school brought to share with us after the New Year celebrations. Since I no longer have that option, I taught myself how to make it and found that it is not too difficult. Although I must say that it will never taste as good as the ones our friends brought from home. But this recipe makes it close enough!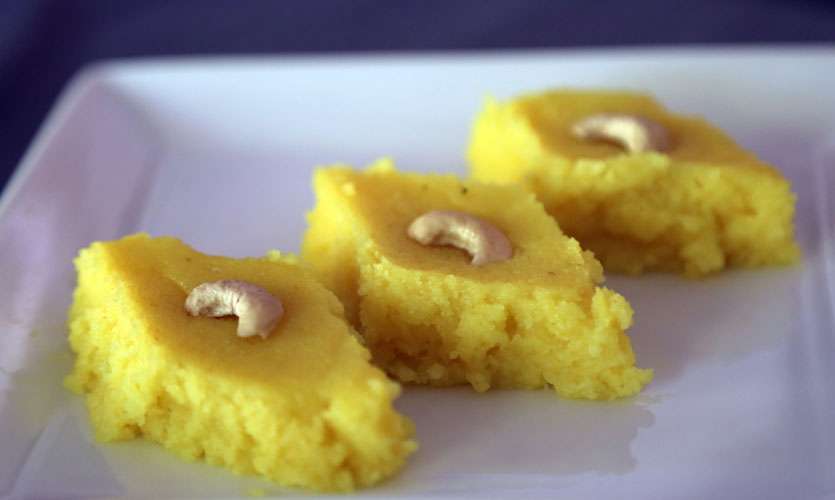 All you need is:
275ml of condensed milk
450ml of water
1 cup of semolina
4tbsps of ghee
1tsps of turmeric powder
½tspn of cardamom powder
10 whole cashew nuts (halved)
½tspn rosewater
Directions
Step 1: Heat ghee in a pan and add the semolina to the ghee and cook until it absorbs.

Step 2: Add the condensed milk to the water and stir until combined well. Then mix in turmeric powder with the mixture and add to the roasted semolina. Keep stirring until semolina absorbs the milk and it is important to keep stirring the mixture. Watch the mixture carefully.
Step 3: Add the cardamom powder and rose water and remove from gas. Pour onto a greased tray and smoothen it. Once it cools down, cut it into pieces and press a halved cashew in the middle. If you like raisins you can add a few of those as well.
I must say that this recipe is not too sweet at all. So if you want it to be, add some sugar to the condensed milk mixture to suit your taste. Also, It will take you roughly half an hour to make it and it is a wonderful sweet to add to your table this New Year.
Pics and video by Theja Senanayake