"Homeschooling" is currently being talked about by many parents who are hands-on with younger kids. Most of the parents are firm believers that children learn best through play as well as through interaction with others. Yet there are so many fun, engaging, and hands-on ways to teach practical life skills to a child, in the comfort and safety of your own home. During the lockdown phase in Sri Lanka, many parents of toddlers and preschoolers were on the hunt for new and interesting ways to keep kids occupied and entertained.
This is when an aspiring young mother took matters to her own hands by giving inspiration and creative ideas for parents around the globe. What started off as a fun Instagram Page soon began trending and within a short span, was reached out by thousands of followers and counting! Azmina Nooruddin along with her three-year-old son Rayaan Razik started a fun Instagram Page during the lockdown period in Sri Lanka as "Happy_Toddler_" that showcased a variety of easy to do activities that kept her son occupied while developing his skills and improving his knowledge.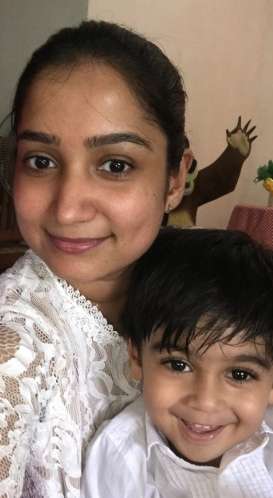 Azmina is a qualified AMI teacher with nearly 10 years of teaching experience in Sri Lanka and Qatar. This decade of experience working with young minds, Azmina was able to answer all parental queries and advise parents on their doubts. "During the lockdown period in Sri Lanka, many of my friends with toddlers and pre-schoolers were inquiring from me as to what type of activities they can do to keep them occupied. That's when I decided to start my own Instagram page happy_toddler_ which was always in the back of my mind for some time" says Azmina.
All mothers will vouch that the lockdown period was surely hectic, busy and quite frankly chaotic at certain times, especially when you have really small kids. Being a mother myself and recalling the curfew period, I was constantly thinking about ways of keeping the kids entertained, and often found myself lost! Similarly, Azmina started getting inquiries day and night from helpless parents around the world and she was able to confidently help these parents by recalling her AMI course and as a follower of the Montessori Teaching method.
The Montessori teaching method is what is known as an individualized teaching system where lessons are introduced in long uninterrupted work periods (within timely limits) where teachers provide one-on-one lessons based on the child's academic abilities and interests. This is far from the traditional classrooms where children experience multiple transitions throughout the day by engaging with them for a short time.
The benefits of the Montessori teaching methods is that it allows children to learn at their own pace, and also allows the teacher to observe each individual child's academic interests and abilities to facilitate one-on-one lessons. This is what Azmina follows for her son, and which is now being followed by thousands of parents across the globe. "My 1st post on Instagram was early this year when the entire country was in lockdown and parents were going crazy not knowing what to do with their little ones at home. Since then I've been busy posting creative activities and responding to parents through my Instagram page" says Azmina.
She further states that "I've reached 5,000 plus followers within a very short span and received many heartwarming reviews every day! It keeps me going and has helped me personally to keep my little toddler Rayaan occupied doing new activities on a daily basis."
The activities introduced by Azmina in her 'Happy_Toddler_' Instagram page have numerous benefits for the child. It helps the child improve their fine motor skills, sensorial, exercises of practical life (EPL) and also covers educational topics such as Alphabets, numbers, colours and shapes for early learners. Aimed at preschoolers, Azmina also introduces activities based on topics such as Animals, Vehicles, Planets and easy to do simple science experiments.
"Fine motor skill" is an ability to make movements using the small muscles in our hands and wrists. Kids rely on these skills to do key tasks at school and in everyday life. The mastering of fine motor skills will aid children in writing, eating with a spoon, zipping up clothes and many more life activities. "Sensorial Activities" allow them to explore the world around them and enhance their learning, language and creativity. Azmina introduces this aspect with the use of Playdough, Slime, Moon Sand and sensory play bins. Carrying out "Exercises of Practical Life (EPL)" helps young children to be independent and responsible in their day to day life as these actions are used very frequently. Skills such as pouring water, cutting, buttoning clothes, sweeping and garden are mastered with EPL.
While having a glance at the Instagram page makes you think that Azmina has it all under control. However just as every parent around the world, time is of the essence even for super mom Azmina. "Time has been a huge challenge for me to organize and arrange such activities, hence I usually involve him in helping me to prepare them or I find some time after he goes to bed to prepare for the next day."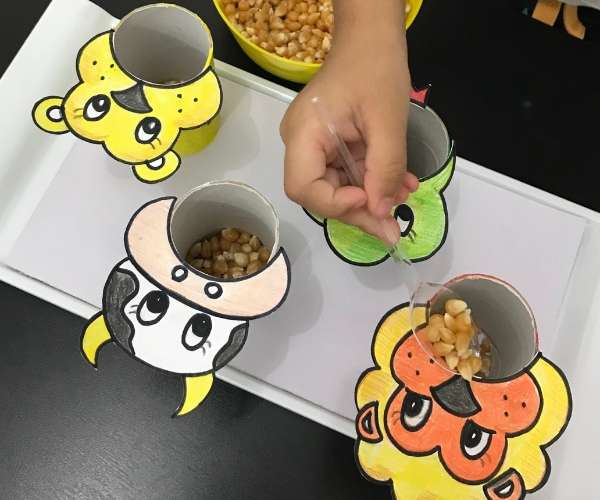 For working mothers all this may seem overwhelming, however, it is imperative that allocating some time for kids whenever possible is highly important for their development. Engaging in activities together brings forth an interest in the child's mind and they tend to learn faster and look forward to activities every time. It further solidifies the bond between parents and the child. "I always encourage parents to use recycled products and products that are mostly available at home to avoid spending a lot of time looking for materials. Especially when preparing a DIY (Do It Yourself activity), we use very simple things like empty tissue rolls/boxes, bottles, lids/caps, cotton buds, popsicle sticks, empty egg/milk cartons" explains Azmina.
Follow happy_toddler_ on Instagram to know more about these Early Learning Activities and their new Activity Pack which will be based on a new topic every month.
IG : https://www.instagram.com/happy_toddler_/
Text: Fazmina Samat