Upon returning to Sri Lanka, she worked as a Business Development Consultant at SLINTEC and as a legal specialist for Acquisitions Assistance at Medigain, LLC., a BPO specializing in revenue cycle management based in the US & Sri Lanka. Having obtained an understanding of local businesses, she founded Prep Academy, Sri Lanka (2014) and became a certified partner and service provider for Kaplan, Inc., USA to provide preparatory courses for exams such as SAT, GMAT, and GRE. She also served as the Legal Director for Encare since its inception in 2014. Ltd. in 2011 to launch their engineering and waste management arms. Encare, which commenced operations in 2014, is now a fully-fledged and accredited clinical waste management facility located in Kerawalapitiya. They provide end-to-end solutions to hospitals in Western, Central, and Southern Provinces.
Sajeira and Chinthaka launched "The Heart Aid Center" (HAC) in February 2019, under the Sisili Group of Companies, as the Group's first foray into privatized healthcare services. With Sisili primarily being in healthcare, both Sajeira and Chinthaka felt it was a fitting addition to the Group's portfolio. HAC is the first and only accredited centre in Sri Lanka to offer Enhanced External Counter Pulsation (EECP) Therapy that provides heart patients, alternative options of treatment for Coronary Artery Disease and Heart Failure, deviating from the traditional norm and the associated risks. Sajeira graduated with a Bachelor of Science in Biology, after which she worked for seven years as a Research Assistant at the Barbara Davis Center for Childhood Diabetes in Denver, Colorado where she authored and co-authored research abstracts. She then went on to pursue Law School in San Diego and attained her bar admission in Colorado. Chinthaka, qualified with a BSc. in Electrical Engineering Technology (Hons.) from Fairleigh Dickinson University, USA, and possesses specialized experience in healthcare, manufacturing, engineering, and waste management. Having worked as a Project Manager at Thomson Reuter in New York, he returned to Sri Lanka and joined Sisili Projects Consortium Pvt Ltd.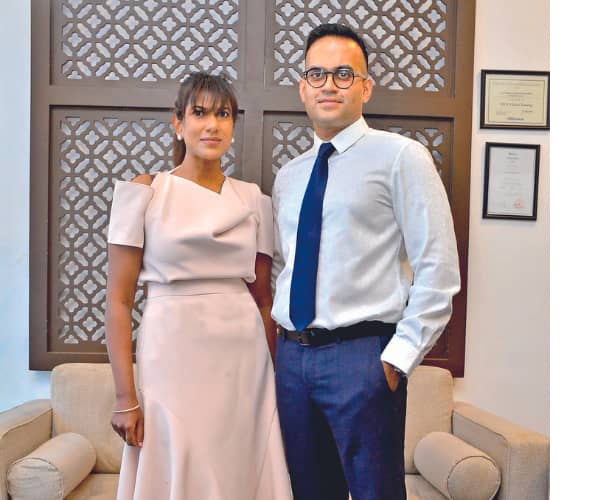 YOURS IS A PARTNERSHIP IN EVERY SENSE OF THE WORD. DO YOU FIND THAT SHARING BOTH HOME AND OFFICE SPACE CAN BE SOMETIMES DIFFICULT OR IS IT CONDUCIVE TO BOTH HOME AND WORK LIFE?
Sajeira: It's a bit of both. Overall, I find it more conducive to both home and work life because we are truly best friends in all aspects of life. Seeing him work makes me appreciate him more – but seeing him work also requires my own space to recentre myself sometimes.
Chinthaka: I definitely like having Sajeira around the office. She is a resource that brings value every day. I feel that we have more things to talk about at home, to engage each other mentally. However, I am told I do not know when to switch off – so that's a part I am working on.
Q HOW DID YOU BOTH MEET?
Sajeira: We met through one of our mutual friends – actually Chinthaka's oldest friend, Tahire Edirisinghe, through the American Alumni Association in 2012 after we had both moved back from the USA. We connected at her birthday over our joint interests in healthcare, TV-Shows, and experiences living abroad.
Chinthaka: Yes, it was great to meet someone like-minded – to have Eastern values with a Western outlook on life. Therefore, we connected immediately – and I knew three months in, she was the one!
Q AS YOU WORK IN THE HEALTH SECTOR, DO YOU FIND SRI LANKANS ON THE WHOLE HEALTHIER THAN PEOPLE IN THE WEST?
Sajeira: Yes and No. Sri Lankans have access to more natural foods, and we consume less processed foods than in the West. However, we go wrong by consuming far more than necessary and are increasingly leading more sedentary lives.
The silent killer is Sugar. A non-traditional item that has pervaded our cuisine – and has somehow or the other become regarded as a 'luxury.' As a result, there is a significant increase in NCDs such as ischemic heart disease and diabetes mellitus.
If we can go back to our traditional roots, with a focus on proteins (plant or animal), much of these health issues caused by NCDs will reduce. We too have been guilty of this. For eg., Chinthaka loved sugar in his morning tea, but he weaned himself out of it over a period of twelve (12) months. Now, he drinks his coffee and tea without sugar. He has reduced his weight from 100kg to 82kg with such habits combined with exercise. His trigger for change was a health scare.
Q DO YOU THINK THAT SRI LANKANS ARE GETTING MORE HEALTH-CONSCIOUS OR DO WE HAVE A LONG WAY TO GO WHEN IT COMES TO PREVENTIVE CARE?
Chinthaka: Like any society in this globalized world, focus on health and nutrition is growing every day. So yes, I think Sri Lankans are getting more health-conscious. You can see it when you go by walking paths and grounds around town. Yet, NCD cases are increasing at an alarming rate as well! This shows that there is a gap between getting healthy and getting impacted by an NCD – which is a direct correlation to the lack of focus in preventive care. In today's fast-paced world, balancing work and family can be hard. We lose time on little things – such as daily commutes. As a nation, we are also quite social so naturally, self-love takes a backseat!
Unless one prioritizes one's health, takes time out every day, and builds these habits into his/her daily routine, it is highly unlikely to be sustained beyond a period of time.
Q WHAT MADE YOU GET INTO THIS PARTICULAR FIELD?
Sajeira: I have always been in and around the field of healthcare. My undergrad is in Biology, and I worked in a genetics research lab with a focus on Diabetes in Colorado where I was under the tutelage of a giant in the field of Diabetes – Dr. George Eisenbarth. I also worked for an organ donor company harvesting bone and skin where I saw firsthand, what an unhealthy lifestyle can manifest into. Even with my Juris Doctor, I focused on patent law and practiced under the general counsel for Acon Laboratories.
Chinthaka: I also grew up in this field. Some of my fondest memories were hide and seek with my sister in my father's factory (which was next to our home) or playing inside the Medical Supply Division (Ministry of Health) whilst my father unloaded absorbent cotton gauze from his van! I believe my engineering degree, my work experience both at Thomson Reuters, New York, and here in Sri Lanka, have provided me with a skillset that allows me to expand what my father and mother have built since 1980. I am truly blessed to have this platform – and I hope that both Sajeira and I can do justice to it.
Q HEART-RELATED DISEASE IS ON THE RISE – IS THERE A PARTICULAR REASON FOR THIS?
Chinthaka: Based on published data, there has been a 15% increase in ischemic heart disease patients in Sri Lanka between 2007 – 2017. 23% of all deaths have been due to IHD – making it the number #1 cause of deaths in the country. The reasons are well known and are constantly highlighted by medical professionals. A negative shift in dietary habits, lack of exercise, and poor stress management. The Ministry of Health carries out multiple effective programmes each year to carry this message across the country – from the urban areas to rural areas.
However, there continues to be an alarming ignorance in absorbing this information and actioning it into daily lifestyles. Most people, like me, were triggered to change only upon a health scare, but even then, from our patient database, we see constant reversals in good habits once a patient's condition is alleviated.
Q IS THE HEART AID CENTRE A ONE-STOP SHOP WHEN IT COMES TO PREVENTIVE CARE?
Sajeira: No. HAC should be considered as a Centre that provides curative care for heart disease and Diabetes – where prevention is focused, stressed, and highlighted.
Q CAN YOU ELABORATE ON THE SERVICES YOU PROVIDE?
Sajeira: HAC is the first and only Enhanced External Counter Pulsation (EECP) Therapy center in Sri Lanka. EECP is FDA approved, 100% non-invasive therapy for symptomatic relief from certain cardiac ailments. This introduction has offered tremendous benefits to patients who cannot undergo invasive treatments – and is only performed by our certified medical professionals upon prescription by accredited cardiologists.
Apart from EECP, HAC offers facilities such as echocardiography, ECG and Stress ECG, and laboratory diagnostics. We will continue to add to these features as our range of services grows. For eg., we recently moved to a bigger location in Barnes Places in December 2021, and have equipped ourselves with a Diabetic/non Diabetic wound and foot care unit which is serviced by qualified wound care specialists and consultants.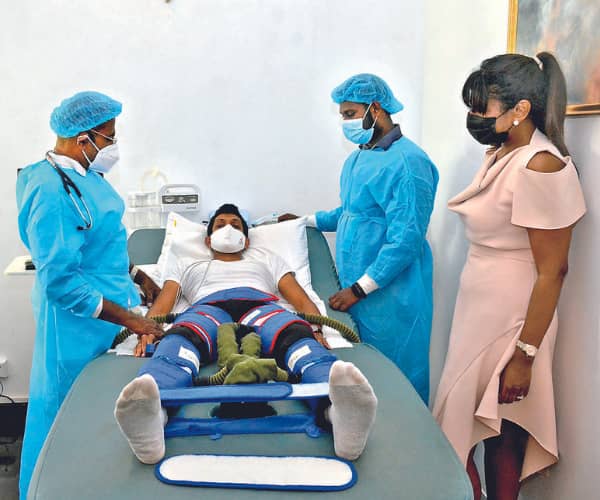 Q YOU EXPRESSED YOUR INTENTION OF BRANCHING OUT INTO DIABETOLOGY AND WOUND CARE – ANY PARTICULAR REASON YOU CHOSE THESE TWO AREAS?
Chinthaka: At HAC, we place value on the service provided and are always trying to enhance the experience of our clients from the time they walk through our doors. As a result, we carry out multiple surveys throughout the year from which this need was derived. Diabetes is one of the fastest-growing NCDs in Sri Lanka as well as in the world. In the age group of 20-79, the prevalence of diabetes is almost 11%, i.e. 01 in every 10 is a diabetic.
By introducing consultant Diabetologists and vascular surgeons, we hope to now provide the same boutique healthcare services (at market prices) in a non-hospital and private environment.
Q SAJEIRA, HOW DO YOU MANAGE BOTH HOME AND A CAREER WITH TWO YOUNG CHILDREN?
Sajeira: I am extremely blessed to have the support of my mom to help with Zoom and watch the kids. I have tremendous admiration for women, especially single mothers who manage career, children, and homes without any form of help.
Chinthaka spoke earlier of me wishing he was more of a hands-on dad, I think he does the best he can possibly do. As far as husbands go, he really goes the extra mile in putting in the effort. In our household, I put his career first over mine – as we agreed before we got married that I would always put children first over my career and when the kids were old enough then I would focus more and more on my career. I'm lucky to have Chinthaka who believes in me and keeps pushing me to work and provides the mechanisms for me to cope with it all.
Q HOW HAS COVID VIS A VIS CHILDREN AND SCHOOL IMPACTED BOTH YOUR WORK SCHEDULES?
Sajeira: It has been quite an adjustment because right now school has shifted to a hybrid system where the kids are at home one week and then school the next. When they're home, then I stay home in the mornings to handle Zoom lessons, and I work remotely and/or go into the office in the afternoon. The opposite happens when they're at school. It feels like a luxury to drop them off and get to work early!
The pandemic has really forced me to be not set in my ways – and be able to adapt on the fly. I am not saying I like it. I am just saying, if I want to achieve the things I want to achieve, I have no choice but to do it.
Chinthaka: The first and second wave had me working around the clock as our parent company, Sisili Projects Consortium Pvt. Ltd., is into the supply of essential medical items, and our subsidiary Sisili Hanaro Encare Pvt. Ltd., is into clinical waste management.
The current Omicron wave, however, as Sajeira said, forces you to be adaptable with one another's schedules. Unlike Sajeira, I like my routine so I hope we are at the beginning of the end of COVID19. I for one am awaiting normalization with much eagerness!
Q CHINTHAKA, ARE YOU A HANDS-ON DAD?
Chinthaka: Not as hands-on as Sajeira would like! Honestly, it's a daily battle. Some days I get involved from their washing to their education. Some days I just don't have the bandwidth. I am thankful that Sajeira understands this dynamic – and I am also thankful for Sajeira's mother for always stepping in and allowing both of us to pursue our dreams.
Q SEEING SO MANY CASES OF HEART-RELATED DISEASE ON A DAILY BASIS, WHAT STEPS DO YOU TAKE TO ENSURE THAT YOU AND YOUR FAMILY ARE HEALTHY?
Sajeira: The kids mimic everything we do! Chinthaka and I on top of working together, also work out regularly together. We love spin and boxing classes that keep the brain active at the same time. We also worked out regularly at home during the lockdown and as a result, the kids think it's normal to do their pushups and planks as well!
In terms of diet, I try to follow the 80/20 rule – where we eat nutritious home-cooked meals 80% of the time and be more flexible with the remaining 20% - after all moderation is key!
Q WHAT PLANS DO YOU HAVE FOR THE FUTURE OF THE HEART AID CENTRE?
Chinthaka: We have some plans up our sleeves – but in order to roll them out, we have to prove the financial viability of the existing model. Whilst we always put our service first, the financials have to make sense too! So wish us good luck, and hopefully, in time, we can unveil them to realize the vision Sajeira and I have.
Q DURING THE WORST OF COVID WAS THE HEART AID CENTRE OPERATIONAL AND DID YOU BOTH WORK REGULARLY?
Chinthaka: Yes. We were operational right throughout the pandemic to provide uninterrupted services with EECP therapy. This therapy requires 35 one-hour sessions on a daily basis for recommended patients. Hence an uninterrupted service was imperative. HAC operates in strict compliance with COVID19 guidelines as laid down by the Ministry of Health.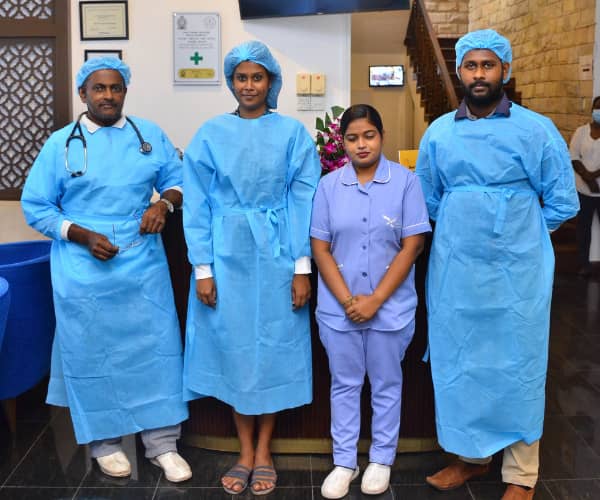 Q AS YOUNG PROFESSIONALS IN THE HEALTHCARE SECTOR WHAT IS YOUR ADVICE TO PEOPLE OF ALL AGES TO BE HEALTHY AND STAY HEALTHY?
Sajeira: Invest in meal prep for the week. It has become increasingly easier to find cost-effective, prepared proteins (such as chicken and fish) that can be used for multiple meals. It's also easy to access whole foods (like dhal, mung etc.). These superfood pulses may taste mundane at the beginning but there are various sauces (made locally and low fat) that can be added to it for a fresh taste.
Invest in physical activity. If you cannot get to a gym or a walking path, there are great free apps like FitOn that give you myriad options within various time capsules (even as short as 10 minutes) to suit your lifestyle. These workouts usually don't require equipment either!
Invest in yourself by taking the time!
By Anusha David