Eden Solutions, a venture by youngster Dunithra de Silva, is offering a window to the world of cryptocurrency. A concept that was almost unheard of a few years ago, cryptocurrency is now steadily making its way to the mainstream. Today, a significant number of people use Cryptocurrency, a form of payment that can be exchanged online for goods and services. They work using a technology called blockchain, which is a decentralized technology spread across many computers that manage and record transactions. Part of the appeal of this technology is its security.
Speaking of his reasons for starting a course on Cryptocurrency, Dunithra shared "I have been studying cryptocurrency for some time now while being in university. Since there are no official places you can learn, it has all been self-taught, and everything that I have tried and been successful in crypto I have put into the course. Using my technical analysis skills, I have been able to accumulate more digital assets by selling at resistance levels and buying at support levels without putting in any extra money". Dunithra speaks to Life Online about why we need to start talking about cryptocurrency and the benefits you can derive from his curated course.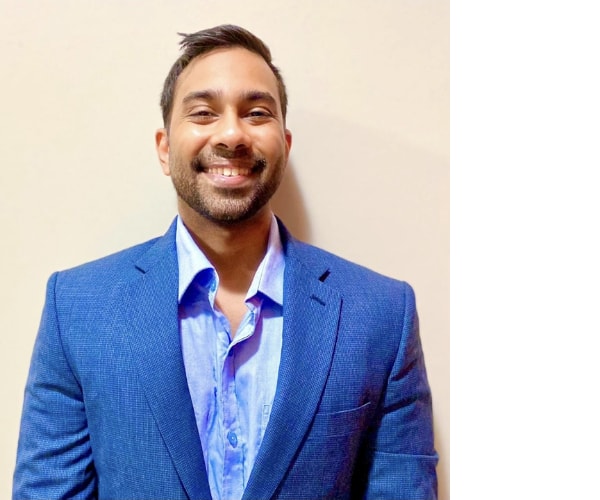 Q

Tell us a little bit about yourself.
As a young kid, all I wanted was to be a U.S Navy Seal. Throughout my life, I did everything I could possibly do to mentally, physically and spiritually prepare for it. I attended Royal College, Colombo from Grade 1 to 11. I played Division 1 cricket in school and in my free time I trained in multiple Martial Arts such as Krav Maga, Muay Thai, Karate and Jiujitsu. I also developed and published multiple Mobile Apps and Software which I published on the Google Play Store.
After Royal College, I transferred to Stafford International School where I completed my London O'Levels but I failed all my A-Level subjects and at that time no higher education institution would accept me. So I thought my only option would be to end up working at a DVD shop down the street as I had no proper education! But due to my determination to find a way to be a Navy Seal my luck turned and Royal Institute, Colombo offered me a shot in their Foundation Programme.
I studied, completed the Foundation Course and went on to do the Deakin University Engineering Degree for 2 years at Royal Institute. I then decided to transfer to UCL to do the Monash University Degree in Computer Science for the first year and Monash Malaysia thereafter. I'm now in my final semester of Bachelor of Computer Science in Data Science with my average being at the distinction level. I am also a PADI Certified Rescue Diver…and I also spend more time in the gym than at home!
Everything I am today is solely due to my desire and disciplined mindset to be a U.S.Navy Seal although I did not get the chance to go to the US due to the current pandemic.
Q

Why did you decide to start this course? And why pick cryptocurrency?
A few uses that are extremely beneficial are:
Users are able to send and receive payments to or from anyone on the network around the world without requiring approval from any external source or authority.
Users are not subjected to the litany of traditional banking fees associated with fiat currencies. This means no account maintenance or minimum balance fees, no overdraft charges, and no returned deposit fees, among many others. This means that there is little to no transaction fees.
Using the peer-to-peer mechanism of blockchain technology, cross-border transfers and transactions may be conducted without complications over currency exchange fluctuations, and the like.
Cryptocurrency can be used to mitigate inflation. One strategy is converting your rupees to dollars and holding them. But how can we as Sri Lankan's do that when the country has no dollars? Cryptocurrency gives you a way!
In Sri Lanka, there are people involved in cryptocurrency, but it's such a hush-hush kind of operation. I believe that everyone has a right to know that there are newer more advanced ways of growing your wealth than our old traditional ways which include working a 9-5 and living off your pension.
A course in cryptocurrency has never been done before, let alone establishing a solution based company that currently prioritizes integrating cryptocurrency into everyone's lives.
Our main goal with this course was to help people step into the future while becoming financially stable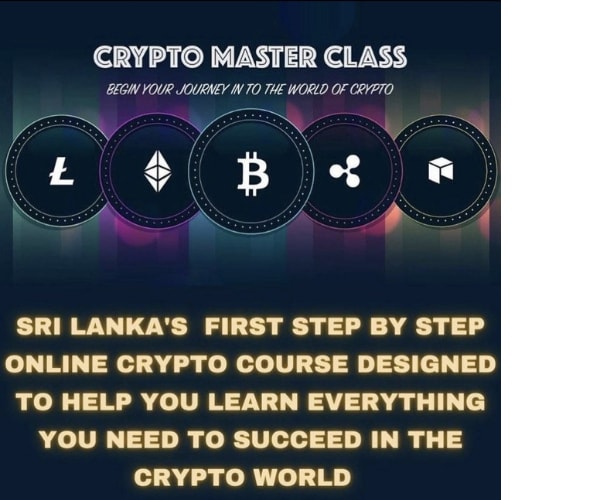 Q

What are some of the challenges you faced in setting things up?
As I had no investors, no initial capital, no business partners I had to do everything myself, from building and setting up the online platform, putting together the course structure and material and using my little savings to pay for Instagram ads and hosting services. The entire website was created by me and it was quite an ordeal to do all that while being in my 3rd year 1st semester of Data Science at Monash. However, I managed to complete it and excelled in my studies as well.
Q

Why is cryptocurrency something we should all know about?
As of now Sri Lanka is still a developing country and has been like that for as long as I can remember. In order for us to go from developing to developed, we need to evolve and adapt to new technologies. One such technological advancement is the adaptation of cryptocurrency.
Cryptocurrency started way back in 2009 with the invention of Bitcoin. As of that, the majority of Sri Lankans have never heard of cryptocurrency, let alone how to dabble in it. Among many other reasons the world is evolving and our people need to depend on themselves rather than the system because the system is failing us right now.
Q

Can you share with us the details about the course?
We teach everything you need to about Cryptocurrencies and the Binance exchange to get started. To acquire, send, receive, store, understand and exchange cryptocurrencies. To understand what blockchain is, how a ledger works, set one up and how to turn your digital currency into cash. We also have included a special section to help you integrate cryptocurrency as a form of payment for your business. And to get started we have included Eden Solutions crypto portfolio and the reason behind our investment in each of them and we end by teaching you how to win against inflation using crypto.
Q

Who will benefit from this course?
Anyone that wants another method to grow their wealth, acquire digital assets, step up their business by including crypto as a transaction method, if you want to make international payments without having to go through 3rd parties.
Q

Are there other courses you plan to offer in addition to this?
As of now, we offer the crypto master class, and for people that don't have time or patience to sit through the course, we offer a 1 on 1 service where we will go through important steps for you to invest in crypto for the long term.
We first plan to partner up with educational institutions and educate students as they are our future, by educating them with the latest financial technology available we might have a shot at saving Sri Lanka's economy down the road.
Moving on we want to partner with businesses to educate their employees and introduce them to the advantages of integrating crypto in their business and help them set it up as a transaction method.
Once we have accomplished that, as Eden is a solution based company, we will move on to other problems Sri Lanka and the world faces and tackle them one step at a time.
For more information about the course, visit www.edensolutionslk.com.