Twenty-year-old Angela Bettoni, the only child of Dr. Andrea Bettoni and Dr. Ramani Wijesinha Bettoni lives in Malta. Diagnosed with Down Syndrome a few days after her birth, her parents have always encouraged and given Angela every opportunity possible. Angela was the first student with Down Syndrome to do O/Levels in Malta, passing 6 subjects. She then did an Advanced Diploma in Performing Arts (equivalent to A/Levels). She is currently finishing the first year of a BA degree in Creative Arts at the Malta College of Arts, Science, and Technology.
A keen performer, she is part of the Opening Doors theatre group for adults with disabilities and writes a regular blog called "No Assumptions, Please". Angela was selected for the UK Arkbound Foundation's mentorship scheme in 2020. A year later, she was one of four recipients of the Artivisti Award by the Arts Council Malta and Agenzija Zghazagh. She is an advocate for inclusion in the performing arts in Malta and is one of 10 members of the Young People's Disability Rights Forum of Malta's Commission for the Rights of Persons with Disability (CRPD). Angela is also an executive committee member of the Commonwealth Children and Youth Disability Network (CCYDN). We sat down with Angela for a chat about her many achievements.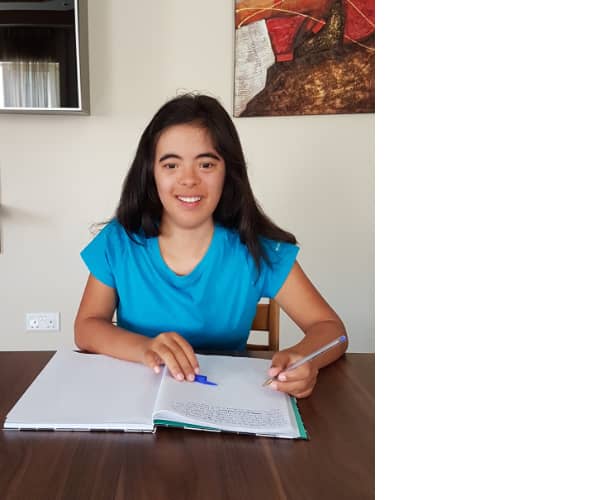 WRITING
Q Can you tell us about growing up in Oxford, London, and writing your first book at a very young age?
I don't remember much when I was living in Oxford but when I was 7 I moved to Rome because I was constantly ill because of the weather in Oxford. I wrote my first book when I was 8 or 9 years old. It was a compilation of short stories.
Q Briefly describe the book and what led you to write it?
The book is about a brother and sister and the adventures they get up to in their daily lives. It is mostly fiction but loosely based on some of my own experiences too. I used to travel often from Rome to Tuscany to see my grandparents. As it was quite a long drive I started making up stories about a brother and sister and telling my parents so my parents told me to try and write them down. Back then I had just begun to write so I had bad handwriting and spelling, but I wrote them down, and my parents made a book with some of those stories.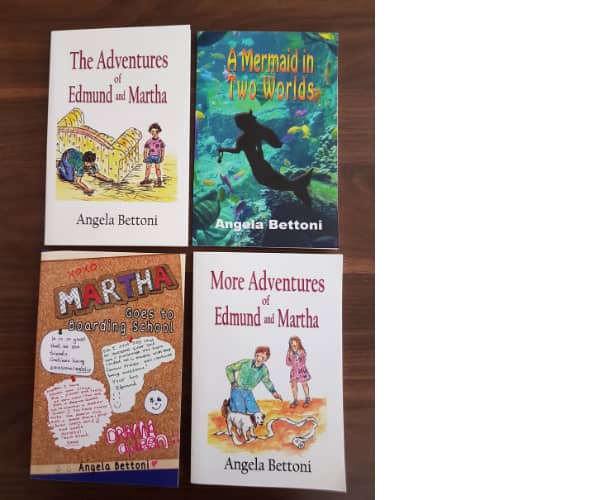 Q Thereafter did you write a sequel to it?
Yes, I did. It's called 'More Adventures of Edmund and Martha.'
Q Tell us about the other books and the response you received to all four books.
I wrote my second book when I was 12 years old. It has the same characters as in my previous book but they are now older. This book is fiction and no longer based on my own experiences. My third book is called 'A Mermaid in two worlds' and I wrote it when I was 14 years old. It was my first attempt at writing a novel. My fourth book was 'Martha goes to boarding school' which I wrote when I was 16 years old. The characters from my first two books are here but now they are all grown up. They attend a boarding school and are working on a performance for their end-of-year show. This book is based on my passion for acting and the performing arts.
For these books, I haven't really marketed them but for the third and fourth books, the money from the sales went to a charity in Sri Lanka called Hands of Hope which is an organization that works with girls and young women with learning disabilities to make them independent. In my schools in Malta and Rome, I did book launches for my fourth and third books, which were also featured in the Times of Malta.
Q What inspired you to write and is there a special message you try to give out through your stories?
I always loved to write as it's a mode of relaxation for me. But now with the manuscripts that I'm currently writing, my aim is to break down stereotypes by introducing characters in my writing who are different to the norm and sharing my own experiences and achievements. I would like to be a role model for children with Down's Syndrome and to help raise expectations from families and teachers.
Q Any favourite authors and why?
When I was little I used to love the Enid Blyton stories. While growing up I began to enjoy the Jacqueline Wilson books and a summer book series by Melissa J Morgan. But now I don't really have many favourite authors although I still love to read.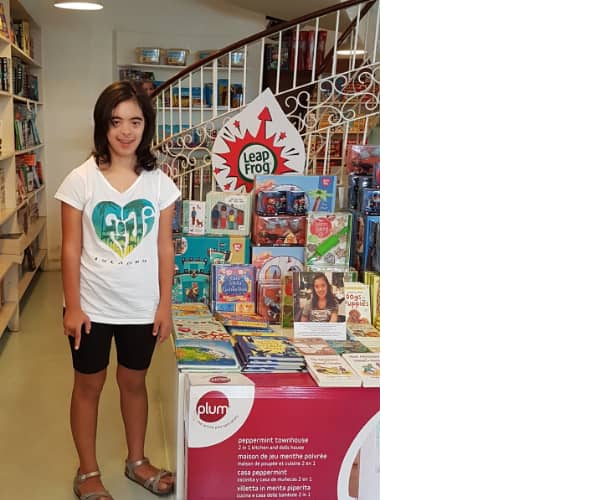 ACTING
Q What made you take up drama and were there any constraints you faced?
I always loved performing from a very young age. I've been performing since I was 5, first in school productions. The first time I got to perform on an actual stage was when I was in Rome when I was 7 in our school Christmas production that we did every year and I began to take performing seriously when I moved to Malta. But in the past, for the shows that I have been in, it was always more of a struggle to be given even a small speaking part. I usually had a small part in the ensemble. I was never out there, out in the open because I was always in the middle or being the person that follows the others. Constraints I have are my hypermobility in my joints, being uncoordinated, and always struggling to keep up with the others if a dance is fast. When it comes to speech, I have to think about being clear and sometimes work with a speech therapist to help me be more clear.
Q How can you spread the message of inclusion through drama?
I think that we should start including more people with a disability both on stage and on screen in a mixed ability setting. It's mainly about recognition and people giving us the chance to really shine.
SPREADING THE MESSAGE
Q Tell us about the video you made …how it all started and the message you are giving out to your audience?
In December 2021 I went to a launch of a project made by a young girl who is a pianist with Autism and I got inspired by the music video that she made especially as it was a combination of music, dance, friendships, and memories. The following day I got back home, sat down and I began to write a monologue called 'Dance with me'. The aim of the video is to show that we need people to see beyond our disabilities and give us a chance. 'All I really want is for you to take my hand and see the person who I am, to see my heart. To see the person who can smile, laugh, and love because when I love, I love.' You can see the video at: https://www.youtube.com/watch?v=Jo7F9gM0q7o
Q How did your friends and family help you?
Two of my friends from a mixed ability show that I was in helped me to make this project happen. One of them who is a musician helped me with the music and another friend was coaching me with the dancing and they were both highly supportive of me and they really helped me in making 'Dance with Me' a reality. My parents helped with the publicity.
Q What was the response to it?
The main Maltese online newspapers all wrote about 'Dance with Me' and I had Q&As with some of them. I was also invited to speak live on TV for the TV Malta Breakfast Show on World Down Syndrome Day itself so I could talk about the video. Just recently I was invited to do an interview by the Maltese tourism magazine OhMyMalta.
SRI LANKAN CONNECTION
Q You have lived in the UK, Italy, Malta whilst coming often to Sri Lanka. Can you tell us about your Sri Lankan roots or connections?
My Archie and Seeya live in Sri Lanka, my uncle and aunt also live there, and my cousins. Apart from the last 2 years due to Covid, I have been coming every year to Sri Lanka.
Q What are your opinions, especially as an activist and advocate for Downs Syndrome on how awareness can be spread in Sri Lanka?
I think that the media has a really important role to play to make sure that people with Down Syndrome are represented in society and are fully integrated into all aspects of life. There should be more awareness-raising events for school children and older students to make them aware and also events for the teachers themselves.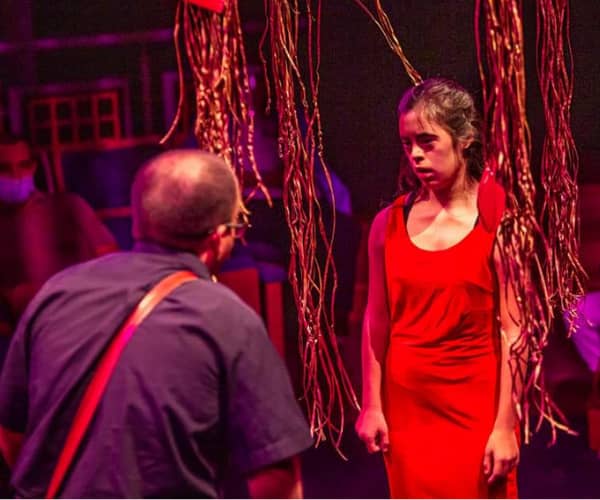 Q Finally what is your message to those in a similar situation to you not only in Sri Lanka but all over the world on how you can make a change in society?
My message to other young people with Down Syndrome is don't let your label define you and limit who you are. We are stronger than that. As long as you surround yourself with people who love you, you can achieve anything.
Dr. Ramani Wijesinha Bettoni (mother)
"Our approach with Angela right from the start was to give her every opportunity we could and to never set limits on what she could do. We decided that we would allow her to show us her limits. Our job was not to push her but to encourage her and give her the chance to do everything that typically-developing children of her age were doing. Angela was lucky to find very supportive teachers and friends in all the countries we have lived in (UK, Italy, and Malta). She was always in mainstream schools, never in a separate setting, which I believe helped her. She was the first student with Down Syndrome to do O/Levels in Malta, passing 6 subjects. She then did an Advanced Diploma in Performing Arts (equivalent to A/Levels). She is currently finishing the first year of a BA degree in Creative Arts at the Malta College of Arts, Science, and Technology, and we are hoping she will manage to complete the degree. I hope that reading about what Angela has been able to achieve will inspire other parents with children with Down Syndrome to believe in the potential of their child, and to fight for the best possible chances for them, starting with inclusion in mainstream classrooms."
By Kshalini Nonis
Photo credit: Elisa van Brockdorff & Emma Micallef