Marian was born and raised in Bahrain to a large, loving Sri Lankan family. Her family eventually settled in Toronto and she recently relocated to Ottawa, Ont., with her husband and seven-year-old daughter. Marian is bursting with the creative talents she honed as a clothing and product designer. Having stepped back from full-time work to be a stay-at-home mom, Marian now uses baking as an outlet to express her extraordinary artistic talent with playful and colourful bakes. THE GREAT CANADIAN BAKING SHOW brings together 10 amateur bakers from across the country to compete in a series of themed culinary challenges that celebrate their diverse backgrounds, families and communities.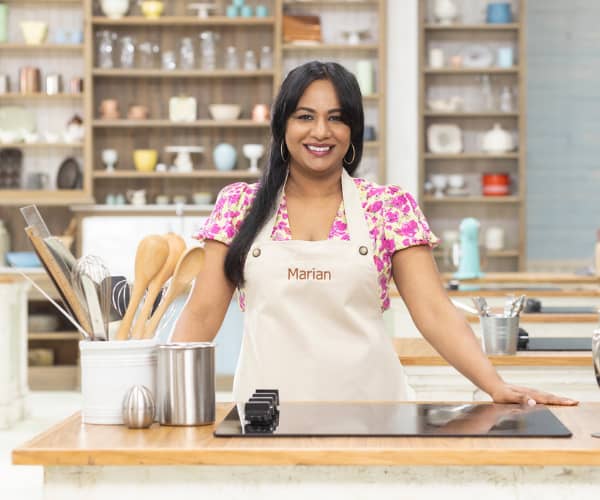 1. Tell us about who Marian Castelino is. How long have you been residing in Canada?
I was born in Bahrain to wonderful Sri Lankan parents, and I am the youngest of four daughters. I lived in Bahrain 'til I was 21 and left to attend university in Toronto, Canada. I graduated from Ryerson University in 2005 with a Bachelor of Design majoring in Fashion Apparel. Afterwards, I worked in design and product development for the Canadian fashion industry. I currently live in Ottawa with my husband, Robin, and my daughter, Sophia. I like doing creative things with my hands, like drawing, sewing, and baking. I also love visiting cafes with my sisters and best friend! I love being a mum and doing fun and silly things with my daughter and husband.
2. Describe your journey in THE GREAT CANADIAN BAKING SHOW.
I have always been a huge fan of The Great Canadian Baking Show! However, I was too intimidated to apply for the show, but with a lot of encouragement from friends, and family and even people who followed me on Instagram, I thought I would apply. I mean, it's a popular show and they get thousands of applicants, so I never really thought anything would come of it. Then I got a phone call, and then the whole process started just snowballing. After several steps, I was called to do a live bake-a-long audition which was given to only a handful of the applicants. The day they called to tell me I got in, I screamed the house down – it was incredible, and I was over the moon. To be selected as one of Canada's best ten home bakers is mind-blowing. Ever since that day, the journey has been amazing, and it has been a wonderful experience. I have also made some wonderful new friends. The other bakers are so talented and lovely! I feel truly blessed to have met them and now to be able to call them my friends.
3. Who/what is your biggest culinary inspiration?
My biggest culinary inspiration I would say is my mother. She is the reason I know how to bake and cook. My mother is one of those people that is good at everything, and she is known by the Sri Lankan community in Bahrain for her delicious food. She made all the birthday cakes for us growing up and would make such beautiful delicate and intricate designs. She has massively influenced my abilities in the kitchen.
4. Are there any food memories you'd like to share with us?
I come from a family that really enjoys making and eating food. Most of my memories are food-related, whether it's baking in the kitchen with my mom and sisters or going to the bakery with my dad! I remember my dad used to take me to this bakery in Bahrain as a child and the bakers were Sri Lankan. They would always treat me with doughnuts and this delicious Sri Lankan sponge cake, even though my dad was there just to buy bread. Once they allowed my dad and I to come to the kitchen so that we could watch how they made their baked goods! It's a happy memory!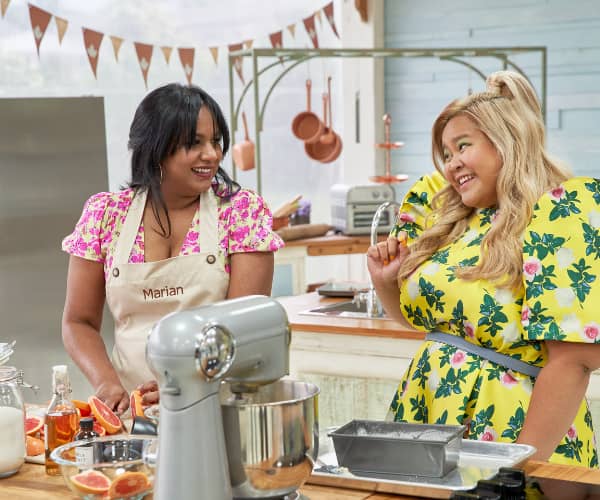 5. When/ how did your passion for food develop?
My interest in food was instilled in me at an early age by my mother. My interest in baking however became more of a serious passion after my daughter was diagnosed with a serious nut allergy at a very young age. Apart from how frightening this allergy is, seeing her being left out at a restaurant or at a birthday party was heartbreaking. So, I started making elaborate nut-free baked goods to take with us. Seeing how happy this made her pushed me into making even more delicious and fun things for her to eat. Then the baking started becoming therapeutic for me and I found it to be a great medium to release stress or anxiety. I poured my heart into the bakes and it became a way to show my appreciation and love for my family, friends and neighbours.
6. How supportive has your family front been with you participating in this show?
My sisters, my husband, my daughter and my nieces are huge fans of the show and kept telling me to apply! Every time we would watch the show my daughter would beg me to apply. Now that I'm on the show they are so excited and supportive. My parents who have always been supportive in everything I have done and are super proud of my participation in the show. It feels wonderful to have them behind me!
7. When was the last time you visited Sri Lanka? Were there any favourite restaurants that you like?
I was 19 years old the last time I visited Sri Lanka. I had gone there for my sister's wedding. It's a gorgeous and wonderful country! I can't think of any restaurants at this moment that I particularly liked because I loved all the food! Sri Lankan food is my favourite cuisine in general, and I remember just going to relatives' houses and stuffing my face with all the delicious food. The fruit was also incredible. There was one particular day we had an international breakfast at Mount Lavinia hotel that stands out in my memory as it was extensive, and everything was delicious. We do plan to make a trip to Sri Lanka and I have already started making a list of places I would like to eat at!
8. Tell us about some of your favourite dishes?
Sri Lankan food is my favourite kind of food, and I am very much a rice and curry kind of girl. I will also never say no to a bath packet! When it comes to baked goods, I love bread and doughnuts!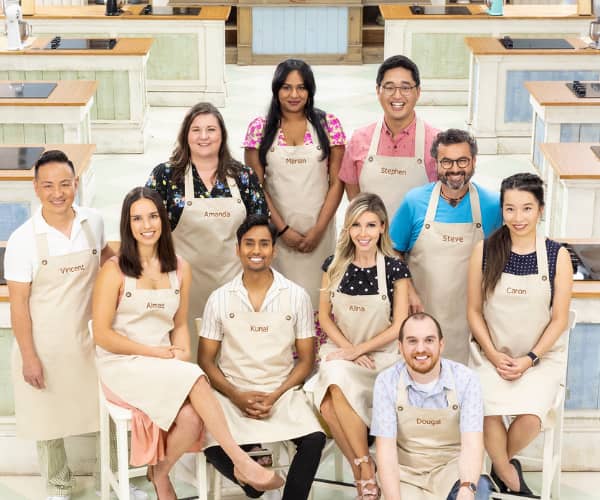 9. How is it working alongside other contestants in the show?
Meeting the other contestants was by far the best part of the show. I love them! We have all become so close. I knew I would make friends, but I didn't realize just how close we would become. They are all so talented, so kind and just wonderful people. I'm very excited for everyone to view the show and fall in love with their personalities.
The Great Canadian Baking Show airs in Canada on CBC, Sundays at 8 p.m. starting October 17. It can also be streamed in Canada on the free CBC Gem app.
Photo credits - Steve Carty & Geoff George