'Your Community' is a series that hopes to bring recognition and business to the amazing entrepreneurs of our country, to appreciate the wealth of talent and sheer resilience of spirit that exists among our people. When spoken to, the majority of the SME's indicate that their challenges are similar. They are struggling with access to market and access to finance. They need guidance and support to overcome such obstacles. This Column "Your Community" addresses the need to create awareness, by sharing their compelling stories so that potential customers out there can connect with them.
WCIC along with many partner organizations conduct continuous capacity building programmes for SMEs to gain knowledge in all aspects of business development. 'Your Community' provides exposure to inspirational women entrepreneurs by sharing their story and making the world know how these courageous ladies are forging ahead. We invite you to interact and engage with these entrepreneurs and support local businesses. We feature this week an entrepreneur who has been supported by the WCIC in her journey.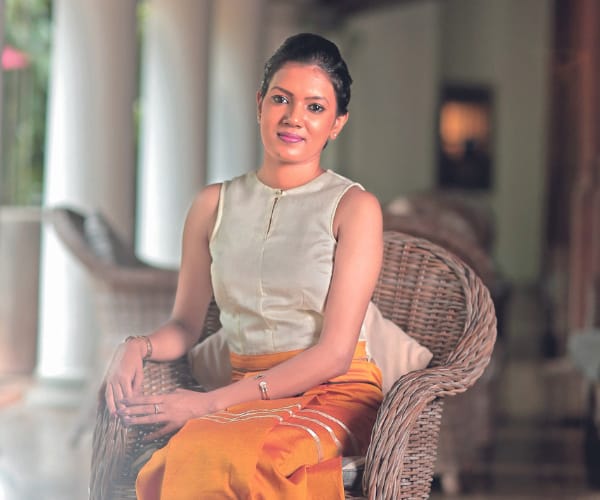 Q

What is your background?
I am Tara Kodithuwakku owner of TARA Watergate Hotel in Tissamaharama. I wasn't born with a silver spoon, my humble beginnings grounded by strong values such as honesty, hard work and family unity have helped me get to where I am today.
My parents were successful business personalities in Ambilipitiya. They started with a small cycle repair shop and have always lived by their values; I am so proud of them.
I admired their courage and perseverance to progress, but could sense their underlying fatigue and hardships. They braved all challenges to get my sister Chandani and myself access to greater opportunities.
I was determined to do my best to get ahead in life and my parents always gave me their blessings. In spite of their problems, they encouraged me to pursue my higher studies overseas. The challenge of relocating to the UK to pursue my BSc in Business Management at the University of Sussex, was a daunting experience for a young girl. Hailing from a very traditional background, overnight I had to embrace a new independent life style, converse confidently in English and even adopt a new attitude to survive on foreign soil.
However, I refused to indulge in self- pity and instead explored all opportunities. I took up part time employment at a few retail stores and hotels, for hands-on technical and customer service experience in the western world. I also pursued a MSc in Marketing Management at the University of Surrey, UK. TARA is my nickname and I want to market "TARA" as a Sri Lankan boutique hotel chain with a diverse portfolio.
Q

How did you start your business?
At the age of 25, I took my first step to launch my business. I had my heart set on owning and managing a boutique hotel in a location rich in historical, cultural and religious values. It was not easy to find the perfect fit. I engaged in research with travel agents who revealed travellers preferences. Tissamaharama, the hometown of my parents, was narrowed down for my first venture.
In 2015, standing on the identified property facing the Tissa Lake, I was engulfed by tranquility and serenity, surrounded by the blessings of nature, resulting in my decision being made in no time. I could visualize the property being positioned as a natural sanctuary away from the city with access to the Yala Safari Park in 30 mins. The property was acquired and the project commenced in 2015. The capital investment was funded partially by debt capital raised by HNB and Commercial bank and the financial support extended by my parents. Branding was important. TARA was my authentic brand, while Watergate refers to the land bordering the lake reservation. TARA Watergate Hotel opened its doors to guests in 2018 as a boutique hotel by the lake.
Q

What was your thinking behind the design of the hotel?
I had my heart set on a design that would capsulate the breath-taking lake views as well as the luscious green fields surrounded by unique local and migrant birds, so that guests could experience it all from the comfort of their bedroom. I had a visual image of the hotel and its layout but trying to convince the architects and engineers to align with my thinking was an uphill task, as they generally felt I didn't know much. Since I was also relatively young the task became more arduous but I didn't take No for an answer.
TARA Watergate Hotel, a 14-room boutique hotel was built on the premise of providing comfortable, spacious and elegant accommodation by the Tissamaharama Lake in accordance with the guidelines stipulated by The Sri Lanka Tourist Board. One of our guests, Martin from the Czech Republic says "the lakeview, peacocks and the birds in the garden are a perfect view to relax in, without leaving the comfort of your bedroom".
Q

How did you take the Brand to market?
I now wanted to use my professional education in Marketing and Business Management and I got cracking with setting up the marketing infrastructure before commercial operations took off ground. I created momentum and hype about TARA Watergate Hotel and its facilities through virtual platforms via a corporate website (www.tarawatergate.com) and used the social media platforms, Facebook and Instagram to gain traction. Acknowledging the value of networking as a business driver in the hospitality trade, I registered TARA Watergate Hotel with online travel agents such as Booking.com, and Agoda, enhancing market reach and visibility. It was also important to establish a network with local and international travel agents, and local holiday bungalow managers to promote my property to holiday makers. TARA Watergate Hotel was successful in attracting diverse travellers who were seeking privacy in a calm and serene environment, or the wild life adventure lover. 95% of our guests were international travelers from Europe, USA and Australia.
I have perfected the total experience from beginning to end. My professional experience both locally and internationally definitely added value to create an outstanding service delivery. Although I am the boss, I am a team player and I personally engage in accepting reservations, liaising with clients to understand their preferences and accepting constructive feedback during their stay. We strive to create an outstanding service delivery in authentic Sri Lankan style. To deliver outstanding service your whole team has to be equally aligned and energized. It is essential to select the right people who have the potential to be groomed to deliver outstanding service. Once you have a great team ensuring the retention is also critical. Empowering the team with greater responsibility recognizing their views and contribution, offering rewards for performance and career progression are the best ingredients for retaining high quality staff.
TARA Watergate Hotel has received an 8.7 rating by the Traveller Review Awards 2021 sponsored by Booking.com and the 2020 Traveler Choice Recognition award by TripAdvisor on account of our hospitality and service provided.
Q

Tell us about your journey ahead?
I am still a fledgling; my ambition is to grow into an innovative female entrepreneur/leader in the hospitality industry and establish TARA as a force. TARA Watergate Hotel is just Chapter one of my business story and I will continue adding to it. The pandemic set us back, but I am optimistic. Despite the difficult times I continued to compensate my 15 staff members even though we had zero revenue. I used my spare time to launch new service offerings such as Agri Tourism, Eco Tourism which are now more appealing to the millennial travellers.
The luscious fields around the property are now cultivated with an array of local vegetables that can cater to the health conscience travellers. Our guests have the privilege of harvesting the produce by themselves and preparing their own local meals with the aid of our Chefs.
My business philosophy is to offer guests, gastronomical experiences that are unique and memorable. Once the world is ready for business, the team at TARA Watergate Hotel is well equipped with unique experiences such as educating guests on Agri techniques, the art of harvesting and the traditional culinary art of Sri Lankan cuisine. TARA is a Sri Lankan boutique hotel chain in the making. Our latest property is based off Rakwana, amongst the picturesque mountains and tea plantations. The first step to expand our boutique hotel portfolio is backed by the theme of 'Travel for a cause". In essence we provide the guest a chance to help empower local communities, by being our guest. We in turn work on providing employment opportunities and uplifting living standards. I welcome strategic partners who are keen in investing in my future expansion projects that fall in line with the theme.
Q

Talk to us about your role model
Well, I have many role models. The first is my father, the founder of our family business. He taught me that small beginnings can become great stories. My mother a social worker, businesswoman, wife and mother. I can't imagine how she manages to balance all these roles, yet she delivers them to perfection. To this day, I consult her when I come to a cross road. Dr Achala Chandani, my sister, a lawyer by profession, was recognized as one of the Top Leading Women by the Financial Times in New York. She inspires me with her dedication and persistent courage to fight for a cause.
I feel proud to be born into a family imbued with such strength of character and perseverance and that is what has groomed me into the business personality I am today. My partner in life, Ashan Pandithasekara, is the perfect fit for me. He always encourages me to break through the glass ceiling. The trust and confidence placed in me is demonstrated by my appointment as the Director HR at Somasiri Stores, leading a staff of 200 employees across 15 business units.
Q

What do you do to enhance your personal net worth?
I welcome every day with a positive attitude. Every minute spent learning is a minute well spent. Knowledge is one of the best tools you will possess especially when you are young and have less experience. I am currently reading for a MSc in Finance at the University of Surrey UK. Gaining practical exposure in Business Management is deemed important and I participated in workshops conducted by International Trade Centre's Project on Economic Empowerment of Women in the Indian Ocean Rim Association Countries (IORA Project) in 2017 and the Women Entrepreneurs Financing Initiative training programme conducted by the Asian Development bank in 2021. I was also selected for a training programme conducted by GLX and the Noah foundation (Germany) which will be coupled with future funding for the IT infrastructure of the hotel.
There is a common saying that "your net worth is as good as your network", so I diligently engage in many networking activities with a view to broaden my horizons which led me to secure membership at The Women's Chamber of Industry and Commerce (WCIC) in 2020. At WCIC the learning never ceases as everyone is on "I want to help you" mode and it is certainly an energy booster for young entrepreneurs.
By Anusha David
For further information Contact- Janitha Stephens For more information on 'TARA' Watergate Hotel , visit www.tarawatergate.com