Your Community is a series that hopes to bring recognition and business to the amazing entrepreneurs living in villages from far-flung regions of our country, to appreciate the wealth of talent and sheer resilience of spirit that exists among our people. If corporates are struggling in these Covid-19 times, imagine how much more difficult it is for these small businesses who may have no recourse to the day-to-day conveniences that corporates enjoy - internet, ease of transport, online banking, and digital visibility for their products.
'Your Community' hopes to give some inspirational women entrepreneurs this all too important break – whether it's an order from an individual, a shop, an overseas client, or just the satisfaction and comfort of knowing they are not forgotten. Someone in the heart of the city can now hear their voice and link with them to help expand their reach.
This series features a cohort of 15 women entrepreneurs who were selected to be part of an innovative 15-week business management training programme to build resilience to our businesses in the Covid-19 environment. The Programme was deployed by WCIC with technical and financial assistance from the International Finance Corporation (IFC) —under the IFC-DFAT Women in Work Programme.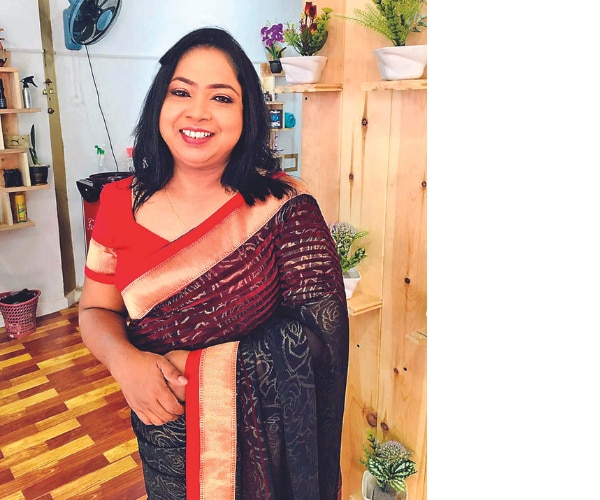 Tell us something about yourself.
I am Thanuja Gunaratne from Galle, founder of Thanuja Lace. We create Beeralu lace for women's and children's garments, sarees, and household accessories such as table cloths, runners, coasters, and cushion covers.
My business story dates back to when I fell in love with my husband Wasantha 25 years ago. My mother-in-law, Malani Margareta multi-talented Beeralu weaver, gave me inspiration. She is my guru.
With her support, my dream became a reality when I commenced business operations in 1998 with just one machine. Thereafter, I went on to register the company in 2002 as a Sole Proprietorship. Currently, I operate four machines and have given employment to two women from my local community.
The future of Thanuja Lace is Thirandhi Nimsadi, my 17-year old daughter, who is also my biggest motivator. Thirandhi is committed to ensuring this traditional art will continue to be appreciated by future generations. She wants to pursue her degree in Finance and Management, which will assist her in elevating the business to greater heights.
How do you market your products?
My business has grown so far through goodwill and word of mouth. We had no formal marketing activity factored into our journey.
The turning point of my business story was when the Women's Chamber of Industry &Commerce (WCIC) invited me to attend the Trade and Sales Exhibition in Mumbai in 2010. This opened doors to do business and secured a steady pipeline. The potential I saw at the event led me to register as a vendor in the National Craft Council (NCC) and today, I benefit via promotions across NCC's social media channels.
The lack of a digital presence was acutely felt during the Covid-19 lockdowns. The recent business management training programme by WCIC and IFC showed me the need to convert to digital during this time. Thus, together with Thirandhi's help, I reactivated my social media presence. 'Thanuja Lace' is now on Facebook and Instagram.
My designs and creations are what is unique about my products, and are inspired by the emerging trends in fashion. I blend the needs of the market with the traditional values of the craft to create a combination that is appealing.
Moving forward, I would like to partner with retailers both locally and internationally and take our traditional craft global.
What are the most significant challenges/ opportunities that you faced as an entrepreneur?
At 24 years, I was challenged by my competitors when they confronted me at a trade exhibition in Colombo. They told me "Pack up! Leave and never enter our business. This is our space". But I continued my journey with a smile. Despite the threats, my determination grew. This was my opportunity. As a result, I looked for opportunities aggressively and that's when I entered a competition organized by WCIC, where I won 1st place and travelled to Mumbai, India for the SME Trade Exhibition.
At the time my English knowledge was limited, but I am still amazed at how I secured Rs. 500,000 in sales in just two days. I believe that it was my fearless attitude that did the talking.
Being associated with the WCIC family has increased my self-worth immensely– not just about the business but also my knowledge and personality as well. Selecting me to participate in the 15-week innovative IFC-WCIC business management training programme during COVID-19 was another recognition of my potential. This awakened the businesswoman in me and the need to be more agile and digital in today's dynamic market.
As an entrepreneur what is your ambition?
Sri Lanka's heritage and culture need to be preserved. My brand story is all about preserving the best of Sri Lankan designs while taking them to the international stage. This is a mammoth task for me personally. I am proud that my daughter shares my passion to take our work global. For this, I need to upgrade the technical know-how both in terms of machinery to scale up, as well as design technology to custom design.
What is your opinion on the 2020/2021 challenge and your advice?
Covid-19 was a pandemic that created a global challenge. We have to rise above it, forgetting the short-term issues, focusing on solutions for tomorrow.
With the pandemic, I had bridal orders that were cancelled, which were half completed, with costs incurred. But the reality is that it is the bride who had the bigger disappointment, so I have considered my problem a lesser one. It is a matter of perspective.
Uncertain times are not forever. I am thankful for the spare time in hand which allows me more time for creativity.
What is the best advice you can give to a female?
Complaining shouldn't be part of your identity. Source your strengths, have a goal, create a plan, and execute the plan effectively. You are the creator of your happiness.
Women's Chamber of Industry and Commerce (WCIC) is the premier organization supporting entrepreneurs and professional businesswomen. The membership is open to women who believe they can contribute to society as well as benefit from the many facilities the organization creates.
For more information on 'Thanuja Lace,' contact Thaunja Dharshini on email thanujadharshini780@gmail.com
By Anusha David