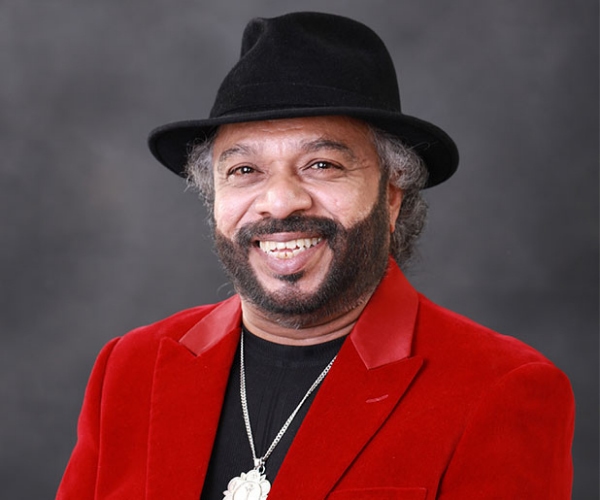 Buzz with Danu - Just for Sunil Aiya
By Danu Innasithamby
What a man!! Music will never be the same is all I can say. As a kid at St. Peter's College, I have seen him perform at our college day and then to have him on a show with me and speak to him was such an Honour. He was a man with an amazing and Honest heart and any day anywhere the interesting conversations always continued. We Will miss him.. and this is for him!! Goodbye to a legend.
The first-ever cassette tape my mom bought me was a Gypsies album - I had fallen in love with their music. It was music that made me feel happy. It was music that made me feel proud about living on this tiny dysfunctionally functional island. It made me feel like I belonged. Someone once said "Music is one of society's greatest teachers" and each and every single song Sunil Aiya sang was just that.
Supremely glad that I got to be a part of one of his songs during my lifetime. I always wanted to be half the entertainer Sunil Aiya was. He was the greatest entertainer of all time. Sunil Aiya! Rest in Power Legend!"- Gehan Blok
We grew up listening to Gypsies and I don't think there is even one 90's kid who has not danced for "Pitikotapan Nonne". Listening to Sunil Perera's songs or even his interviews always put a big smile on my face. He is not just a singer, he is a performer with a completely different personality. He creates a vibe, a very happy vibe. It breaks my heart to see the end of that era. He entertained us, gave so much to the people. His words left us but his music still talks because his music is life itself. May he rest in peace in the arms of Jesus." - Raffealla Fernando
Uncle Sunil's music for me was not just baila, but rock and roll. When you hear it you can't help but get up and move to it. He will be terribly missed but I am sure he will be showcasing his talents in heaven and rocking it there too. Although it is sad, he will live on in our hearts and our baila moves forever. May he rest in peace and may
his family have the strength to get through this difficult time." - Ashanthi Weerasinghe
He was a father figure to the entire band, guided us when we needed it, never ever to impose anything on us. He simply helped whenever needed and had such a positive influence on our journey. His impact on this country in terms of music and humanity will be felt for generations to come. we will miss him dearly." - Viresh Cooray Chika
One of THE greatest entertainers of all time. A genuine soul that was always up to support and help anyone in need. A selfless and kind human being inside and out. Your void is felt and could never be replaced. We will remember you for the way you lifted the energy in any room that you walked into. Your music will resonate for generations to come...You will always be immortal through your music. Rest in Love uncle Sunil" - Umara Sinhawansa Rifky
Uncle Sunil is a legend for many reasons. On stage, he was energetic, the life of the party and the ultimate entertainer! Off-stage he was the most outspoken, truthful and honest person you would ever come across.
Uncle Sunil and the Gypsies revolutionised the Sri Lankan music industry and his legacy would continue to do so. However, without him, the Sri Lankan entertainment arena will never be the same. I'm so proud to call myself Uncle Sunil's niece, for everything that he has done for our country, musically and otherwise. You will be missed dearly." - Natasha Perera
The Sunil I knew... A man of principles, a giving / caring heart and a straight shooter. He united people irrespective of caste, creed and religion across the globe through his music and dreamed of a Sri Lanka - beautiful and free for our future generations. A genius who churned out hit after hit filled with satirical humour and solid messages for young and old. We lost a great human being, an entertainer par excellence and a friend. His passing leaves a void that will remain for a very long time. Farewell Sunna...musical legend and friend." - Mariazelle Goonetilleke
Good people die every day. Yet not all of them affirm for us the goodness in humanity and leadership the way Sunil Aiya of Gypsies did. His demise left a legacy of creative music. He did not take a path in life because it was easy, he chose to live to his own terms and beliefs which made him a legendary and creative leader whose humanity extended to all who knew him. The bottom line is "Sunil Aiya" you created a legacy of artistry that will be forever celebrated. Rest in peace my dear friend and may heaven's welcome you to the sound of your music." - Jehan Wijayaratne
With the passing of Sunil Perera, we see an era reach its end. A man who lived life to the fullest and entertained generations of Sri Lankan's all over the world." - Imran Saibo
Sunil aiya has always been my role model with his attitude towards music and life. My first single was condemned by media channel heads so I went to Sunil aiya and he said 'if you like what you have done, don't change a thing' so this is what made Billy Fernando who he is today." - Billy Fernando
Sunil Aiya has always been a hero to us. He's a great singer, great manager, great leader and most of all a great human being. When it came to the creativity he had his own style which began another era. His powerful voice has touched everyone around the world and it's now followed by many youngsters. Sunil aiya will never leave us, he will always be in our hearts as a legend. It's sad to say that we have lost one true great Sri Lankan who always had so much love for our motherland. My deepest condolences to Sunil Aiya's family. Sunil Aiya will forever be loved and cherished till the end of time." - Channa Wijewardena
I have never seen, Michael Jackson nor Elvis Presley..but I have seen a bigger legend and that's Sunil Perera. I was blessed to witness him perform and back him on many occasions with my band... Uncle Sunil has always been one of my idols. He not only entertained us but educated us with his immense wisdom. Losing uncle Sunil is a big loss to the whole country, no musician can take his place… uncle Sunil we love you so much and we are gonna miss you." - Krishan Marlon Perera
Dear Sunil Perera was one of the few musicians who created timeless music. I remember listening to his music such as Pitikotapan / Signore / None mage sudu none as a small kid and also some of his great hits recently.
Though I did not know him closely as a person, we could tell that he was one person who lived and enjoyed his life to the fullest, whilst entertaining and loving everyone who was around him, as a father, husband, friend and star.
As his fans, though we are very saddened by his demise and miss him dearly, let's all pray for him to rest in peace." - Sachini Nipunsala
He was never an insecure person and he was always fearless. Whenever he recognised talent, he always encouraged them by giving them a helping hand and promoting them. He did this to me also by promoting me in Canada and in the U.S. How can ever forget that? At MISTY's first major Dinner dance, we played along with the Gypsies in 2002 as we couldn't afford sufficient equipment at that time. After the performance, he offered a set of equipment for us to use till I was able to afford to buy them. He was one of the most generous people I have ever met in my entire life. Even up to the end he helped so many musicians and looked after their families in any way he could." - Rajitha Rupasinghe
Uncle Sunil was a legend on and off stage. His life was his music and his family. We've never seen someone enjoy their craft as much as he did. We all know how much he enjoys music on stage, but even at home, we'd often find him with his guitar strumming some tunes. He was truly a great human being who helped so many people and touched so many lives not just with his music but with his generosity and wisdom. We will truly miss him." - Nuwan Perera and Kavita Amaratunga Perera
Sunil is an entire movement, that took the idea of Baila and weaved it into the roots and soul of our country, Gypsies and his voice is an echo of our childhood memories and continues to be part of our lives so much so that, regardless of caste or creed, whether it's a palace or a hut, his Baila has us Lankans tapping, dancing and going nuts. I think Cricket and Baila are two things that unite our country and I felt like Sri Lanka woke up without its light. Sunil was a man of truth, put across bluntly, his songs took everyday life to weave to a beat that we never forget. He fuelled a legion of young artists who were supported by him to continue his legacy. Sunil was also my friend's father, and I knew him to be the amazing father and husband that he was. A live wire to his entire family, that held everyone together. Manee, thank you so much for the legacy that is your Thaththie, for sharing him with us. I envy heaven, for there must be an amazing Baila run down up there. - Kamilka Perera
Uncle Sunil to me was one of the biggest inspirations I had in my life! There was so much I learnt from him, his words made me very strong and made me want to pursue my career as a singer when I was just 17 years old. His vibrant presence and soul will be missed dearly. He was the most down to earth, kind, humble and also the sweetest person I've ever met. Artiste, fan, whoever you are, he'd accept you as you are with arms wide open, a big smile and a loud laugh. I truly believe he's in a better place now. I still can't believe that uncle Sunil is now a 'was' but I surely know that he's up in heaven, singing and dancing away with his other friends and Jesus! I miss you uncle Sunil and I love you very much. - Tehani Imara
Sunil aiya was a pillar of strength to everyone in the music industry. He always saw the positives and encouraged newcomers, new ideas and new creations. He stood strong with the younger generations over the years when most would try to crush their spirit even before it had a chance to come out. He left a great void in our industry that will be hard for anyone to fill. Goodbye, dear Sunil aiya … until we meet again !!! - Bathiya and Santhush (BNS)
He is our family's hero! His music, his work ethic and his outlook on life were exceptional. His music is eternal that no Sri Lankan party will be complete without his creations. He will forever be in my heart as my Sunil Bappi the Legend and wonderful human being who always guided us and never failed to support us. - Lanthra Perera
---
Tribute to Sunil Perera
Artistes mourn the loss of a legend
By Kamanthi Wickramasinghe
It was not difficult to spot the late Sunil Perera on a stage. His striking attire, often comprising a bright coloured jacket, black T-shirt, a dazzling cross around his neck and a hat put a smile on every person's face. His presence mesmerised audiences, not only with his humour but for touching the hearts of his fans with a variety of songs with meaningful lyrics. From 'Oye Ojaye' to 'Lowe Sama' his songs had a message to all listeners. His demise is mourned by many artists including those whom he has mentored to those who had shared the stage with him and those who associated with him during his lifetime.
"It's a big loss for the music industry and the whole of Sri Lanka. He was an icon and I knew him since I was a kid because he was my brother's classmate at St. Peter's College. We are going to miss him forever. The best times I had with him was during gigs, we laughed and he said a lot of philosophical things and the way he condemned all governments was really fair and that's my style of a person. I will miss him forever." Chitral Somapala
"I have gone on two tours to the USA with The Gypsies and it was fun all the way. Sunil loved my songs and made it a point to join me on stage doing the harmony and playing the guitar. When we had the Super Golden Chimes reunion concerts in Sri Lanka he gave his studio for practices and rehearsals for one whole week. I remember asking him what his fee was and the answer he gave really touched my heart. He said, "Machan Clarence and the Super Golden Chimes were my heroes and it's a pleasure and a privilege for me to be part of this mega show, I don't want any payment it's all on the house !!" That is the Sunil Perera I knew. A true legend gone too soon. May his soul rest in peace." Annesley Malewana
"I met Sunil Perera for the first time when his band The Gypsies played for the crowning of Miss Sri Lanka 1975 at the Hotel Lanka Oberoi. I had heard of the band but never seen them so when Sunil made his very sweet congratulatory greetings in his powerful voice, and later personally wished me the very best, I knew I would be seeing him often for many years ahead. That is exactly what happened. I used to be a regular at dances in my youth, and his band was the most sought after! We both discovered we share the same birthday and about twenty years ago he began a morning ritual of calling me saying in Sinhala, "ah little sister, you and I are a year older ...let's go like this!" ( ah nangi, oyai mai avuruddak naki wuna...ohoma yung,"). Today, his departure is genuinely mourned by the entire country, including all Sri Lankans overseas and even other nationalities who enjoyed his music and could not resist the need to dance to his beats." Angela Seneviratne
"The Gypsies was initially doing Western songs and this was when Clarence Wijewardena and C. T Fernando became popular with Sinhala pop. Gypsies had their own recording studio. It was at this studio that Clarence's popular hit 'Sihina Lowak Dutuwa Mathakai' was recorded. This was what influenced The Gypsies to move into Sinhala songs. Their first song was 'Linda Langa Sangamaya' and the first song they recorded for a cassette was 'Kurumitto'. Thereafter the developments started taking place. The Gypsies and the Super Golden Chimes were two bands that were present at all dinner dances, carnivals that happened at the time. When M. S Fernando came into the music scene his songs inspired the Gypsies to do baila songs. The songs done by The Gypsies revolved around a certain theme. Then they started going overseas for shows and their first trip was to India. Eventually, they became popular the world over. Sunil wasn't just a musician. He was a man of principles. He had some unique values and character. He was well organised. He would be in his office by 9.00-9.30am and would write down the schedule for the day before he started work. They also used to give a percentage of their earnings to charity. In fact, he was a complete human being. The vacuum created by him can never be filled. His act was the last in any show because the crowd will not leave without watching his performance. He knew how to adjust to the crowd. It's a great loss to the Sri Lankan music industry." Damayantha Kuruppu