Nestled down the chic street of Chatham Street, Colombo 1, The Joint Pub & Grill launches their brand-new lunch menu, that's just not tantalising but is also the most affordable for a 'quick grab' during the rush hour lunch break.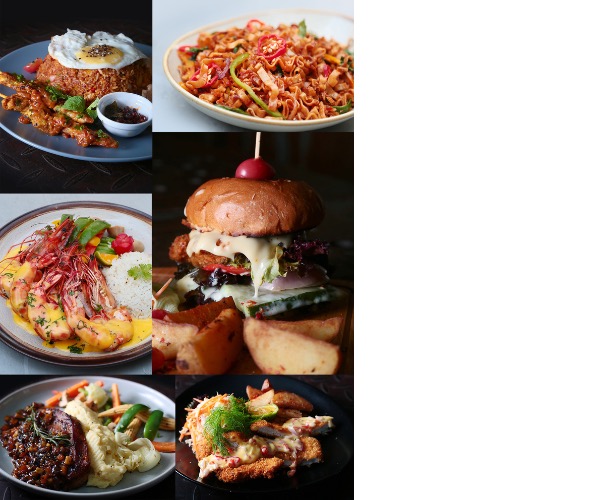 Opened in February 2022, this rustic, cosy, urban-style pub has already gained a loyal customer base, offering a range of unique food & beverage. The all-new a la carte lunch menu was launched along with the Executive Lunch menu on the 15th of November where guests can dine in, take away, or have it delivered straight to their office or home.
The dine-in menu consists of a variety of Asian, Continental, and Sri Lankan seafood and mixed sizzling meat platters. Head over to The Joint Pub & Grill and try the "dish of the month". The "Yaka" Burger is a juicy spicy tender beef patty, generously spread with Kochi mayo, grilled onions, green & red chillies, spicy kankung & fried egg with melted cheese.
Be spoilt for choice from their salads to main courses, bites, sharing platters, and desserts. Grilled Lagoon Prawns with butter & garlic served with Garlic Rice & grilled vegetables, Classic Seafood fried rice, Grilled Chicken & Cheese pol roti wrap, and crispy bacon & or black pork curry Kottu are just some of the available dishes.
For all you sweet tooth fans, some of their hot sellers are the Italian Tiramisu, the Ceylon Kavum Paha dipped in Kithul Pani served with Vanilla ice cream and bread pudding served with local berry sauce.
"We want to give our diners the best of food in a casual rustic environment. The Joint Pub & Grill maintains the highest standards of food hygiene and all dishes are made with the best of local and imported ingredients" said partner, Melanie Fernando. Guests can also order lunch from the "Work Lunch" menu between 11 am and 2.30 pm from Monday to Friday and delivery will be done free of charge within a 1km radius. They are also available on Uber and Pick ME.
"We ensure that every bite you take is filled with a promising flavour. Our team is always hard at work at the woks. Our goal is to adhere to all hygienic regulations to ensure that our guests receive the best and safest food possible with the best in terms of texture, presentation, fragrance, and flavour in every dish", added Fernando.
The Joint Pub & Grill has a great ambience to unwind after hours with great cocktails and there's a live band to entertain you every Thursday, Friday and Saturday from 7 pm. "We have carefully selected our lineup of live bands. We also have some fantastic promotions which are affordable to anyone who wants to have a good time without breaking the bank" said Nathal Thuduwewatta, Manager, Entertainment.
Call 2337783 for more details or like The Joint Pub & Visit on FB or follow @thejointpubcolombo on Instagram.