For the now-retired Radio Officer Don Lionel Sirimanne, it was love at first sight when he spotted fighter planes while passing the Colombo Race Course which, during WWII, was converted to an airstrip. So when he chanced upon an advertisement for trainee air mechanics for the Royal Naval Air Services, he promptly applied and was subsequently recruited as an Aircraft Electrician. Thus began a long and rewarding career for Sirimanne in the aviation field, as he was privy to a plethora of exciting experiences as he got to work on British and American fighter and bomber planes. For his services rendered, Sirimanne, the oldest living aviator in the country, recently received a plaque of appreciation from President Gotabhaya Rajapakse. Speaking to the Daily Mirror Life, Sirimanna recounted his career in the aviation sphere and the book he wrote about his experiences when he turned 100.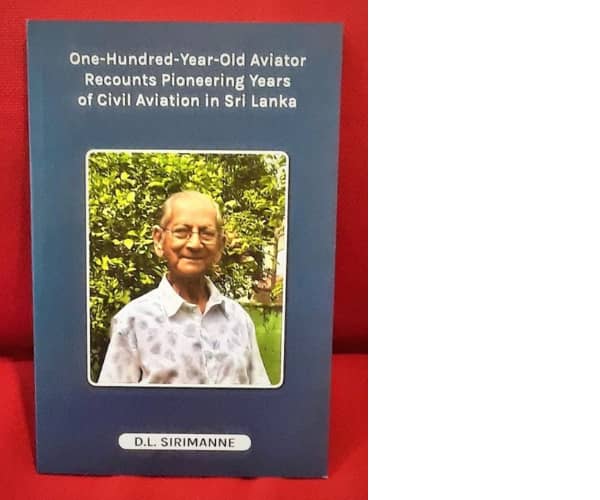 Q. What was your life like growing up?
A: My father was a Planter on a tea estate in Kurunegala, and at the age of six I was sent for schooling to my Grandmother in Colombo where I had a pleasant and active childhood. In our cosmopolitan neighborhood in Kotahena, there lived several Sinhalese, Burghers, Tamils, Muslims, and Chetty families and we children enjoyed playing games together
I loved schooling, it was very competitive and interesting. Getting promoted at the end of each year to a higher grade was a joyful event. Education in all schools and colleges was the same as in British Schools. Education was only in English. Textbooks and other reading matters in prose and verse by leading English writers were all imported from England. Since we were a British Colony at that time, there were only English Christian missionary schools and colleges in the Island. In Kotahena we had for boys, Cathedral College, where I received my education and St. Benedict's College. For the girls, there was Cathedral Girls School and Good Shepherd Convent. Children of all religions and nationalities in our locality attended these schools. Sinhalese and Tamil were second languages. When reaching JSC or SSC, children were allowed to offer Latin or Greek as a second language and I chose Latin as most of the English words were derivatives in Latin and useful for higher studies. The word 'Tuition' was unheard of and classes were limited to about 25 students and every child was given individual attention by the teacher.
The subjects I liked most were Mathematics, Elementary Science, Nature Studies, Astronomy, and Geography. I remember receiving an award for a voluminous World Atlas which had pictures of the countries and nations in colors and even star charts which I enjoyed perusing with delight. Scouting was another enjoyable pastime during childhood donning the smart scout uniform. Winning badges were achievements. I received my badge for communication in Morse, which was helpful when I became a Flight Radio Officer in Air Ceylon in 1948.
When I reached 18, I finished schooling after passing the SSC. It was time to seek employment. There was a scarcity of Jobs. To enter Government Service one had to pass the Government Clerical Examination held each year. To enter Mercantile Service one had to have a good knowledge of English and a diploma or certificate in Banking, bookkeeping, typing, or stenography. So I entered the Government Technical College and obtained a diploma in Commerce, Finance shorthand, and typewriting. I got employed as a Stenographer at Messes. Carson & Co., Ltd., Colombo.

Q: Career options must have been comparatively limited at the time. Nevertheless, what aspirations did you have as a child?
A: There were no opportunities available during my childhood as Ceylon was only a Crown Colony of Britain. Trade and commerce were limited to Tea, Rubber, Coconut, Spices, and gems, etc. and the only aspiration was to be a Government Servant, where jobs were permanent and pensionable. The other was Mercantile Service which was limited to bookkeeping and stenography and had no permanency or pension. Rich parents sent their children abroad to become doctors and lawyers. My Grandma always coaxed us to get a good education, otherwise, the only employment available was to shovel earth at 50 cents a day for building the High Level Road at Kirulapone. The University College in Colombo was unattainable probably due to high fees and limited intake.

Q: Your first job was that of a stenographer. How did you switch to a career as an Aircraft Mechanic? Was the transition a difficult one?
A: I was a successful stenographer for about three years getting increments and annual bonuses in a British mercantile firm. It was a comfortable and respectable job. Unfortunately, WWII broke out in 1939 between England and Germany. Trade and business all over the British Empire came to a standstill. British managers and planters left for England to fight the enemy and defeat Germany. Products such as tea rubber were taken over and shipped to England. Except for limited business activity, there was hardly any work except establishing Air Raid Shelters all over Colombo and the harbor and enforcement of total blackout of the city...
One morning passing the Colombo Race Course which was converted to an airstrip, a fighter aeroplane took off raising clouds of dust with a roar skipping the distant treetops and did a circuit, and landed. I was fascinated and thought it would be wonderful to fly an aeroplane. Britain took in a batch to the RAF for pilot training. A few days later there was an advertisement for trainee air mechanics for the Royal Naval Air Services and I applied and was recruited as an Aircraft Electrician.
After four months of training, I was sent to the Katukurunda Air Base. I was thrilled to work on British and American fighters and bombers till the war ended in 1945. We were given a certificate and a bonus. I loved working in the Fleet Air Arm where I met many pilots, engineers, and mechanics from England and Australia. In a way, I was sad when it was over.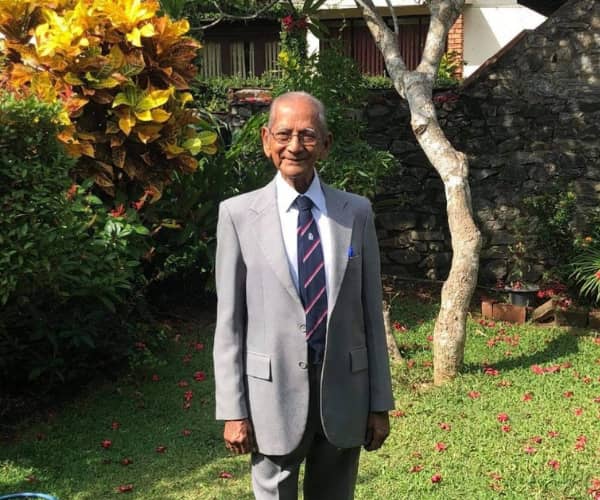 Q: You subsequently became a Flight Radio Officer. What did this job entail?
A: In the Fleet Air Arm there were about fifty Sri Lankan Fitters, Riggers, and Electricians. Sir John Kothalawala, who had an idea of operating a domestic airline, sent a whole lot of air mechanics to TATA Airlines in Bombay for further training in civil aircraft. I was disappointed to be left out. I was then appointed as a radio mechanic to the Post & Telegraph Department to maintain the transmitting station of Radio Ceylon at Welikada. Rather disappointed, however, in a few months I was sent to Ratmalana Airport with three Radio engineers to get the radio and other equipment ready for opening the airport. It became a hive of activity, and I had the opportunity of meeting the first Airport Controller and Air Traffic Controller Mr. Maurice Jansz. He befriended me to help him file the ICAO Documents and amendments at the Ratmalana Control Tower. He advised me to learn Morse, and listen to Air Traffic Control and train myself to be a Radio Officer in the Civil Aviation Communication section. I did and obtained the Post Master General Radio Operator's License and joined Civil Aviation. He also said that Sir John Kothalawala is getting aircraft for operating a domestic airline and will need Flight Radio Officers and quickly obtain a PMG Flight Radio Operator's License. I did so and Air Ceylon commenced its first domestic flight in December 1947.
Air Ceylon received a request to fly a naval crew to Sydney and Capt. Peter Fernando who was the Operations Manager undertook to do that epic flight. I was thrilled to be appointed 2nd Radio Officer on that flight as I was conversant with the radio equipment on board. It was a real adventure when we almost lost our bearings flying in a severe thunderstorm and could not land in Rangoon and proceeded to Singapore in bad weather. I had to send my first and only SOS distress message and Singapore sent us an aircraft to guide us to our destination. The rest of the journey to Sydney was a piece of cake and I got all the training and experience to fly to any airport in the world.
With the commencement of Aviation even before the war, there were countries like Britain and USA operating international passenger flights. The cockpit crews had to have radio officers for purposes of communication in Morse Code to send position reports, Distress Messages, obtain weather en route, and be in touch with Air Traffic Control since Radio telephony was limited to very short distances at that time. Hence it was mandatory by ICOA to have a Licensed Radio Officer onboard every aircraft carrying passengers. In 1960 wide-bodied jet aircraft were introduced flying at almost sonic speeds and operating at flight levels of 40,000 feet. Radio communication improved to such a level that Radio Officers, Flight Engineers, and Navigators became redundant. Thus I was grounded at the end of 1960 and had to obtain Aircraft Maintenance Licenses to continue employment in aviation.
Q: You penned "One-Hundred-Year-Old Aviator Recounts Pioneering Years of Civil Aviation in Sri Lanka" about your experience in aviation. What made you want to write a book?
A: It was my 100th birthday. My daughter presented me with a lovely album of 'photos with appreciation and warm wishes from friends and relations. She considered me as having had an adventurous, daring, and successful life and requested me to write my autobiography. I commenced writing and my niece Asha Wijeyekoon got it printed and published it with the title "One-hundred-Year-Old Aviator Recounts Pioneering Years of Civil Aviation in Sri Lanka." In fact, I wrote it as a gift to my darling wife Olga de Silva, who was in the first batch of stewardesses in Air Ceylon which commenced flying in 1947. But sadly she passed away a few weeks before it was printed.
I must admit that I had immense luck as a Radio Officer. When I finished my Aviation Career at the end of 1970 and thought it was time to retire, I was fortunate to continue work as a ship's radio officer in Merchant Shipping where I sailed over the oceans for five years, making sufficient money for a comfortable retirement.

Q. You recently received a plaque of appreciation from President Gotabhaya Rajapakse.
A. Since I am now the oldest living aviator in Sri Lanka when Civil Aviation commenced after WWII, in recognition of my services to Civil Aviation, I received this award from the President who attended the Civil Aviation Authority celebrating the 77th Anniversary of the formation of ICAO.

Q: What were the biggest challenges and struggles you faced starting out?
A: Actually everything was smooth sailing. Captain Peter the Chief Pilot was a very confident and experienced pilot and I too acquired that from him and did several charter flights to India, Jeddah and the middle east on routes not familiar then. We enjoyed them as detailed in my book. There was an incident where we almost escaped crash landing on a beach due to an airport error.
Air Ceylon commenced its International flight in collaboration with Australian National Airways which did not have route rights to London. So they operated in 1948 our route rights to Singapore/Colombo/Karachi/Cairo/Rome/London and back using their DC4s and aircrew. That terminated in 1955 and I joined KLM Royal Dutch Airlines with Super Constellations and trained Sri Lankan Cockpit crews and cabin crews. I was very fortunate to fly that route and also to fly KLM air routes all over the world. Thus I was stationed in Amsterdam for five years until that contract terminated. They were golden years for me and my wife.
One-Hundred-Year-Old Aviator Recounts Pioneering Years of Civil Aviation in Sri Lanka, priced at Rs 950 is available at The Jam fruit Tree Bookshop at 366, 1st floor, Galle Road, Colombo 3.
Photo courtesy: D L Sirimanne