Representing the youth community in Sri Lanka, Nabeela Iqbal is an activist whose voice has made an impact, bringing light to many issues faced by the Sri Lankan youth. She comes from a volunteering background in peace-building, civic engagement, and girls' non-formal education which has paved the way for 'Sisterhood Initiative', her organization in which its platform is used to create a safe space for conversation and change for Muslim women. Nabeela talks to us about her recent achievements and the success of the Sisterhood Initiative.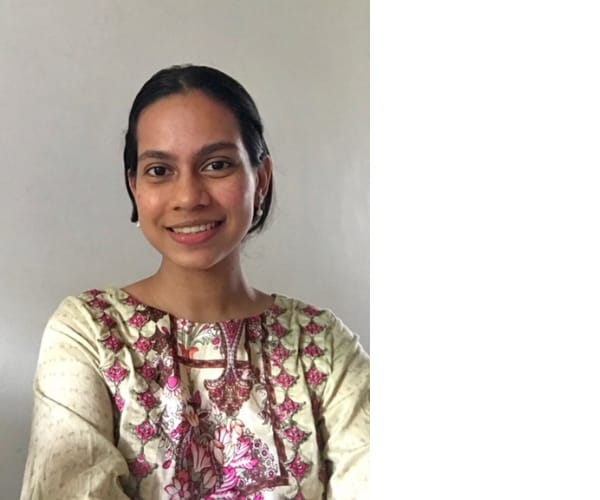 Q TELL US A BIT ABOUT YOURSELF.
I have volunteered in peace-building workshops in every province. I have also led the creation of a handbook to be used by young women in the Sri Lanka Girl Guides Association, in which I am currently an Executive Member and also a past Advocacy Champion with the World Association of Girl Guides and Girl Scouts. I recently graduated from the University of Sri Jayewardenepura in Environmental Science and am currently an undergraduate in law. Now I mostly work with young people in my community- and that's Muslim young women and girls, in peace-building-related activities.
Q WHAT PROMPTED YOU TO START THE SISTERHOOD INITIATIVE?
I really believe in the value of intra-faith conversations in each of our communities. I was part of a youth group that facilitated workshops on peace and reconciliation in every province and it was here that I understood that as much as interfaith dialogue is important- communities need to look inward and talk to each other. Along with this, there is a gender gap in the access to information among men and women in the community. So it was important to create this safe space for women and girls in our community to come together to listen and learn.
Q TELL US A LITTLE BIT ABOUT THE MISSION OF THE SISTERHOOD INITIATIVE.
At SI, we stand with the idea that we can build communities one conversation at a time. Our group is a non-profit, non-political, non-religious discussion and volunteer group dedicated to understanding and addressing issues faced by Muslim women in the country. Our vision is to recognize Sri Lankan Muslim women as important stakeholders in society with decision-making power. To achieve this, we work towards creating safe spaces for young Muslim women and girls in Sri Lanka to come together to share experiences, engage in curated discussions and find a sense of community among each other.
We have currently been running a "campaigns team" programme and are close to wrapping up the first phase of learning. There were close to 60 participants that engaged with us for a period of 3 months every Sunday to learn on issues related to MMDA reforms, gender equality, interfaith and intrafaith conversations in separate groups.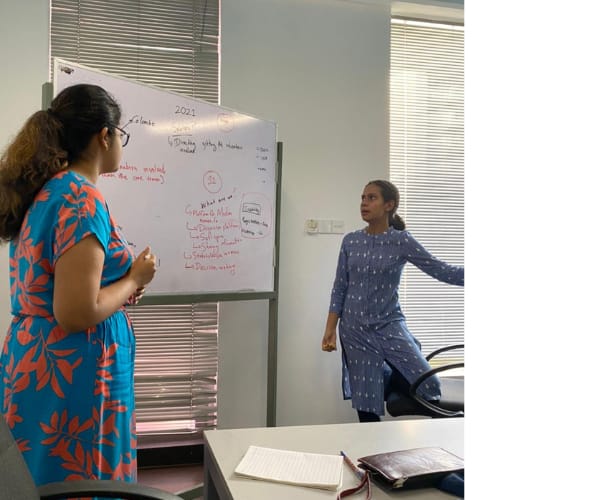 Q WHAT KIND OF CHALLENGES HAS THE SISTERHOOD INITIATIVE TACKLED?
The access to information and a safe space for discussions for women in the community is number one. Most of the time discussions around women and especially women belonging to minority groups take place without their participation. If we can't find a seat at the table then we have to create our own space, which is what our group is continuing to do. When we look at the testimonials we get from our participants it always sounds like it's the first time most of them felt heard and listened to.
The second would be how our group is breaking stereotypes and creating our own narratives around our lives. Because we work together with people from different faiths and communities, people are able to see us and the value we bring to the table. This dispels so many myths and misunderstandings we have regarding each other and creates more understanding through our dialogue.
Q HOW HAS THE SISTERHOOD INITIATIVE BEEN RECEIVED IN SRI LANKA?
It's important to understand that our work can be considered something new or something that hasn't been done before. So people are going to respond in different ways and then this is something our team has mentally (and sometimes physically) prepared for. Men have reached out to us to congratulate us on the work that their sisters and wives choose to work in. They have become strong allies in our vision. There are instances, especially during the lockdown, where women from minority communities have reached out to us for help regarding intimate partner violence, abuse etc. They were moments where they felt more comfortable confiding with us and asking for help. We would then get them in touch with experts for psychological support and legal help if required.
Solidarity is important to us. Most of our engagement is not only within the Muslim community but also with so much support from the non-Muslim community as well to further our causes. We have encouraged Muslim women to engage in volunteerism and raised awareness around community-based issues. When people see us engaging in work and discussions like this, it definitely does help break stereotypes as well. In the end, we're trying our best to create this inclusive Sri Lankan identity — as Muslims, and as women — so we can do our best to serve our communities and our country.
Q RECENTLY, YOU WERE ON THE KELLY CLARKSON SHOW TO CELEBRATE INTERNATIONAL DAY OF THE GIRL AS A YOUNG FEMALE LEADER. WHAT WAS THAT LIKE?
Honestly, I was really surprised when I saw the E-mail from her studio executives. My brother and I were huge fans of American Idol when it aired and Kelly was one of our favorites.
She had invited six activists from around the world to be 'celebrated audience members' so we were up on a few monitors in her show. I mean I have been in very few global media opportunities and this was my first time on American Daytime TV as well. Since the episode was shot a month before it aired I had already gone through the emotions of the whole process.
Q HOW IMPORTANT IS CONVERSATION IN GENERATING CHANGE WITHIN SRI LANKA?
The conversation is where we have to start. However to really see the change we need the right tools and training to engage in dialogue. A lot of the time these 'difficult conversations' are neither difficult nor new, we just need more practice. We need more young people becoming facilitators in these kinds of discussions.
Working with young women and girls in my community, especially in the last 3 months of curated discussions has really reinforced the importance of having these conversations. For many of them, it was the first time seeing another non-Muslim girl supporting her ideas and thought processes. The dialogues are sensitive, and also insightful. At the end of this year, many of these young women will be carrying out social action plans in their communities together- from strangers to sisters in solidarity.
Q YOU WERE ALSO RECOGNIZED BY AMNESTY INTERNATIONAL AND THE UN OFFICE OF THE SECRETARY GENERAL'S ENVOY ON YOUTH AS A YOUNG HUMAN RIGHTS DEFENDER IN THE FACE OF THE PANDEMIC. HOW IMPORTANT IS THE ROLE OF AN ACTIVIST IN AN ERA WHERE CHANGE SEEMS STAGNANT, ESPECIALLY IN SRI LANKA?
Recognitions like this certainly give us credibility as young people in the work we do. In Sri Lanka, change doesn't seem so apparent because we don't exactly have systems that can pick up on issues that are raised by people, unless you have contacts or "know someone."
A lot of people I work with who are activists, still don't know the meaning of what it means, including myself. It's usually the circumstance that brings us to be defined as one and we just try our best with the resources we have to deliver some kind of action to our community.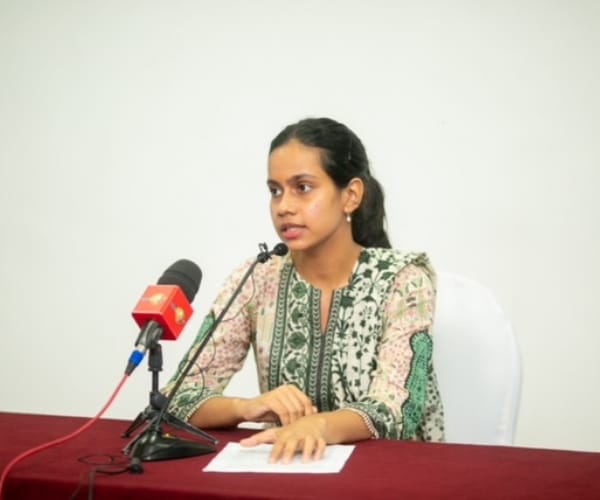 Q WHAT IS NEXT FOR YOU?
We made the mistake of making too many plans during the pandemic. Groups like ours were heavily affected by the lockdown and travel restrictions (which we should adhere to) in reaching our communities. Online work just doesn't make the cut always.
Having that in mind, God willing, personally I just want to travel more and have in-person discussions with our team and groups. In such a short time we have made new friends from different parts of the island and we're just waiting for the day we can actually see them face to face.
BY TIRANYA RANASINGHE