Today I feature an amazingly talented man who has really created a brand that's absolutely beautiful and timeless, Tharshana is known for making his designs from the stretch, every single element of his design is made by him which makes it more special and valuable today. This artist speaks about his ever-growing brand and what makes him the designer he is today!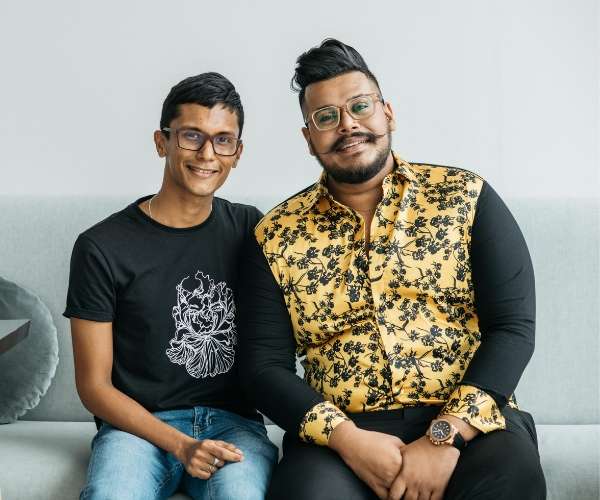 Q What sparked your interest in fashion? Art! As a kid, I wanted to find a way to connect Art with people. I wanted to see people wearing my artwork. I didn't want my paintings being limited to papers and canvases. I wanted to give them motion and bring them to life and fashion provided me with a way to do that.
Q Tell me about your collection which you have featured in this shoot? This particular shoot actually has a few shirts from the last few collections, which have really been extensions of my Mythical and Whimsical themes. Each shirt incorporates a different Sri Lankan grown flower, illustrated with a mythical animal appearance.
Q Tell me about your brand name and what you want to leave as a tradeMark for your brand? My brand name is my own name. I started as an artist and had already built some recognition through my art. By building my brand around my name in the fashion industry, I wanted to make sure I kept it true to who I am. This also helped me to relate to my clients on a personal level.
I like to believe my trademark is tied to my art and my desire to bring my art to life through fashion. In that sense, the illustrations that go on each and every one of our products is a unique piece of art, with each one being born out of my own mythical world (at least as far as this collection is concerned).
Q As a designer how many pieces do you put out in every collection? Do you also custom make? We keep our collections as exclusive as possible. I believe in quality over quantity. The materials that our shirts are made of are very delicate and it takes a great deal of time and attention to manufacturing. While at the same time, I like to give our customers the opportunity to own a product that you know only a handful of other people own as well, to build that unique experience of owning a designer wear product.
Q What are the retail outlets which carry your brand? At the moment we are retailing at Urban Island - 181 Srimath Anagarika Dharmapala Mawatha, Colombo 7. The Pelican store at ShiroHana Petal Guru - 61 Dudley Senanayake Mawatha, Colombo 8.
Q What is the process of creating and marketing your design? Your design inspiration? Everything starts with the artwork itself. This is the part of the process that takes the longest as I hand draw each of the prints with the utmost attention to detail. My current collection I have created a mythical and a whimsical world with flora and fauna, my inspiration being Sri Lankan grown flowers incorporated with my own imagination of "Mythical" animals.
Then the sampling starts from printed swatches, matching the colours and choosing the right scale for the print. Then I create a sample for each design and try it out myself before going into production. This is very important for me to check the quality of the product and to see how it makes me feel and I try getting my friends to wear samples and get some feedback too.
And I keep a close track of the manufacturing process. Attention to detail is very important.
Q Who do you envision wearing your work? Do you think about this when you work on designs? Everyone. Always try to picture my designs on people during the design process which really helps me to choose colours and decide which print will work. And try my best to match the print colour to compliment every skin colour as well.
Q Are you self-taught or did you study fashion design? I studied my BA in Fashion and Textile design at the Academy of Design. While I learnt a lot at AOD, I have been doing volunteer work ever since I left school. From body art, to make up, to live fashion illustrations to backstage support, to working as a fashion designer for a leading garment manufacturer all of these have contributed to my intimate knowledge of not only the design and manufacture process but also presentation.
Q What would you say are 5 important items which need to be in any man's wardrobe? White t-shirt, Blue Raw Jeans, Custom-tailored suit, Printed Bold shirt and Chinos.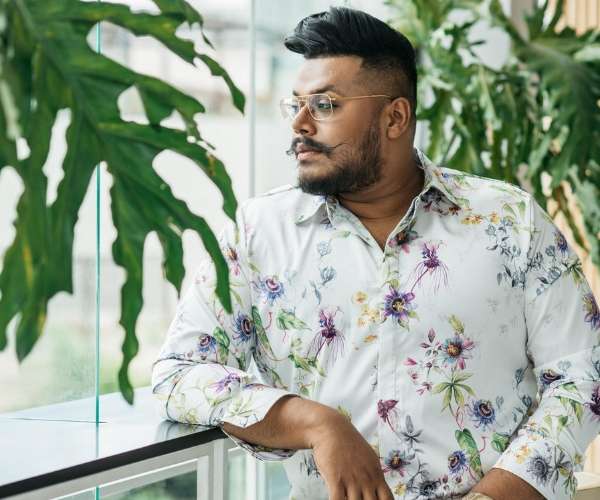 Q When you decide you will create your own fabric? And did you ever think it Will pickup so well? Not at all. I was actually very nervous with the first collection and wasn't sure people would see things the way I did.
As for when I wanted to start my own thing, I guess that was something I always wanted to do. I knew I didn't want to be designing for someone else, as for one, it really restricts you and forces you to design inside their "box".
I wanted to create my own whimsical world through my fabric. Also, I noticed a lack of fabrics that had Sri Lankan grown flowers incorporated. There is a lot of fabric out there with western flowers incorporated but I couldn't find any that incorporated flowers that are grown in Sri Lanka. As more and more people started to purchase and wear our products, they started to recognize the flowers on the garments and message me saying that the same flower on their product is also in their garden. This felt really rewarding for me as I wanted to give my clients that experience and it really felt like I had succeeded.