Today I feature a classy brand with an old-time English look and feel to it. TUX CEYLON is a men's bespoke tailoring brand which has been dressing some amazing personalities in the past few months from the day of its launch. They say "It is totally impossible to be badly-dressed in a suit" here Kanushka Sooriyabandara the man who made this brand come alive has looked into all the details in making buying a suit an experience you will always remember - located at One Galle Face level 3.
TUX•CEYLON is a luxury men's bespoke tailoring house which creates suits to true Savile Row standards. and they stock a selection of the world's finest branded fabrics including Ermenegildo Zegna, Holland and Sherry, Scabal, Dormeuil, Vitale Barberis Canonico, Loro Piana, REDA and Lanificio Cerruti. As a tailoring house, they offer both bespoke and made to measure options for suits, jackets, shirts and trousers.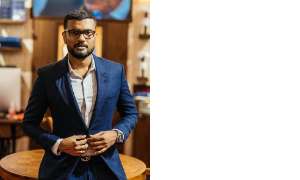 Q What made you start this luxury men's bespoke tailoring house called TUX CEYLON?
I wanted my clients to experience a personalised service, Savile Row bespoke, where I can talk to the client personally and cater to their individual preferences. I have my tailors who have been trained by professionals from London to give the fine finish.
Q What made you take up Men's wear, as many don't make it their number 1 choice?
Men's wear industry in Sri Lanka has more potential and we can explore how we can bring the best current trends to Lanka, as the international menswear industry is growing every day. As a young designer, I saw that opportunity in the market and thought that I can do justice to fill that gap. And also, my father was in the menswear industry even before I was born and I got the exposure from him as well.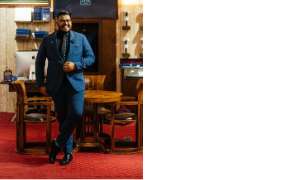 Q What are the looks you have featured on me today?
I have chosen some subtle yet unique colours along with some simple detailing. The idea here was to break through from the conventional blacks and blues and show that we can create style rather than following trends. Colours in suits are a big thing today and it's all about mixing and matching.
Q The cut is what makes a suit stand out, how do you ensure that you get the perfect fit?
Yes, the cut is the most important and the critical aspect for a perfectly fitting made to measure suit which we provide at TUX. We are proud to say the main man who you see when you walk into our store has been trained by international professionals and with decades of experience, and our master cutter does his magic. Along with perfect measurements, a well-trained eye can transform a body into its finest shape. As I always say a fine tailor is an illusionist who can manipulate people's eye.
Q How would you describe your personal style?
To be honest, not much, I always choose what is most comfortable and appropriate for the occasion. Usually, for my day to day work, I prefer to go ahead with a light colour long sleeve cotton shirt along with a denim pant and a matching pair of loafers. And my favourite suit colour I'll say is blue, it's timeless and classy.
Q What are the customisable features that you provide?
Well everything. To begin with, you can customise the jacket style, either single or double breasted, the lapel design has the options of peak, notch, fish mouth or shawl lapel. And the button patterns like single button, two buttons or three buttons. And when it comes to back opening you have the choice of single or double vent. Then you have the option to customise the lining by choosing either plain or floral silk lining. Another customisable feature is the cuffs and you have the choice of normal or working (surgeon) cuff. Even the raw materials can be customised like fused interlining or horsehair canvas.
Q Who has been your biggest inspiration when it comes to fashion?
Tom Ford, I admire how he looks at an individual and takes the best out of him with style and fashion.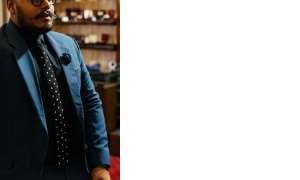 Q What is the process of your made to measure stitching?
At TUX CEYLON, an expert master tailor is available in-house throughout the day to take a unique set of measurements so that each suit perfectly enhances the wearer's physique. Every bespoke suit is stitched using horsehair canvas interlining and horn buttons to ensure the highest quality. In addition to in-house tailoring, we provide all the accessories required for a polished look.
Q What according to you is your favourite part of being in this industry?
Most of our clients are bridegrooms so as a personal stylist being able to design their suit for their biggest day is one of the best privileges I get in life. Also, as a celebrity wardrobe designer, I enjoy designing the best look for many celebrities and business personalities.
Q why should a gentleman pick you for his suit?
I always have the thirst of finding the limits of international men's wear standards. So, I believe a true gentleman should always seek the best personal stylist to match the international standards rather than picking an off the shelf suit from a conventional store.
Photography- You're my favorite