Today on Fashionably Danu, I wanted to check out the all-new collection from LOVI. When our days are now mostly at home, keeping it simple is what we are looking for. LOVI understands how to keep it easy and stylish at the same time, the summer colours and buttonless shirts are just perfect.
LOVI sarongs have been evolving over the years with collections that match any occasion. These new pastel shades are ideal for any island loving person - I just feel it's a HAPPY collection with a sense of surprise. I sat with the man himself Asanka de Mel to ask him more on this collection.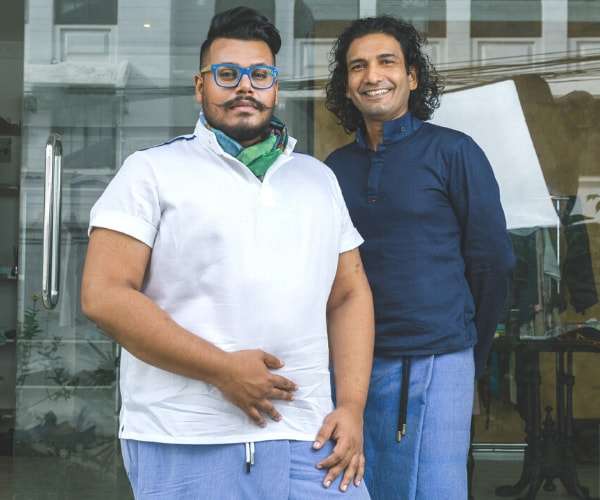 Q TELL ME ABOUT THE NEW PASTEL SHADES INSPIRED COLLECTION?
The pastel sarongs are inspired by the greens and blues of the oceans, the yellows and pinks of the Araliya flowers—these fresh colours are all around us in nature. Can you believe it?
Q WHAT WOULD YOU SAY IS MISSING IN MEN'S FASHION IN SRI LANKA?
Confidence. Many are still hiding and following the pack.
Q SINCE MANY OF US ARE WORKING FROM HOME THESE DAYS, WHAT SHOULD WE BE WEARING?
Let's face it—it really does feel better to get dressed for work in the morning, even if you are staying at home. The LOVI collection with its matching shirts would be a great start. I can guarantee your colleagues and friends on zoom will thank you for it.
Q WHEN DID THE BEACH COLLECTION START? WHAT WOULD YOU SAY IS YOUR FAVOURITE COLOUR IN THE COLLECTION?
People traditionally wear sarongs to the beach, but we wanted to expand on that. Now, the LOVI nautical, rugby and check collections provide more than 20 different options for beach, poolside or your get-out-of-the-city vacation.
Q TELL ME ABOUT CFW THIS YEAR, AND THE COLLECTION YOU SHOWCASED. HOW HAS THE FEEDBACK BEEN?
Sri Lankan National suits. We wanted to breathe new life into the national—with diversity in styles and occasions, for men, for women, in colours, in luxury fabrics, in silk, in sophisticated cuts and with embroidery. Weare thrilled with the response from CFW.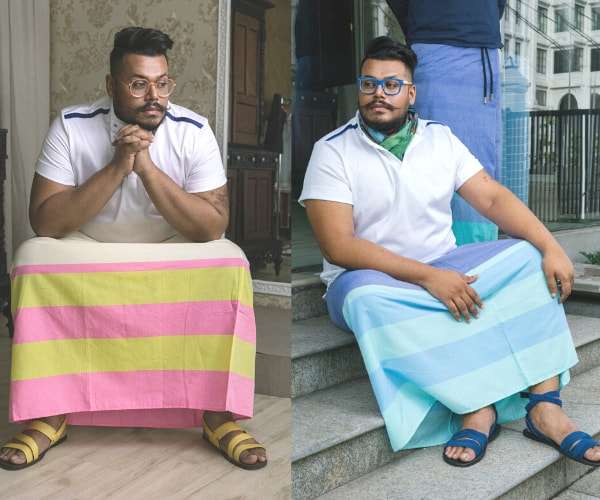 Q I SAW SOME NEWS ABOUT LOVI CEYLON MOVING INTO CORPORATE WEAR. TELL ME ABOUT THAT?
We want our corporate leaders to represent Sri Lanka with confidence and wear the national suit. We are bringing
lots of options and personalisation—refined suiting cuts, colours, fabrics, finishes, monogramming, custom tailoring, express service, price points—the works to fit any corporate occasion from Board meetings, award ceremonies, cultural events and of course, daily wear. We created so much luxury and elegance in the new
LOVI Nationals. There's an infinite colour selection, and the cuts are as sophisticated as Western suiting.
Q HOW CAN ONE MIX AND MATCH YOUR SHIRTS IF THEY WANT TO KEEP AWAY FROM SARONGS?
Not sure why you would! But if you must avoid the sarong, the shirts are made to fit perfectly with jeans and dress pants—tucked in or out. You'll get many compliments, guaranteed.
Q LOVI HAS NOW MOVED FROM ONLY SARONGS TO SHIRTS, AND NOW EVEN SHOES. TELL ME WHAT'S NEXT?
Yes, we now have a full range of shirts for both men and women, from party wear to working from home wear. Shhhh! We have some surprises lined up and you'll see these coming soon.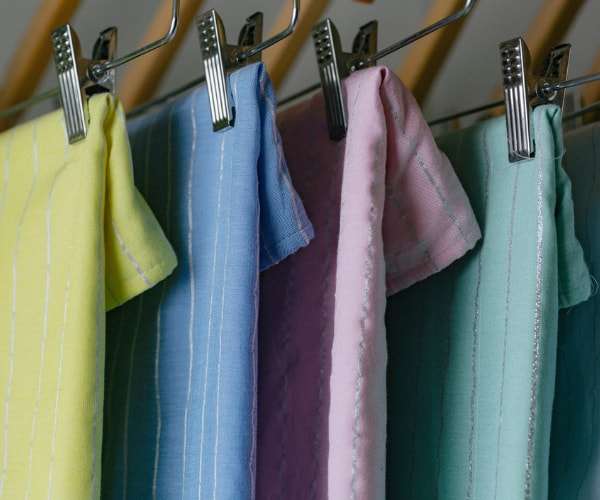 Q TELL ME ABOUT WHAT YOU HAVE DRESSED ME IN TODAY? WHAT WAS THE INSPIRATION AND STORY?
The rugby shirt is the new t-shirt. Great fit, no fuss, and it's eco-friendly—it'll last longer than your average t-shirt, but has no elastic or polyester which pollute the environment. As for these sarongs, you've been wanting to wear these colours for a long time, Danu!
Q WHAT HAS COVID-19 TAUGHT YOU ON A PERSONAL NOTE?
Patience. Appreciate progress, even if it is slow.
PHOTOGRAPHED BY -You're my favorite
DESIGNER - Asanka de Mel