I'm in very comfortable clothing - keeping it oversized seems to be the new trend. "Super soft lounge t-shirts by KÛR - Artist collaboration" is my feature today on Fashionably Danu. This is the unisex t-capsule collection designed by the creative team of Hash and Manga, Harshi Liyanage, and Kasuni Rathnasuriya. These creative individuals have created this novelty capsule with the idea of preserving creative arts and applying them into a Ready-to-Wear platform. The team is introducing multiple ways to style an oversize lounge tee which is a daily essential as a swim cover-up, resort tee, or as a sleep tee for both him and her...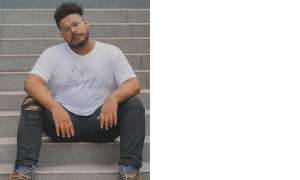 Today I speak to Hash and Manga, designers, and the founders of Kings Coconut design studio about this collection.
Q

Tell me about the KÚR line of T- Shirts?
The T-shirt is a streetwear staple. And it's a must-have piece in our wardrobe. Therefore we tend to create a few t-shirts seasonally. "KÚR Artist collaboration" is an ongoing artist collaboration project to create novelty streetwear.
Q

What do you like to create with your designs?
I like to create unique products yet very simple and practical.
Q

What do you feel, about the market for Sri Lankan designs?
The Sri Lankan market is a very small platform for designerwear. Over the years many Sri Lankan designers have created labels / brands for the domestic market which is a good sign. 
There are very talented emerging designers. It's high time for Sri Lankan designers to move to digital platforms.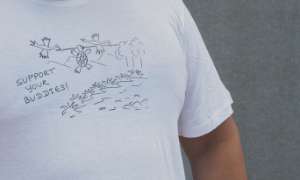 Q

Tell me about your creative process in making these?
The most important thing is to find the right raw material. I had to pick a super soft fine fabric for this T-shirt line. Then I started collaborating with a couple of artists on creating artworks. All of them are very unique artists. We came up with important topics to create awareness in more fun and meaningful ways.
Q

Do you feel your customers like to take risks in choosing outfits, and move from safe to prints?
It is always "mix and match". There is no right or wrong in fashion. As long as you are comfortable in how you dress, that's all that matters. This t-shirt line has placement prints, which is understated yet meaningful. I just create styles but I cannot teach taste. Taste is something very personal. 
But I always demand to choose "quality over quantity.
Q

What are the looks you featured in this shoot?
Work from home #WFH - This look is related to our new "home hub trend" reality due to the global pandemic. A comfortable t-shirt is all you want to #WFH - Smart Casual look - This is a layering piece. We always need a simple, comfortable white colour layering piece for styling. Casual look for everyday wear. It's an effortless quick pick.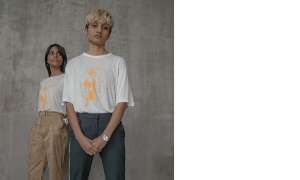 Q

Tell me about the team that works with you, and what's the design process?
In this project, we are all creative collaborators. We wanted to create something unique using our expertise. I initiated the idea and gave them the freedom to create the artworks. Hash and Manga - Hash and Manga are a contemporary artist duo. We have been working for many years together. We love streetwear culture a lot. We discuss and explore everything from supreme to skate culture to contemporary ballet to opera - the list goes on..., we all have a similar taste for new ideas. They wanted to create an artwork incorporating Sri Lankan heritage. Harshi Liyanage is the daughter of late fine artist & the owner of "Sandaka Batik" Mr. S.D Liyanage. This is her first fashion collaboration. Harshi is really good at sharing stories in simple art form. Harshi and I discussed about incorporating folk stories to share a message in a very simple form.
Q

What are the new things you are hoping to introduce in the future?
I am currently working on a collection for this year. With COVID -19, the global fashion industry and fashion calendars have revamped. I might create a seasonless capsule soon addressing the "New Norm" of our lifestyle.
PR concept store in Colombo 7 and online worldwide.
Q

How do you work on the cuts? And how should these be dressed and paired?
This is a super soft oversized t-shirt. Oversize dressing is so in as it's very comfortable. The T-shirt is a box-shaped silhouette. And we engineered the silhouette for a unisex fit. Different stylings tips have shown on the mood board and in the images.
Q

Would you call your collection uni-sex / or are you getting into Menswear too?
The t-shirts will always be unisex. But KÚR is so far predominantly womenswear.
Q

What is the inspiration when you draw your Prints?
There are 5 artworks created by 4 artists in this T-shirts capsule. "Hey bro" use recycle straws only. Artwork (AW) is inspired by the tale of "The monkeys and the water demon." "Support your Buddies" AW Inspired by the folk tale of "Wild duck carrying a talkative tortoise." "Kamala"- AW inspired by the old Ceylon famous Kamala Beedi Brand - "To-do list in Sri Lanka." AW is a list of a few favorite things to do in Sri Lanka - It's a great souvenir piece. "Don't read bestsellers." AW - Out of the box thinking.