I have always loved a well cut jacket, specially when it's made to measure, this week on Fashionably Danu I check out Men in Checks - what I love about their work is how amazing the combinations turn out - I met the very talented Ravindu who moved to Australia in 2007 to complete his Bachelor of Accounting. While he was there he started getting interested in men's fashion, so he got his hands on a Diploma of Applied fashion Designing and Merchandising from Homesglen University Melbourne Australia in 2013. With his love for fashion and what he has learned he has been working on providing something different and I must say the cut, finish and the attention to details are amazing
I got myself in 5 looks today, each with a different twist and the fabric choice was easy on the body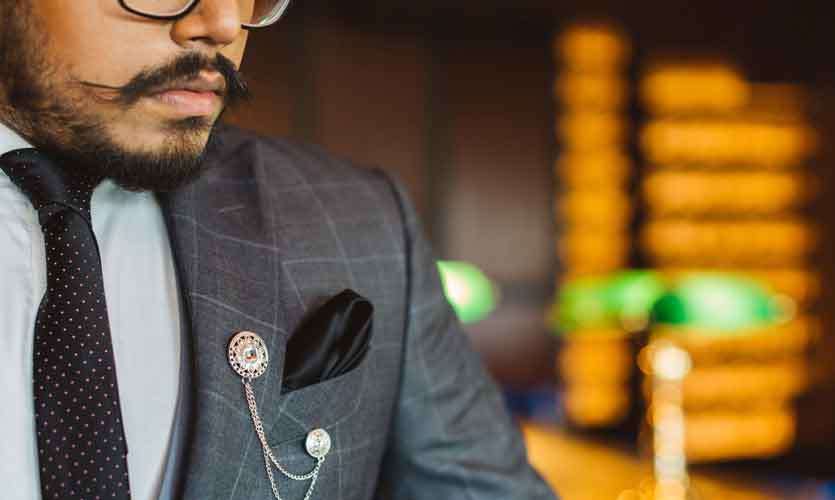 1. What made you start this brand called 'Men in Checks'? And how has it been?
When I was studying in Australia back in early 2010's, I started getting interested in men's fashion industry. When I moved back to Sri Lanka in 2016 I was doing research about men's fashion industry in Sri Lanka. I found there are no such good places for BE SPOKE tailoring. Then I Started my official brand called " MAN IN CHECKS" in 2018, now it has been 02 years. Mainly we approach wedding grooms. So far we have done a lot of local weddings and people who have come from overseas to get their wedding suits done in Sri Lanka.

2. What made you take up Men's wear, as many don't make it their no 1 choice?
When it comes to fashion I personally like doing something related to men's' wear. And I want to introduce something new to the people who love fashion, like plaid fabrics & English , Italian tailoring methods.

3. What are the looks you have featured on me today?
We have featured five different suits for Danu, grey plaid suit with peak lapel and double breasted horseshoe deep cut waistcoat. We used the same grey plaid fabric for the trouser as well. This suit design is more personalised for a groom and you can wear it for day or night weddings. We have changed the colour of the waistcoat in light grey as it will give you a more splendid look. For accessories we used silver colour suit chain and plain black pocket square as it gives a more rich look for the suit.
And also, we have designed crimson colour jacket which features a soft shoulder, looks more casual with notch lapel, two button, dual vent, patch pocket suit. To get highlighted, we have handpicked stitching, that runs along the lapel, collar of a jacket, around the pocket and the breast pocket detail. It is the classic feature of a high-end jacket and a clear indicator that you're wearing a handmade suit. For the trouser we have selected navy blue plaid ,with brown shoes. For accessories, we used just a blue colour pocket square. And we kept it more casual because you can wear it for evening or night functions.
Pear green colour suit, with black shirt, black pocket square, black shoes, black lapel pin, it's a fresh versatile option for almost any occasion. This suit we mixed only with pear green and black colour. It gives a more elegant look for you and for a suit.
The next suit we selected for an outdoor wedding/function. Light blue with bold check jacket and dark blue textured trouser, Floral shirt matched with blue pocket square and blue flower lapel pin. The modern combination of check jacket and textured trouser and colour mixes together perfectly for outdoor function or beach wedding.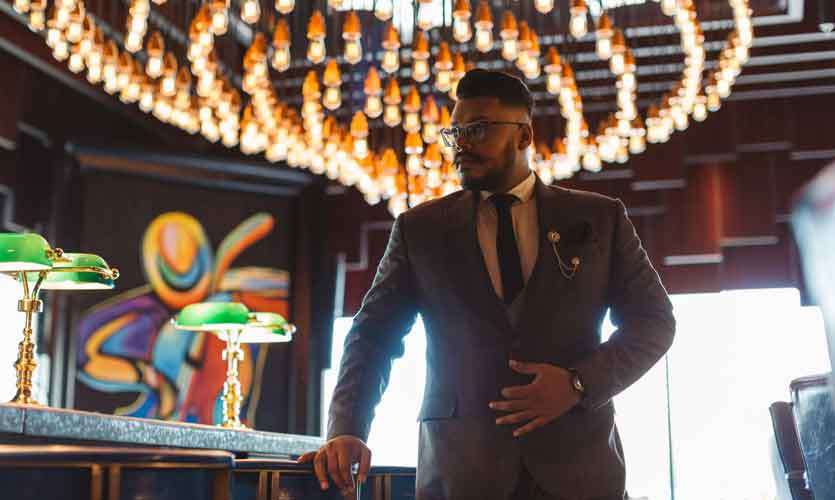 We have designed a dark green jacket and beige pant suit as a final suit. A dark green blazer looked so elegant when mixed with beige dress pants. This suit inspired looks for an elegant man picture description. We matched a dull orange colour floral tie, pocket square and flower pin to get a more casual look for Danu. You can wear it for evening or night functions and other occasions as well.

4. The cut is what makes a suit stand out, how do you ensure that you get the perfect fit? And how do you pick your fabrics?
At MAN IN CHECKS to get the perfect fit we give our clients highly recommended fit-on methods.
· We have consultation sessions for our clients.
· Measurements are taken by our experienced qualified master cutter.
· We design a custom pattern block for each customer
· We give two fit-on's (Baste fit-on & second fit-on) before we complete the suit.
We sourced best quality fabrics from Italian wool, England and Bangkok wool fabrics as well.
5. How would you describe your personal style?
I personally like to wear a more casual suit. I love to match with two toned colours. More lightweight Italian wool fabrics (110's), More suitable weather like in Sri Lanka. Check suits are my number one choice.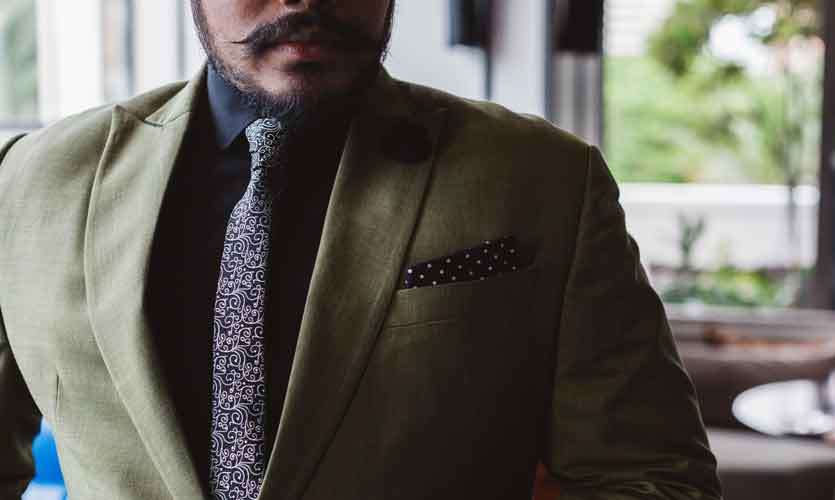 6. What are the customisable features that you provide with your suit and jackets?
As you probably know, bespoke clothing offers you the opportunity to take advantage of several benchmark standards in the world of fine suiting, Such as, Fit , Type of the lapel, lapel width, dual or single vents, pockets, Buttons etc... Apart from that, we offer lapel roll, Picked Stitching, Accent threads on the lapel & button-holes, Functional sleeve button, Hacking pocket, ticket pockets, kissing buttons, extra buttons and decorative design inside of every suit jacket.
7. Who has been your biggest inspiration when it comes to fashion?
My biggest inspiration is Herbert Peter Jackson, the founder of Peter Jackson tailored suits in Australia. He is a fashion outfitter and fashion designer who catered to the Melbourne market. His work/ Fashion inspired me to start up my own business.

8. What is the process of your made to measure stitching?
Made to measure is more than a service, it is an experience. At MAN IN CHECKS between client and tailor/ cutter we used the following process.
· One to One discussion with client about suit style.
· We do personalised suits according to the customer's requirements.
· Choosing a fabric, based on customer body type, skin tone and occasion(Day or night)
· Then we get the precise measurements by our experienced master cutter.
· before we complete the suit we arrange base fit-on and second fit-on, it will take 10-14 days maximum.
9. What according to you is your favourite part of being In this industry?
Apart from doing ready-made suits personalising and customising suits is my passion, and I love what I am doing.
10. What's next for the brand?
I am planning to launch various designer-wear shirts to our clients with high quality fabrics.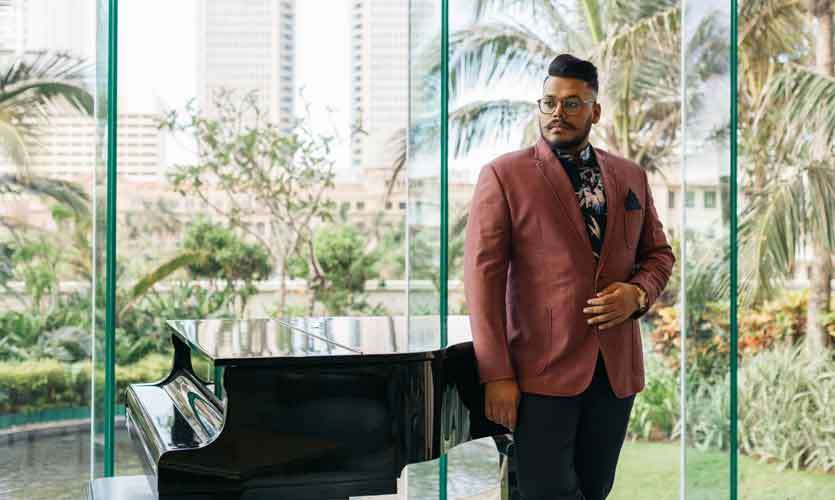 11. How many fittings are needed before you finalise?
We made for the baste fitting which we can see the overall fit and silhouette as the fabric is loosely held together with basting thread. After Adjustments are done, we Schedule for the second fit on. The whole process takes 10-14 days before the suit is completed.

11. What are the trends in Australia, specially as you finished your studies in fashion there?
In Australia they have different collections for each season spring collection, summer collection and winter collection. They usually wear lightweight (Super 110's - 280 gr/mtl) casual jackets , blazer and sport coats in spring & summer seasons. In winter season they used to wear heavy pea coats, sweaters, winter coats & overcoats.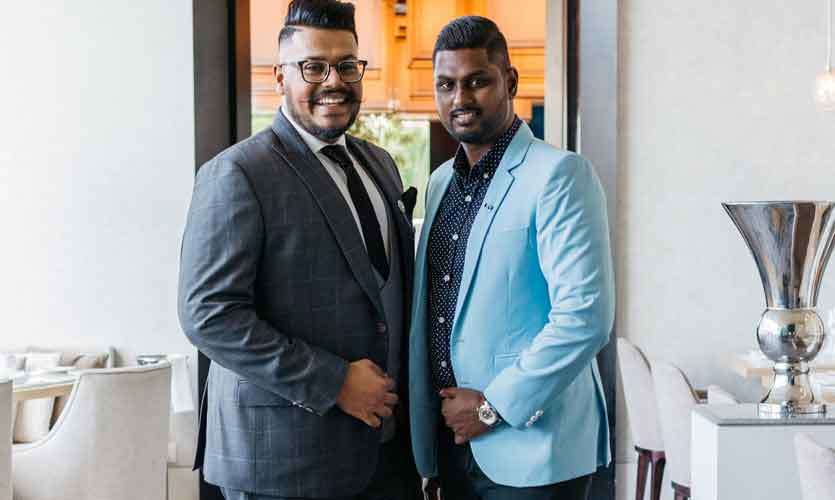 Melbourne Fashion Week is one of the largest and most popular consumer fashion events in Australia. Each year over 100,000 people attend the week-long event. The uniquely Melbourne event is designed to position Melbourne as the fashion capital of Australia, providing a launching pad for emerging and established designers, models and brands.

Designer – Ravindu Lakshan Suriyaarachchi
Photographer – You're my Favourite