It was applause all-around at the AOD when Ruwanthi Gajadeera one of their own students was declared the first runner up at the Graduate Fashion Week International Catwalk London. Representing Sri Lanka with her brand Kaeli, this is not the first time Ruwanthi has tasted success internationally as a couple of months ago she reached the semi-finals of the Redress Design Award.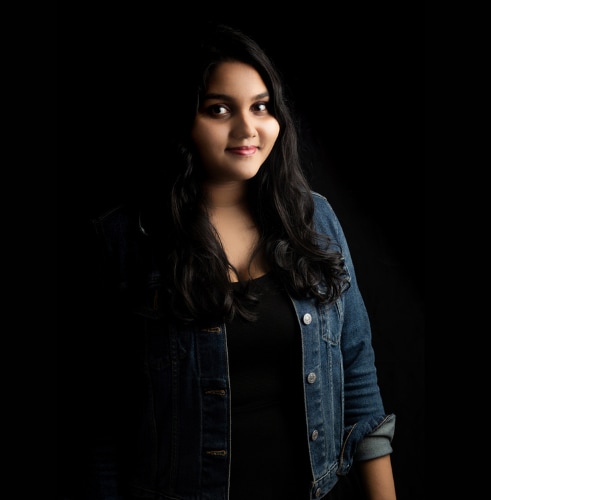 What does it feel to show at Graduate Fashion Week in London?
Firstly, it is a dream come true. I never thought I will be able to finish my collection during this pandemic. I was mentally exhausted thinking about many ways it could go wrong. But AOD, especially Linda was like a shadow encouraging me and facilitating me throughout the collection. I was sponsored by Hirdaramani Discovery labs and under special guidance and support of Piyumi Perera and her amazing team who were very supportive and encouraging. It feels more like a pandemic achievement. I would say something similar to enjoying a view from the top of the steep mountain after a challenging climb. Fulfilled and achieved.
What was your experience at The Redress Design Competition?
It was a very educational journey for me, and the competition enlightened me with many opportunities for sustainable fashion. As a practising sustainable designer, it helped me to pave my path of being an environmental activist through fashion. The fashion industry is one of the most environmentally polluting industries in the world. This redress competition thought me to educate everyone around me and to convert them to be sustainable. This competition truly converted me to join the global mission carried on by Orsola de Castro, Dr Christina Dean, Ellen MacArthur Foundation and many more.
What does your brand Kaeli represent?
'Kaeli' means pieces in my native tongue and the main inspiration behind my concept was to bring pieces of waste fabrics together to create innovative textiles by incorporating diminishing heritage craftsmanship. My concept attempts to combine environmental and social aspects to create impactful garments that will benefit the wearer by providing a durable and quality product, produced by empowering the marginalised artisans and most importantly mother earth by designing responsibly. In terms of design, my garments pass on an ethos of timelessness by embracing a low tech high tech techniques that express 3Rs in the complete garment lifecycle.
How would you describe your collection?
"No one saves us but ourselves. No one can and no one may. We must walk the path."- BUDDHA is a quote I was inspired by. My graduate collection is my emotional journey through Japan as a physical expression. This tour was a spiritual journey of identifying myself and exploring Japanese philosophies and my background as a child growing up in a Buddhist family. I express my thoughts through similar cultural occurrences and experiences through this collection since it helped me to understand who I am as a person/ artist and a designer. I have expressed it through 6 looks and 6 concepts. It was challenging to bring out my perspectives through sustainable textile weaving. I wove each weft with several colours to express my mood and emotional connection with the philosophy which I wanted to follow with each look. This collection speaks about me as what I have felt throughout growing up and to this date. This is the path which I have walked, and these garments are myself.
What is your vision for the brand?
My vision has been about exploring sustainable fashion avenues and practices since the very beginning of the degree. I seek to incorporate my Sri Lankan heritage and sustainable methods of ancient Sri Lankan culture to support slow fashion and to produce eco-friendly garments. I believe that as upcoming designers; we have an enormous duty to create eco-friendly trends since the fashion industry has become one of the most polluting industries in the world. Personally, through my designs, I communicate the importance of slow movement. I attempt to demonstrate that slow fashion could be as contemporary and trendy as fast fashion. It is unquestionably far superior to fast fashion in terms of quality and durability. A timeless garment could truly explore its life story and depth of design. As designers, we have so much power as well as a responsibility to change the world by producing timeless pieces.
How did you achieve this result through fabrication?
I used zero-waste, upcycling, reconstruction techniques that not only produce a low-waste garment but also display the interrelations of these different methods in a cohesive manner. Zero-waste techniques have allowed me to breathe new life into the textile by combining waste thread and yarn with heritage crafts such as patchwork, crochet, bobbin lace and handloom to produce innovative textiles. By using end-of-roll textiles and cut-and-sew waste,I was able to upcycle them into timeless pieces. I was able to collect preloved denim that I was able to repurpose by deconstructing them in a fashion that allowed me to embody them into my collection through patchwork techniques.
What techniques did you employ?
Incorporating both conventional and innovative techniques to ensure that my collection only makes use of low-impact materials and techniques. The collection uses low impact materials such as unbleached raw cotton, biodegradable buttons and fasteners made using regenerated cellulose; employing hand-woven handloom, crochet and bobbin lace that does not consume any fossil fuels in terms of production. It uses natural dyeing techniques using native plants that produce original colour dyes without releasing harmful chemicals to the planet, moreover, wastewater from the dyeing process can be safely repurposed to water plants. Furthermore, as for high tech processes this collection employs Ozone bleaching and laser printing techniques.
What are the unique aspects of this collection?
Longevity is hard-wired to the design as mentioned earlier, this collection aims to bring sentimental value to its wearer by employing heritage crafts such as boro mending techniques and timeless design aspects. It aims to be a generational garment that would ideally be passed down from generation to generation as it can be easily mended using the boro technique. The longevity of the garments are justified by the colour palette as well as it employs worn-out colours, furthermore, some garments of this collection have strong androgynous and gender fluid elements to them appealing it a wider audience even as a second-hand garment. This philosophy of mending of a robe is a long passing practice made by Buddhist monks to be minimalistic to attain enlightenment and along the way to be less damaging to the environment since the mental balance and environmental balance has a core relation and it has coexisted since the beginning of mankind.