When did you launch your brand?
I launched the brand in 2017 but I launched my first ready-to-wear collection with The Design Collective in February 2020.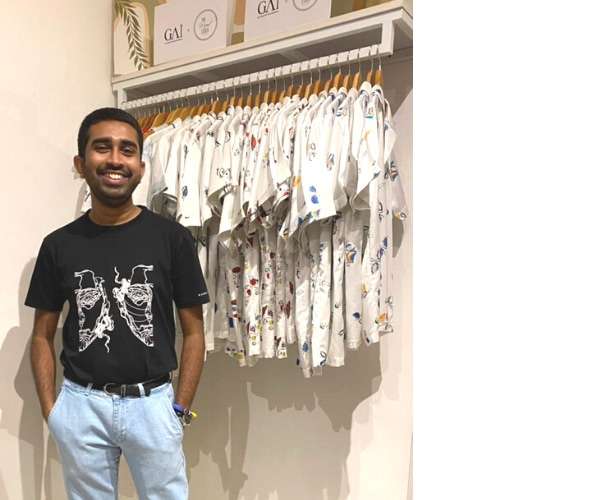 What sparked your interest in fashion design?
Having been the not so stereotypical boy, I always loved creating something out of nothing and it definitely sparked my interest in designing. I always loved playing with colours and different materials when it comes to creating art and a few of my teachers encouraged me to take the route of designing instead of following the same paths that most of my friends wanted to follow.
What made you take fashion more seriously and make a career out of it?
Being the youngest child of my family I was raised in an overprotective way. So my family wanted me to follow the footsteps of my sister and be a lawyer which made me follow a degree in law right after finishing my Advanced Level studies. But soon after completing the first year of the degree, I realized that Law is not something I enjoy or was destined to follow. I still remember the days I used to sketch during the lectures instead of paying attention to the lessons. So I decided to take a risk and give up my Law degree for fashion (which a lot of people thought to be a stupid decision) and create a career out of it. Of course, it did not go well with my family which ended up with me having to be independent instead of being the momma's boy that I always used to be. But at the same time having to create my own path in designing made me learn so many lessons.
Are you self taught or did you study fashion design?
I consider myself a self-taught designer. Of course, I followed a course in pattern making because I highly believe that a designer has to learn the basic fundamentals when it comes to constructing a garment. But apart from that, I have spent all these years learning so many things by myself. Sometimes being a self-taught designer helps simply because you are not taught by the rules of fashion as what is right or wrong, which eventually makes you want to take risks and try new things without hesitating.
How has your work evolved since you began your label?
I take every day and every experience as a learning process. So looking back to where I started as a designer, over the years I have definitely found who I am as a designer and what my signature is. I feel like I have become confident with my aesthetic with every passing year and ambitious to take up challenges when it comes to trying new things.
Are there any types of clothing that you avoid designing?
I'm definitely open to trying new things when it comes to designing but I always want the women who wear GAI to feel comfortable in what I create. For me, designing is also respecting and appreciating the beauty of the human form. So it's all about making my client stand out for all the right reasons with class and sophistication. So I wouldn't design anything opposite of the above-mentioned keywords.
Where do you look for creative inspiration?
I think a part of being a designer is having the ability to see the unseen and appreciate the beauty and the worth that is being overlooked or overshadowed as much as appreciating what's considered as typically beautiful. I draw inspirations from all sorts of things, but something that would always be dear to my heart is mother nature and the beauty of women of different ethnicities.
Describe your latest collection?
I just launched my latest collection called "The Invitation" which is a collaboration with the talented artist The Mood Stock. We used three masterpieces from her art collection as our inspiration to come up with four different prints that evoked the emotions and expressions of the human face. It is about inviting everyone to embrace and accept yourself as who you are. Thameesha Eliyapura, the artist behind the brand The Mood Stock is amazingly talented and has a great eye for colours and I love incorporating bold hues to my designs. So the results turned out to be amazing. The collection is now available at The Design Collective.
Who is your muse?
I consider independent, confident everyday women as my muse. I find it's absolutely admirable when a woman is comfortable in her own self especially at a time where society is after the concept of perfection. But for the last collection, Thameesha and I both wanted to take individuals who take pride in themselves by being who they genuinely are as our muses.
What are your sustainability credentials?
Personally, as a brand, I believe that any move towards sustainability is a positive one regardless of how big or small the efforts are. As a team, we are doing our best to reduce waste while improving productivity. Also upcycling is something we often try to incorporate as much as we can when it comes to creating new collections and I always try to use techniques that are more eco-friendly while creating an income for those who are in need with fair wages.
What are you fascinated by at the moment and how does it feed into your work?
Abstract Art, My current collection already features Line art which is a form of abstract art. It's bold and quite out there and very visual which complements my design aesthetic.
What is the biggest lesson that you have learned since you started your company?
The biggest lesson I have learnt is to take risks and to follow my heart. Giving up a Law degree and going against my family's will could definitely have ended up as a disaster as I was told by so many people what I did was not so wise when it comes to my future. But looking back now taking a major risk has definitely paid off.