Q

What is the name of the new collection?
AMESH presents "under the mango tree."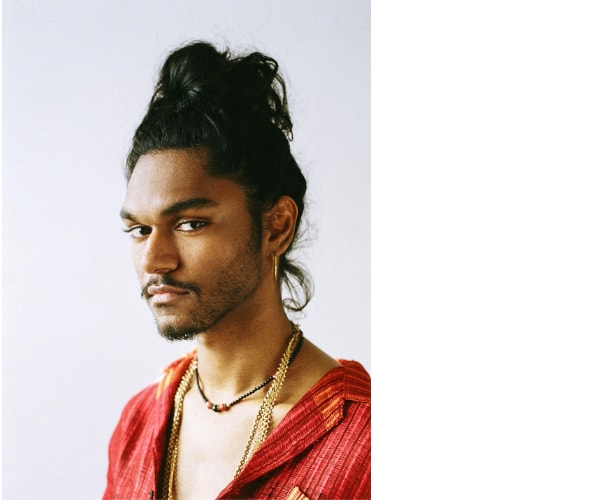 Pictured: Amesh Wijesekera
Photo credit: Jesus Rubio
Q

You made this collection while in Sri Lanka under trying circumstances. Where did you source your materials from?
Textiles came from places I never looked before. In quarantine, I raided everyone's wardrobes and closets, heirloom saris from mom, grandmother and cousins became the key story of the collection! Even our head seamstress collected some old saris for this collection. Most of the prints were made by me at our back garden using DIY techniques. The brands signature Artisanal textiles were made by our hand knitters at home in their villages as there were travel restrictions (they would usually visit the Colombo office a few times a week). More trims and fabric was sourced from our studio and leftover panels from previous collections were used as a practice to limit wastage. More deadstock textiles were sourced from a single market trip which is quite unusual to me. The collection has something old, borrowed and new!
Q

How did you pull this whole collection together with travel restrictions in place?
The collection took over 4 months to produce as I was in quarantine with limited access to our manufactures and makers. However, I was lucky enough to finish a majority of the work just before the last lockdown. Our usual daily production and sourcing visits were drastically cut down which meant slower progress.
However, thanks to modern ways of communication our artisans and manufacturers have learned new skills! WhatsApp images were constantly shared before any drastic cutting, changes took place to ensure no mistakes were made as I had no backup materials. Apart from designing I was heavily involved throughout the entire production process like always. This time I focused on more DIY home crafting techniques which meant less outsourcing and travelling. Key printed textiles were the focus in this collection which were all handprinted by myself at home.
The vintage embroidered sari headpieces are a work of art itself. I designed based on the bits I gathered around me. Most of the saris were converted into statement tailored piece. Strategic placement cutting and limited yardages meant I had to work very closely with my team. We had no second option which forced us to stay focused and smart.
This also became my first campaign shot outdoors. With the uncertain weather patterns of monsoons and heatwaves safety was our priority. Along with Tavish our photographer this season we made DIY sets in the car park and garden using old saris, ropes, clothing lines, sleeping mats, furniture and plants. This worked out perfectly with our concept as well. I think this had paid off to be one of my favourite body of works.
Q

What was the inspiration for this collection?
This collection came about as a result of many things, my time in lockdown, quarantine in 3 countries, finding new ways of sourcing and activities I engaged myself in those time. Elements of longing, solitude, discovery and joy. A time of self-love, compassion and reflection. Re-discovering ourselves, our surroundings and communities. I continue to explore new ways of sourcing, making and crafting. "Resourcefulness" being the key focus, traditional artisan craft techniques are refined with finer details, energetic colour palettes are explored and homemaking is celebrated. Unloved wardrobe textiles are brought back to life using sharp tailoring. Heirloom saris are reworked into treasured statement pieces. Deadstock industrial waste is given a second life through hand printing and contemporary details. An eclectic blend of something borrowed and new.
I further look into new ways of storytelling and narrating. We had a new model talent scouted from Colombo, Wennappuwa (Negombo) and Jaffna. It was beautiful to blend a diverse group of talent in our continuous journey, re-imaging South Asian beauty and culture.
Q

You make limited edition pieces. How many of each design do you create?
The brand's main focus is responsible sourcing and Artisanal crafting. It depends on what we find at the time of design. Deadstock/end roll fabric collected comes as factory or damaged waste, hence the quantities and colours are very limited. We have a capacity to make 2- 10 per style.
Artisanal textiles include our signature knitwear and handloom. We solely work with leftover woollen yarns which come from companies from Scandinavian and other European countries. As colours and quantities are very limited no two pieces will ever be the same. Each piece has its own character and can never be repeated.
Some of the statement pieces take weeks to make as they are all handcrafted intricately by multi-tasking women. This makes it a highly valued treasured item. Nothing can ever be replaced.
Q

Where are you retailing?
Currently, we have 2 International stockists, No borders India and 50m London in-store and online. We have a growing personal clientele who can also shop directly through me and access studio samples and bespoke services.
Q

Has the pandemic stymied or enhanced your creativity?
Despite having those long days and countless creative blocks the pandemic has definitely made me think and observe closely. Moments of space and silence have resulted in new ways of exploring ideas and technique. This has been the perfect time for experimenting. I have been able to think smarter and work more efficiently, refining ideas and my craft. Creating something out of nothing. It's always a work in progress.
Photography: Tavish Gunasena
Creative direction & Styling : Amesh Wijesekera
Talent: Kevin Fernando, Tharshanthan Thuariratnam, Shemara Jayasinghe & Randima Sooriyaarachchi