Theatre lovers are in for a treat this March! CentreStage Productions celebrates 22 years of original theatre with a groundbreaking new show by Jehan Aloysius. 'Venus United' is a hilarious and poignant musical experience which will delight audiences on the 17th & 18th of March at 7.30 p.m. at the Lionel Wendt Theatre. The show is suitable for mature audiences (18+). The story revolves around three women in their mid to late 30s who attend a drama therapy workshop - a singer, a dancer and a performance therapist.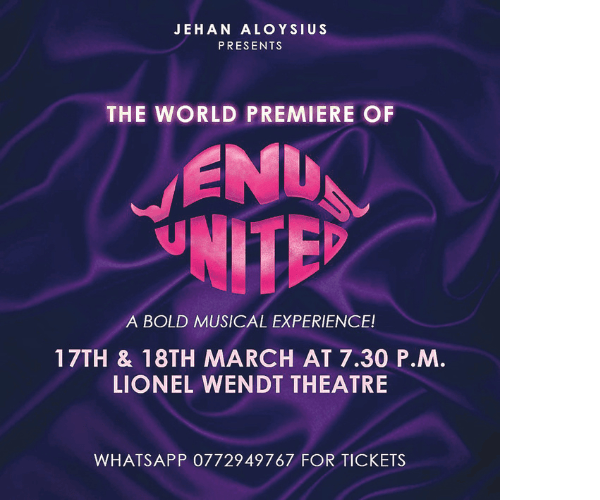 The musical score is an eclectic mix of musical theatre ballads, jazz, Latino rhythms and even the blues. In fact, the show's creator, Jehan Aloysius reveals that the show is packed with comedy and poignant moments that explore the theme of women's relationships and sisterhood. Jehan hopes the show will inspire audiences to discuss and debate some of the show's themes after the performance.
'Venus United' written and composed by Jehan Aloysius, features catchy, meaningful songs with witty lyrics and a generous dose of comedy. The three-time Gratiaen Prize shortlisted playwright's last musical, 'Rag', received nightly standing ovations and made international headlines, including the BBC.
The talented all-female cast of 'triple threats' features Shehara Liyanage, Ayushka Nugaliyadda and Nadine Ollegasegrem. Jehan's musical compositions are performed by his long time musical partner, Avanti Perera. The fairytale costume designs are by Vishan Gunawardana. The show's cast and director are thrilled to be able to perform for live audiences once more and hope that theatre lovers will support the performing arts with their presence. Don't miss this musical experience that is packed with songs, hilarious comedy and some food for thought. Be at the Lionel Wendt Theatre on the 17th & 18th of March at 7.30 p.m.