The Museum of Modern and Contemporary Art Sri Lanka (MMCA Sri Lanka) opened its new exhibition titled 'The Foreigners' on 4 May 2023, at its premises on the ground floor of Crescat Boulevard, Colombo 3. Curated by Sandev Handy and Sharmini Pereira, 'The Foreigners' brings together the works of 15 contemporary artists who use varying media to address the entangled ways foreignness is inscribed onto them, marking them as strangers, outsiders, or transgressors. Together their works resist, reimagine, and re-mix well-worn tropes of how otherness is categorised and foreignness is perceived. These works include photographs, performances, video artworks, installations, drawings, and paintings.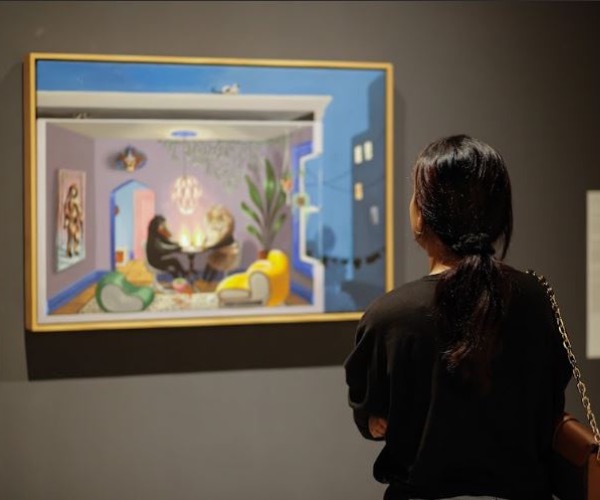 The exhibition has been specially designed by Jonathan Edward and the exhibition identity has been created by Emile Molin. 'The Foreigners' features 15 contemporary artists including Arjuna Gunaratne (b. 1976), Danushka Marasinghe (b. 1985), Dinelka Liyanage (b. 1994), Hema Shironi (b. 1991), Hania Luthufi (b. 1989), Imaad Majeed (b. 1991), Isuru Kumarasinghe (b. 1987), Janani Cooray (b. 1974), K K Srinath Chathuranga (b. 1987), Nina Mangalanayagam (b. 1980), Reginald S. Aloysius (b. 1970), S.H. Sarath (b. 1947), Shyama Golden (b. 1983), Stephen Champion (b.1959), and Sumudi Suraweera (b. 1982). Two of the artworks were commissioned by the MMCA Sri Lanka in 2021 with the support of the European Union. Lenders to the exhibition are based in India, Sri Lanka, Sweden, the UK, and the USA.
The MMCA Sri Lanka will also offer its visitors free public programmes alongside 'The Foreigners'. These programmes include Gallery Talks with artists and academics, Workshops conducted by art practitioners and professionals, guided Curator and Exhibition Tours, a Poetry club, performances, and other special events. All public programmes are made possible with the generous support of the European Union, whilst 'The Foreigners' exhibition is kindly supported by Anojie Amerasinghe, Hugues Marchand, Radhika Chopra, and Rajan Anandan, with additional support from the MMCA Sri Lanka's Founding Patrons, the British Council, and Lite87. Generous support is also provided by the museum's major benefactors and funders: John Keells Foundation, Nations Trust Bank, and Fairfirst Insurance.