The Country Roads concert, Sri Lanka's and South Asia's longest-running charity concert for children, is back for its 35th anniversary. This year's concert will be held on Saturday, October 7th, 2023, at the Virticle by Jetwing, Colombo.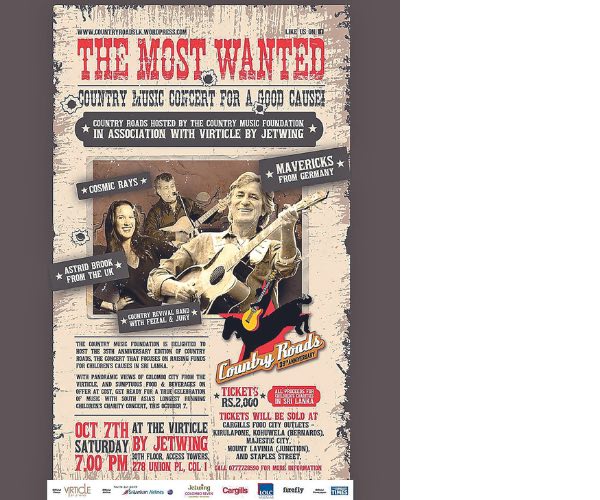 Organized by the Country Music Foundation (CMF), a non-profit organization that is dedicated to promoting country music and supporting children's charities in Sri Lanka, the concert has over the past 35 years, donated millions of rupees to help children in need.
"We are looking forward to this event being held after a lapse of five years due to unavoidable circumstances," President of the CMF Feizal Samath said.
The 2023 edition of Country Roads will be supported by Official Venue, Virticle by Jetwing, and Official Airline, SriLankan Airlines, as well as its other partners, Jetwing Colombo Seven, Cargills, LOLC, and Firefly. Tickets are currently available, for a charitable donation of Rs 2,000 each, at Cargills Food City outlets at Kirulapone, Kohuwela (Bernards), Majestic City, Mount Lavinia (junction) and Staples Street.The 35th anniversary concert will be a star-studded event, featuring some of the biggest names in country music. The Mavericks are a popular German country music band who have been touring Sri Lanka since 1992. Astrid Brook is a British singer-songwriter who has released several albums and toured extensively. Joining them on stage will be Sri Lankan legends Cosmic Rays as well as the Country Revival Band with Feizal and Jury.
Dirk from the Mavericks in a message said that the band hopes to travel to Sri Lanka bearing their own travel expenses this year, in a bid to help Sri Lanka at its hour of need. "2018 was the last time we were here in your beautiful country with the Mavericks band. Then Corona came and with it a long break. I missed you very much during this time. It has now been 5 years since my last visit to Sri Lanka. A lot has changed. The sponsorship that has always made this trip possible for us is gone. But we didn't just want to end this tradition, which we have learned to love so much since 1992. That's why we're traveling to Sri Lanka this year entirely at our own expense, because it's an affair of the heart for us. We very much hope that it won't be the last Maverick performance in Sri Lanka. We hope that this unique journey will continue, that there will also be a Country Roads concert in the years to come," he said.
Also commenting, Astrid added: "If you're able to come along to the Country Roads Concert 2023, I'd like to say a big thank you to you for your support. I'm very much looking forward to seeing you again and singing some songs for you. You're welcome to wear your cowboy hat or boots if you have them! As always, it promises to be a fun and enjoyable musical evening, and we look forward to sharing it with you."

Text - Kalani Kumarasinghe