The Kandy Schools Past Pupils Association (KSPPA) comprising old boys and old girls in Colombo who had studied in prominent schools in Kandy, is holding its annual Valentines Ball 'Love of the Hills' at the Golden Rose in Boralesgamuwa on February 14.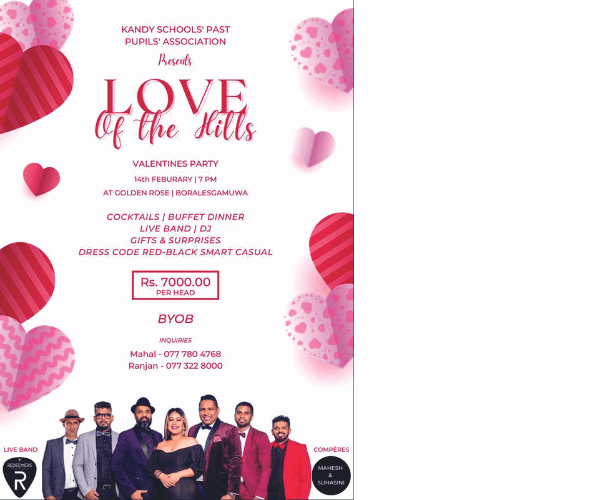 Kandy Schools Past Pupils Association established in the year 2007 is a collective of alumni associations of 13 prominent schools from Kandy. Located in Colombo, KSPPA as it is fondly known comprises a large and enthusiastic membership who turn up in the thousands for events organized by the association. KSPPA is founded with the objectives of serving the student bodies of member schools, fostering camaraderie among the alumni and contributing as a joint force towards the community and country at large. KSPPA members hold esteemed positions in society and their collective voice is a force to be reckoned with.
Currently, the Association is headed by Ajantha Vidanaarachchi of St. Sylvester's College as the President and the executive committee comprises persons from each member association. Namely, KSPPA comprises the past pupils' associations in Colombo of Dharmaraja College, Good Shepherd's Convent, Hillwood College, Kandy Girls' High School, Kingswood College, Mahamaya College, Pushpadana College, St. Anthony's College, St. Anthony's Girls' College, St Sylvester's College, Trinity College, Vidyartha College and Wariyapola Sri Sumangala College.
KSPPA organizes activities that promote leadership skills among students of member schools, contributes towards looking after travelling sports teams to Colombo from member schools and many colourful social events for the past pupils.
Among these social events, the Valentine's Ball organized on the 14th of February each year takes a prominent place. Members are treated to sumptuous food and drinks and are serenaded with music to dance to their hearts' content till the break of dawn with their partners. The theme for the event on 14th February 2023 is 'Love of the Hills', aptly named to host 200 couples associated with Kandy schools. The event will take place at Golden Rose in Boralesgamuwa and the participants may celebrate their love stories to the tunes of Redeemers. All proceeds of this worthy fundraising event will go towards the upliftment of leadership skills of member school students. Do join this fun event and enjoy yourself to your heart's content whilst contributing towards student welfare in your respective alma maters.
Tickets are priced at Rs. 7000 per head and please contact Mahal (0777804768) or Ranjan (0773228000) for details.