The annual French Spring festival organized by the Embassy of France and the network of Alliances Françaises in Sri Lanka and the Maldives was launched on Monday, 6th of June 2022 under the patronage of the Ambassador of France to Sri Lanka and the Maldives, Eric Lavertu at the Alliance Française de Colombo (11, Barnes Place, Colombo 7).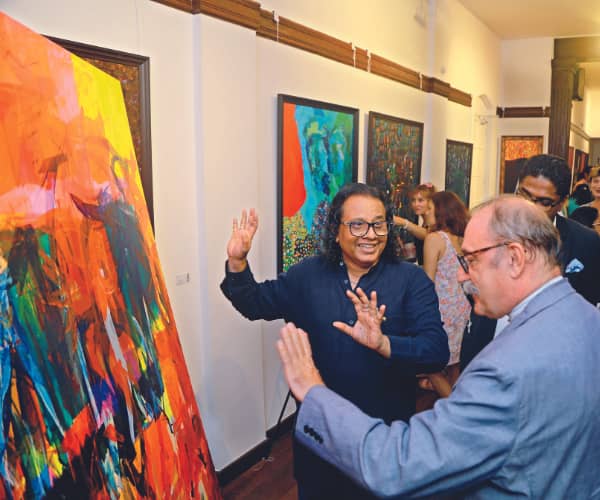 The festival was opened with "Abstract narratives" by Mueen Saheed, a retrospective presenting a selection of thirty paintings from each of his artistic periods. The show presents the outstanding career of a Sri Lankan expressionist artist who, as a former jewellery creator, devoted his life to create a spontaneous, coloured and evocative abstract art, inspired by his own past, his Sri Lankan heritage and his life philosophy.
The French Spring Festival is a multi-disciplinary festival fostering artistic links between France, Sri Lanka and the Maldives since 2012. For its tenth anniversary, the festival decided to engage with the question of storytelling by asking French and Sri Lankan artists and thinkers which narratives they are conveying through their respective mediums. From 6th of June to 14th of July, more than thirty events including exhibitions, concerts, screenings, and discussions, will take place in Colombo, Kandy as well as through the Alliance Française in Malé (Maldives), and some virtual events will be also conducted.
Discover the full programme of the festival on the dedicated website (https://www.frenchspringfestival.com/) as well as on our Facebook page (@FrenchSpringFestival) and Instagram account (@FrenchSpringFest).